Government pledges justice in Assam's Tinsukia killings
The All Assam Bengali Youth Federation has demanded compensation of Rs 20 lakh for every victim and jobs for their kin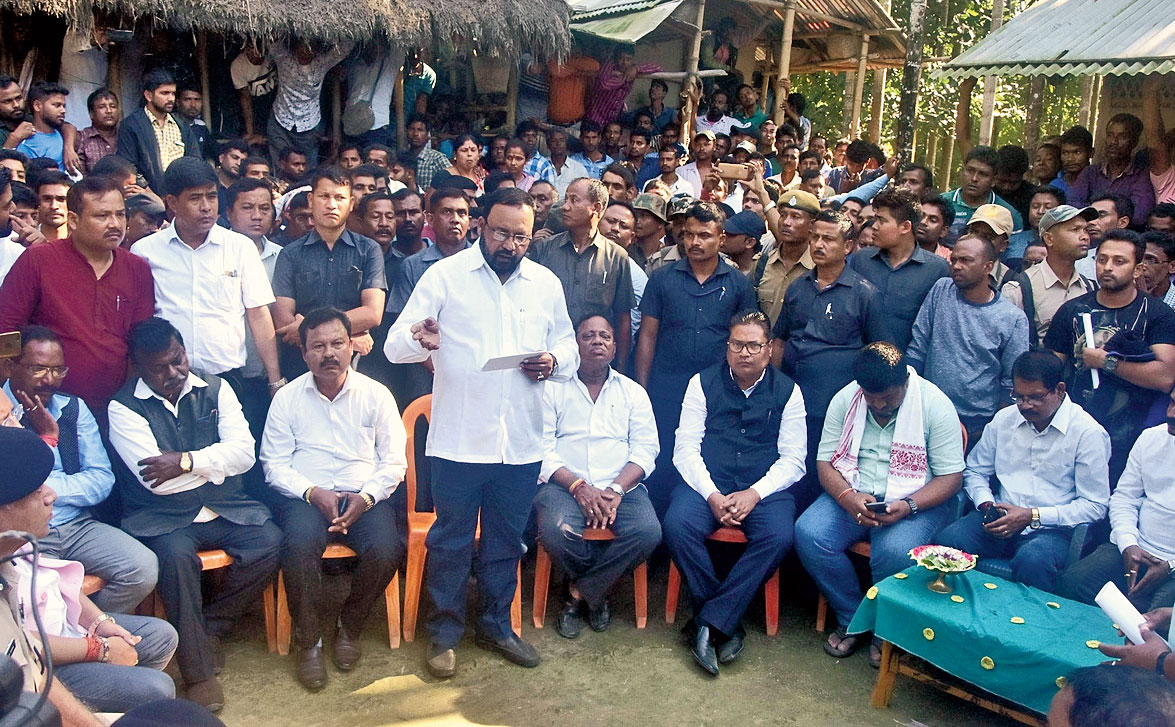 Keshab Mahanta at the village in Tinsukia district on Friday.
Picture by UB Photos
---
Tinsukia
|
Published 02.11.18, 06:55 PM
|
---
A high-profile team of ministers and police officers, led by water resources minister Keshab Mahanta and director-general of police Kuladhar Saikia, visited Bishoni Mukh Khergaon in Tinsukia district on Friday to visit the grief-stricken families and take stock of the situation.
The visit comes amid a 24-hour Tinsukia bandh called by the All Assam Bengali Yuva Chatra Federation on Friday in protest against the killings on Thursday which evoked a complete response.
A 24-hour Assam bandh was also called on Saturday in support of their demand to arrest the culprits within 24 hours.
During the meeting, the general secretary of the central committee of the All Assam Bengali Youth Federation, Nirmal Kanti Sheel, read out their demands, which included compensation of Rs 20 lakh for every victim, government jobs for the kin of the victims, fool-proof security, action against police officers for dereliction of duty and arresting the culprits.
Keshab Mahanta said, "The government cannot increase the compensation from Rs 5 lakh fixed by law and assured government jobs for kin of each of the five victims." He added that the DGP had given instructions to track down the culprits within 36 hours.
"However, in such cases, arrests may take some time," he added.
The bodies were taken to Sadiya civil hospital for post-mortem.
Minister of state for power Topon Kumar Gogoi, Parimal Suklabaidya, additional director-general of police Mukesh Agarwal, IGP R.P. Meena, deputy commissioner of Tinsukia Oinam Sarankumar Singh, Tinsukia and Sadiya superintendents of police Mugdha Jyoti Mahanta and Prasanta Changmai, Sadiya MLA Bolin Chetia, Tinsukia MLA Sanjoy Kishan and former MLA of Mariani Alok Ghosh, were among the other government representatives present.
In Tinsukia, the situation was tense throughout the day with road blockades at various places. Most school and colleges, shops and offices remained closed as roads wore a deserted look.
According to sources, there were couple of face-offs between bandh supporters and local residents but timely intervention by the police controlled the situation.
The All Assam Gorkha Students Union's Tinsukia committee and Sodou Asom Garhichalak Santh have filed an FIR with Tinsukia police against the bandh call.
Former Mariani MLA Alok Ghosh offered financial help of Rs 1 lakh to each victim from his personal account.
Condemning the killings, All Moran Students' Union president Arunjyoti Moran said, "The government failed to arrest various leaders who gave communal statements at that time itself and allowed the situation to flare up only to fulfil their Hindutva agenda. We have supported Friday's bandh, but oppose Saturday's bandh."
The state government has directed all deputy commissioners to ensure normal functioning in all government establishments. Superintendent of police P.P. Singh appealed to the people to refrain from making inflammatory remarks on social media.