Govt acts like a mouse on China, says Congress
At a public rally in Rajasthan's Alwar, Kharge says the Opposition's demands for a discussion on China were rejected again on Monday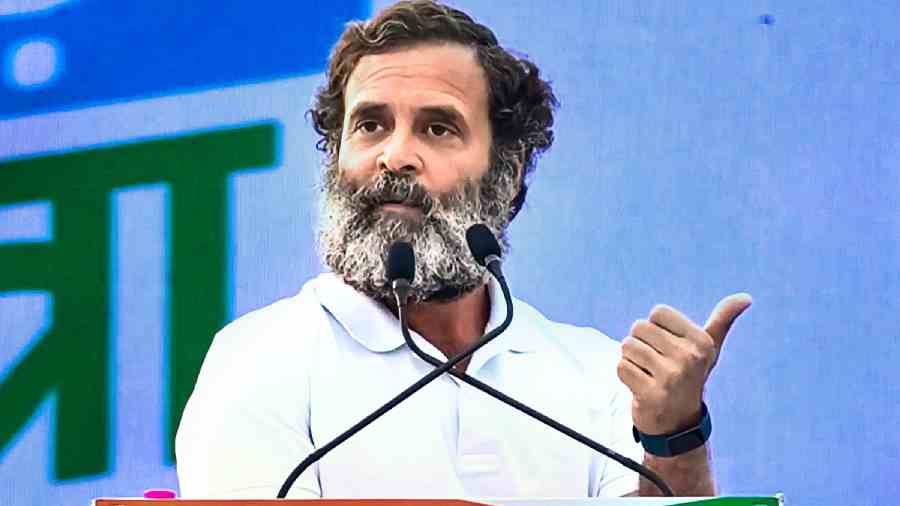 Rahul Gandhi addresses a public meeting during the Bharat Jodo Yatra in Alwar on Monday.
PTI
---
New Delhi
|
Published 20.12.22, 03:04 AM
|
---
Congress president Mallikarjun Kharge on Monday wondered why the Narendra Modi government was running away from any discussion on China in Parliament, alleging that they roared like a lion but acted like a mouse.
At a public rally in Rajasthan's Alwar, Kharge said the Opposition's demands for a discussion on China were rejected again on Monday: "When Rahul Gandhi draws their attention to the recurring clashes on the border, they question his patriotism. In Galwan Valley, 20 of our soldiers were killed. What's the outcome of your 18 meetings and jhoola with Xi Jinping? Baat sher jaisa, chal chuhe jaisa."
Several Congress members had given notices in both Houses of Parliament for suspension of normal business to discuss the Chinese threat on the borders in the Northeast and Ladakh.
"The defence minister made a statement but the Opposition can't seek clarifications. They won't allow any discussion. They make loud noises but democracy is being hollowed out. They question the Congress's patriotism even as our leaders laid down their lives for the country. In their homes, not even a dog died for the country," Kharge said.
Rahul, who also addressed the rally, chose to focus on the affairs of Rajasthan, realising the importance of the only big state under Congress control that would go to polls next year. He hailed the Ashok Gehlot government for the "Cheeranjivi scheme", which has revolutionised healthcare in the state with insurance of up to Rs 10 lakh for every citizen. 
"During the Bharat Jodo Yatra, I heard everywhere how people were struggling for money to meet the health crisis but such stories aren't heard in Rajasthan. This scheme can show the way for the country," Rahul said. 
Rahul attacked the BJP for campaigning against the English language and said: "These leaders who speak against English send their own children to English medium schools The BJP leaders don't want to empower you; we want the poorest of our people to communicate with the world and emerge victorious. I commend the state government for opening 1,700 English medium schools but more is required. The scheme to distribute free sanitary napkins to women is also very important."
However, Rahul was aware of the anti-incumbency factor and people's grievances and asked the chief minister to break the barriers between the government and the party workers and citizens.
He suggested that the entire cabinet should choose one day in a month to walk at least 15km on the road and interact with the public. He also asked the government to bring out a social security scheme for gig workers (those who work on short-term contracts such as delivery boys).
On Bharat Jodo Yatra, Rahul said: "The BJP leaders wonder why was I wandering on the streets. What's he doing, walking from Kanyakumari to Kashmir? Main nafrat ke bazaar mein mohabbat ki dukan khol raha hun (I am opening shops of love in the market of hate). And who am I? This path of love was shown by Mahatma Gandhi, Jawaharlal Nehru, Sardar Patel, Abul Kalam Azad… Today all the Yatris walking with me, every Congressman is doing the same. You (BJP workers/supporters) also come and open mohabbat ki dukan in this market of hate."