Accord on Rajasthan session
Ashok Gehlot expected to seek a vote of confidence during the meeting on August 14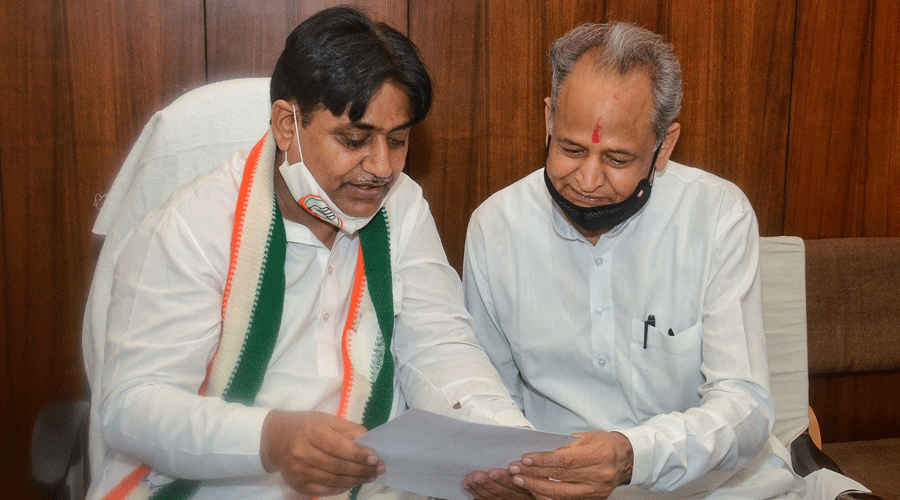 ---
---
Rajasthan governor Kalraj Mishra has agreed to a proposal by chief minister and Congress leader Ashok Gehlot to convene an Assembly session on August 14.
Mishra has been resisting attempts by Gehlot to get the session convened amid dissidence by Sachin Pilot and over a dozen other Congress MLAs. Gehlot is expected to seek a vote of confidence during the session.
After the governor rejected the cabinet recommendation for the third time to convene the House by July 31, the fresh proposal mentioning August 14 was made by the government. The governor, who has been insisting on a 21-day notice if seeking the trust vote is not cited as the reason for convening the House, accepted the new date.
Earlier on Wednesday, Rajasthan Speaker C.P. Joshi challenged in the Supreme Court the validity of a high court order last week for maintaining status quo on a petition on the disqualification of dissident Congress legislators.
The high court order on July 24 is perceived to be the weakest link in the court proceedings so far with Congress lawyers P. Chidambaram, Kapil Sibal and Abhishek Singhvi raising several questions.
The Congress had dropped the case in the Supreme Court earlier but now it has gone there again on the specific point of illegality of the high court's order.
The Supreme Court had 30 years ago ruled that the courts cannot interfere with the Speaker's functioning. It was clear that the courts cannot examine the matter of disqualification till the Speaker has taken a decision.
The special leave petition filed by the Speaker on Wednesday says the Supreme Court should ensure the high court does not cross the Lakshman rekha drawn by the highest court of the land.
Pilot, the dissident leader, congratulated new Rajasthan Congress president Govind Dotasara, hoping that he will protect the interests of those Congress workers whose hard work contributed to the formation of the government in the state. This was also a message to the Congress that he had not severed his ties so far and still hoped for "justice" within the party.
Dotasara responded to Pilot's tweet: "You should also discard the hospitality provided by the BJP and Haryana's Khattar government and return to Jaipur to stand with the Congress workers on whose toil this government was formed."
Pilot greeted Speaker Joshi on his birthday. Joshi has been a bitter critic of Gehlot.
At an event where Dotasara assumed office, Gehlot said: "Those who have gone away may come back after apologising to the high command."