Glitch trips CUET, glare on NTA
The computer-based CUET, which began on July 15 and is to continue till August 20, has been marred by technical issues leading to change of centres right from Day 1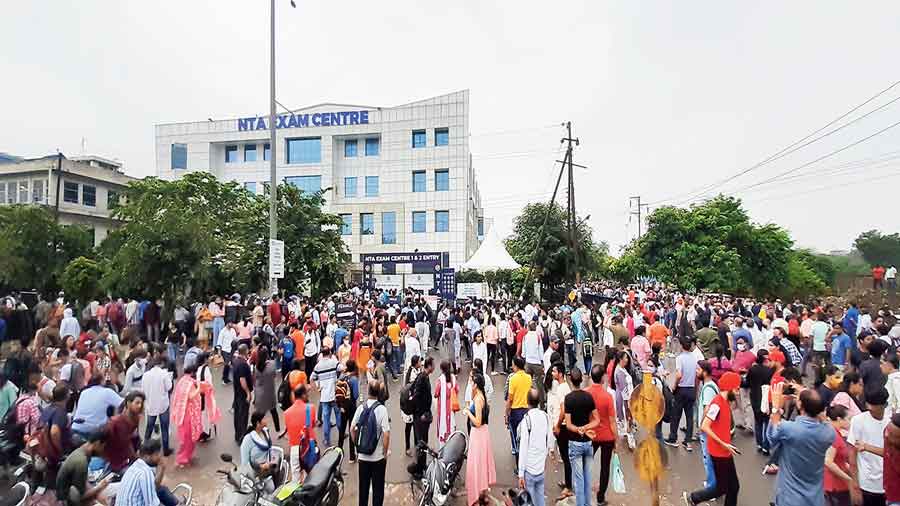 Students gather outside an exam centre in Noida on Friday after the National Testing Agency (NTA) cancelled the second shift of the CUET tests.
PTI
---
New Delhi
|
Published 06.08.22, 12:48 AM
|
---
Several parents and academics have questioned the competence of the National Testing Agency against the backdrop of the glitches that have bedevilled the maiden Central University Entrance Test.
On Thursday and Friday, undergraduate CUET tests were cancelled at several centres across the country due to glitches. The computer-based CUET, which began on July 15 and is to continue till August 20, has been marred by technical issues leading to change of centres right from Day 1.
"My son and I reached (exam centre) Arwachin School in Vivek Vihar for the CUET well in advance. There we saw a public notice that the exam at the centre has been cancelled for the day. This is mental harassment of children. We were not informed about the cancellation by the NTA," said a parent on Friday.
Exams were cancelled at Hargovind Institute of Management too."The NTA should at least inform in advance. It was raining throughout and we got drenched in front of the test centre as it took time to figure out that the exam had been cancelled," the parent said.
He said the notice stated that the test had been rescheduled to August 12.Academics and parliamentarians have also questioned the capability of the NTA, which was set up as an autonomous body in 2017 and had earlier held JEE Main, NEET and NET exams and entrance tests for individual central universities.
"Before any examination conducted by the NTA, students have to run helter-skelter. It seems the NTA has bitten off more than it can chew. The centralised testing agency cannot meet the challenges posed by a wide variety of entrance exams, the enormous volume of aspirants and regional diversity. It needs serious review as the lives and careers of young people are at stake," said Rajesh Jha, a faculty member of Rajdhani College under Delhi University.
Abha Dev Habib, who teaches at Miranda House, said that despite continuous cancellations at exam centres, the NTA seemed least bothered."From the first day of CUET, technical glitches are a regular affair. Can you not foresee these and take measures in advance? There is no reason for penalising students and parents for no fault of theirs," Habib said.
According to a notice on the NTA website, a few exams scheduled to be held at some centres in 29 cities across 17 states including Delhi, Hooghly in Bengal, Noida in Uttar Pradesh, Jodhpur in Rajasthan and Nalbari in Assam have been postponed to August 12."The idea is to disrupt admissions in (colleges affiliated to) central universities.
The exam has been delayed. Top-performing students have already taken admission in private universities by paying high fees. Many of them would still be keen to get admitted to a central university by appearing in CUET. But the recurrent glitches and cancellations will demoralise students," Habib said.
NTA director-general Vineet Joshi had told The Telegraph last month that the agency was in talks with the University Grants Commission on granting fresh opportunity to students affected by glitches.Habib said CUET would discourage many state school board students from applying at central universities because of the need of coaching."State board students used to get admission in central universities like DU easily based on board marks. Now CUET is being held in keeping with the NCERT syllabus. The state board students will have to prepare as per the NCERT syllabus. Many parents may not have the resources," she said.