Gita event promoted in IIM-Bangalore name
Programme forced to stop later following protests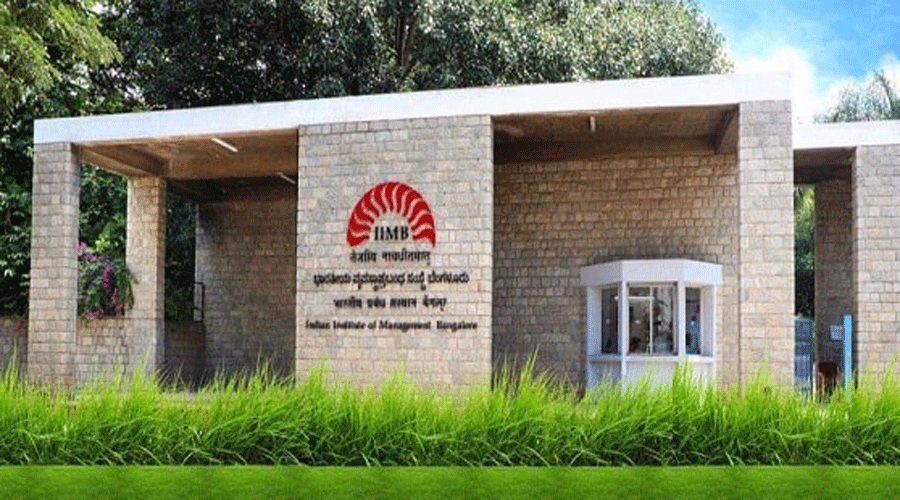 ---
New Delhi
|
Published 18.11.22, 03:04 AM
|
---
A group of IIM Bangalore faculty members used the B-school's name and campus to organise events promoting Hindu scriptures but were forced to stop after some colleagues protested, an alumnus who claimed to have been part of the initiative said.
Archit Bhardwaj said the Practical Vedanta IIMB discussion group had replaced the "IIMB" in its name with "Samvada" two years ago following the protests. However, it was an appeal for donations by the "Practical Vedanta IIMB" last week that brought the matter to light.
Bahutva Karnataka, a civil rights group that campaigns against caste and communal discrimination, on Monday tweeted a Google Form, issued by the "Practical Vedanta IIMB (Weekly Gita Satsang Group)", that sought donations for a Gita Jayanti event on December 4 at the Anandamayi Bhagavata Bhavana, J.P. Nagar, Bangalore.
A Google Form is a free online tool provided by Google that can be used by multiple people as a form to fill in with whatever detail they want and sign.
The Google Form asked prospective donors to send the money to Bhardwaj. It mentioned a schedule: Puja from 4.30pm, to be followed by Akhanda Gita Parayanam (recitation) from 5.15pm and Pravachana by "Guruji" and a "Prof. Mahadevan Sir".
Bahutva Karnataka tweeted: "IIM Bangaluru @iimb_official how come your name is being used to collect donations for a religious activity? Have you sanctioned this? Would you allow your official spaces to be used by other religious/caste groups?"
After the civil society group's protest, the organisers' name on the Google Form was changed to Practical Vedanta Samvada.
Bhardwaj told this newspaper the Google Form had put "IIMB" in the group's name "by mistake".          
He said the group used the "IIMB" tag and campus space for discussions on "life lessons" from Hindu text still two years ago, but changed the name and began holding the events outside after some faculty members objected.
He said B. Mahadevan, an IIMB professor, was the "main resource person on these issues".
"It used to be a close group of alumni, faculty and like-minded people. Professor B. Mahadevan provides an elective paper to management students on life lessons using the Gita," Bhardwaj added.
Mahadevan happens to be lead author of the book, Introduction to Indian Knowledge Systems: Concepts and Applications, released earlier this year. He is also a member of a high-powered committee on "Indian Knowledge Systems" that the Union education ministry recently set up under K.Radhakrishnan, former Isro chairman.
Emails this newspaper sent on Monday to Mahadevan and IIM Bangalore director Rishikesh T. Krishnan, seeking their comments on the controversy, remain unanswered.
A member of the Global IIM Alumni Network, who wished to remain anonymous, said that since the discussion group had used the IIM's name and its resources in the past, the institute owed the public an explanation.
"It's a legitimate question to ask IIM Bangalore how it had allowed the use of its name and space by sectarian groups. If no permission was given and yet some faculty members organised (the events), action should be taken against them," the IIM Calcutta alumnus said.
There have been instances in the last decade of public-funded institutes and government science conferences promoting ideas linked to "ancient Indian wisdom" that many scientists have condemned as pseudo-science.
IIT Kharagpur published a calendar last year based apparently on Vedic knowledge, while a paper on ancient Indian aviation technology was presented at the Indian Science Congress of 2015, mentioning a Sundara Vimana powered by electricity generated by donkey urine, among other materials.
Sylvia Karpagam, a public health doctor in Bengaluru, said the Google Form had been circulated within certain WhatsApp groups.
"This is certainly misuse of the IIM's name. Certain faculty members see IIM Bangalore as their personal property and not as a public institution," Karpagam said.
She said sectarian feelings were being promoted in educational institutions across the country, and cited how hijab-clad girls were heckled in Karnataka's schools and colleges in the run-up to the headscarf being banned in classrooms.
"Privileged sections are getting away by misusing public institutions to promote sectarian activities while the weaker sections are targeted. We question this discriminatory approach," she said.