GI challenge for Banglar Rosogolla
An Odisha-based social activist has contended that Bengal had secured the distinction by furnishing "wrong information".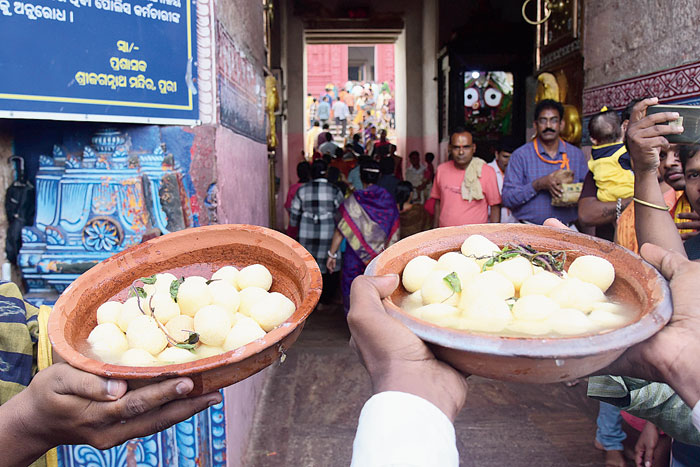 ---
---
An Odisha-based social activist has challenged the geographical indication tag for Banglar Rosogolla, contending that Bengal had secured the distinction by furnishing "wrong information".

Rames Chandra Sahoo has said in his petition to the Geographical Indication Registry — a central government organisation in Chennai that grants GI tags — that it should withdraw the November 2017 award to Bengal.
His petition comes after the registry granted the GI tag to Odisha Rasagola on July 29 this year, accepting that the Odia and Bengali versions of the sweet are distinct in look, taste, texture and preparation.
The registry will hear Sahoo's plea on September 6. It has issued a notice to the West Bengal State Food Processing and Horticulture Development Corporation Limited and the Patent Information Centre of Bengal's department of higher education, science and technology, asking their officials to appear on the date of the hearing.
The registry has made it clear that "in the event of non-appearance, the case will be decided as per the GI Act and Rules based on the documents available with this office".
Sahoo does not agree that Bengal's rosogolla is a distinct creation. Like many others in Odisha, he claims that the syrupy, cottage cheese-based sweet originated in the Jagannath Temple in Puri in the 12th century and was carried to Bengal by Odia cooks fleeing the famine of 1866.
When the Odisha government had applied to the registry for the GI tag for its rasagola last year, however, it had not challenged the previous year's award to Banglar Rosogolla.
"After Bengal got the GI tag in November 2017, I was heartbroken. I wanted to prove that the juicy sweet originated in Odisha," Sahoo told The Telegraph.
"The Bengal government had cited wrong information before the authority to get the GI tag. On September 6, I will demand that the GI tag be withdrawn from Banglar Rosogolla."
Sahoo added: "They had furnished wrong information based on the book, Rosogolla: Banglar Jagatmatano Abishkar, by Haripada Bhowmick. We will continue to demand that the GI tag be taken away."
Two other activists — Susanta, organising secretary of Punya Utkal, which promotes Odia culture, and Santosh Kumar Sahu, editor of the news magazine Odia Parva — had petitioned Orissa High Court last year challenging the GI tag awarded to Banglar Rosogolla.
Susanta told this newspaper: "Odisha still has a chance to prove that Bengal got its tag by providing false information."
After Odisha Rasagola received the GI tag on Monday, chief minister Naveen Patnaik had tweeted: "Happy to share that #Odisha Rasagola has received GI tag in Geographical Indication Registry."