Ghost of Gujarat 2002, brought alive by Delhi
Survivors of post-Godhra riots relive horror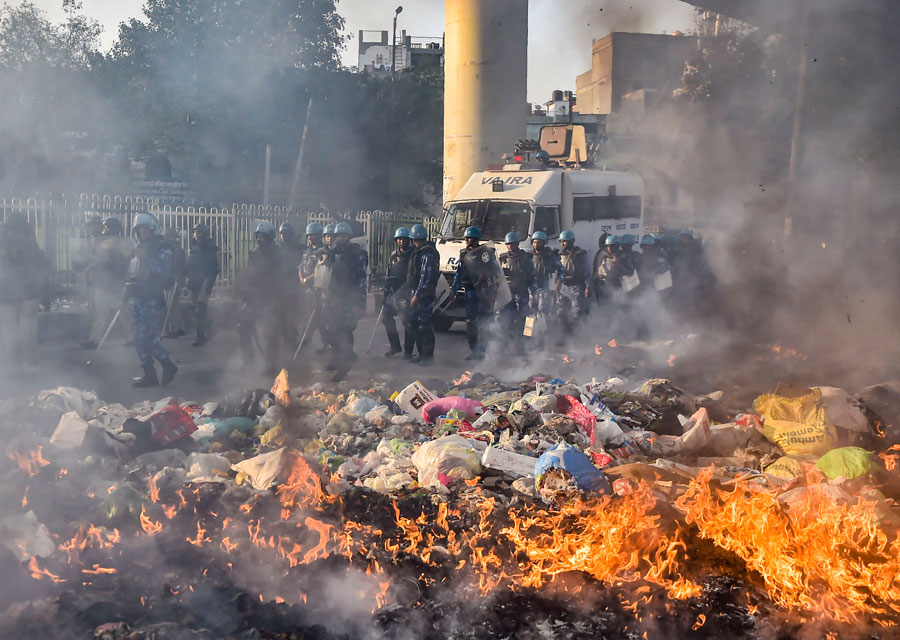 Security personnel conduct flag march during clashes between those against and those supporting the Citizenship (Amendment) Act in northeast Delhi.
(PTI)
---
Ahmedabad
|
Published 07.03.20, 07:33 PM
|
---
As Mohammed Bilal watched the riots in Delhi last week on TV, his face turned ashen and his eyes took on a steely glare remembering the similar violence that had taken place in Ahmedabad 18 years earlier and had changed his life forever.
Bilal, then a young man in his late 20s, had a readymade clothes shop in a new, small mall in the affluent area of Paldi in Ahmedabad which was burnt to cinders during the post-Godhra violence.
Bilal's store was one of three Muslim-owned shops in the mall of around 15 units. Only these three shops were identified by the rioters, looted and then burnt.
Once the violence died down, Bilal was forced to sell his shop at a loss in a distress sale as the other shop owners told him that they could not promise that his store would not be burnt again in any future riot.
Today Bilal has a tiny clothes stall in the overcrowded, Muslim-dominated market of Dhalgarwad in the old city of Ahmedabad through which he earns a living to feed his family of five.
"I still consider myself lucky. I only lost my business. So many Muslims lost everything — family members, homes and businesses — during those horrific riots that will haunt me for the rest of my life," Bilal said.
The Delhi riots have dredged up the ghosts of 2002 for many Gujarati Muslims who see their fate being repeated in the national capital. "The similarities are too striking to miss; the only difference is what happened in Gujarat in 2002 was far worse," he said.
During the post-Godhra violence, more than 1,000 Muslims were killed, 223 went missng, 2,500 people were injured, 20,000 businesses and 100,000 homes were gutted, 230 mosques and 274 dargahs were destroyed and more than 150,000 people were rendered homeless, according to official figures.
Unofficial figures were much higher, putting the death toll in excess of 2,000, with men, women and children being brutally killed by the murderous mobs that were allowed to rampage through the state with impunity.
The demonisation and "othering" of Muslims had started in Gujarat long before 2002. The RSS and its affiliated groups of the BJP, VHP and the Bajrang Dal had begun their vilification campaign in the mid-1980s. Smaller communal clashes erupted throughout the 1990s.
Each riot had the same modus operandi. Hate-mongering and provocative slogans being raised in Muslim-dominated areas, resulting in stone-throwing and clashes between the two communities, followed by police firing at Muslims and the area being put under indefinite curfew. The 2002 pogrom, carried out when Narendra Modi was chief minister, was the final solution that finished off any fight left in the minority community.
"The provocative speeches given by Kapil Mishra and Anurag Thakur against the women protesting at Shaheen Bagh were to create an atmosphere of hate similar to what was done by parading the bodies of the Godhra train victims through the streets of Ahmedabad on February 28, 2002," said Usman Shaikh, 45, who runs a small eatery in Juhapura, India's largest Muslim ghetto.
"Picking out Muslim homes and businesses to burn, with the police watching as mute spectators and in some cases indulging in firing and violence, not registering FIRs against identified culprits and even destroying evidence are all things we have seen here and the BJP is repeating all these tactics in Delhi," added Shaikh, whose family lost their home during the 2002 violence.
The police played an extremely partisan role in Gujarat both during the rioting and after, something that has been acknowledged by all the investigations done subsequently by the various committees. However, till date none of the constables or officers has been held accountable or punished. In fact, some "loyal" officers have been rewarded with plum posts in today's central government.
That neither Prime Minister Modi nor home minister Amit Shah has condemned the Delhi riots, visited the riot victims or taken action against the provocateurs is not a surprise to anyone here.
The first and only time that Modi, then chief minister of Gujarat, had visited a relief camp was on April 3, 2002, more than a month after the riots had started. He had accompanied the then Prime Minister, Atal Bihari Vajpayee, to the Shah Alam camp in Ahmedabad, where he was told by Vajpayee to do his "raj dharma".
In the subsequent state elections in December 2002, Modi had infamously referred to the 104 refugee camps in the state, set up and run by NGOs, as "baby-making factories".
In the 18 years since the pogrom, Gujarati Muslims have rebuilt their lives as best they can with no help from the state. But the wounds of the violence have just scabbed over, never healed.
"We have been forgotten by the rest of the country, but now that the BJP is doing the same thing in Delhi, I hope people will pay heed. Otherwise this will continue and there will be Gujarats all over India," said Bilal.
Sajeda Momin, a senior journalist, was The Telegraph's Gujarat correspondent