German ambassador in RSS corner
No one could readily recollect another instance of an individual ambassador paying a visit to the RSS headquarters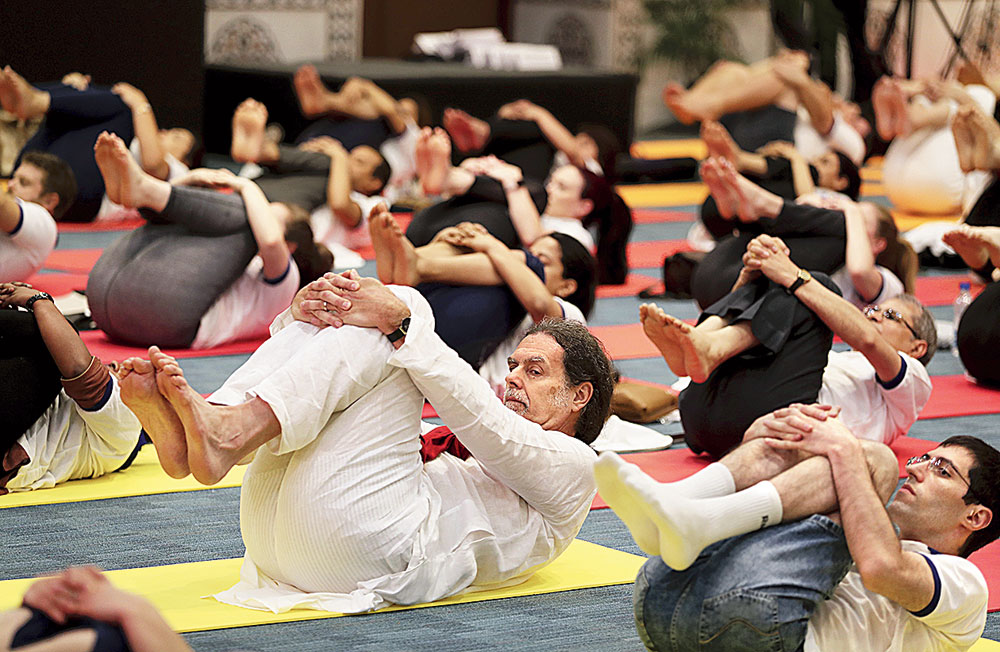 Lindner (in white) performs yoga along with other diplomats to mark International Yoga Day in New Delhi on June 21
(AP)
---
New Delhi
|
Published 19.07.19, 09:48 PM
|
---
Germany's ambassador to India Walter J. Lindner has triggered a controversy — and an online petition for his recall if he does not resign — with a visit to the RSS headquarters in Nagpur.

During the trip on July 17, Lindner visited the ancestral home of RSS founder Keshav Baliram Hedgewar and paid respects at the memorial in Smriti Mandir. The ambassador posted pictures of the visit and his meeting with RSS chief Mohan Bhagwat on Wednesday.
In an accompanying tweet, Lindner said: "Visit of Headquarters of RSS (Rashtriya Swayamsevak Sangh) in Nagpur and long meeting with its Sarsanghchalak (Chief) Dr Mohan Bhagwat. Founded 1925, it is world's largest voluntary organization — though not uncontroversialy (sic) perceived throughout its history.…"
Lindner, who has drawn considerable traction online since he took office a couple of months back with his love for the local Ambassador car, was in Nagpur for a Metro event. His visit drew the attention of the local media but he left the RSS headquarters in Mahal without speaking to the media.
The RSS also posted a tweet on the visit with another selection of photographs. In its tweet, the RSS said: "The German ambassador to Bharat, Sri Walter J. Lidner met Sarsanghchalak Dr. Mohan ji Bhawgat today at Nagpur. He also visited the ancestral home of Dr. Hedgewar ji, the founder of RSS & paid his respects at Smriti Mandir."
Last year, the RSS had organised a three-day conclave in the capital to present its worldview to a cross-section of society, including political opponents and members of the diplomatic corps. A sizeable number of diplomats had attended that engagement in recognition of the place the Sangh has in the political landscape of the day.
But no one could readily recollect another instance of an individual ambassador paying a visit to the RSS headquarters.
The visit did not get much attention till a California-based South Asia analyst, Pieter Friedrich, started an online petition calling for Lindner's recall if he does not resign.
The petition is addressed to German Chancellor Angela Merkel and foreign minister Heiko Maas. It contends that Germany must not demonstrate any tolerance for an organisation like the RSS with "a demonstrated record of admiring and seeking to model themselves after Nazi Germany and other affiliated fascist movements".
The Telegraph emailed and texted the head of the press section at the German Embassy for details on the purpose of the visit and a reaction to the online petition that is slowly gathering steam but got no response.