Gehlot resends request to governor
Congress runs a 'get-well-soon' campaign for Kalraj Mishra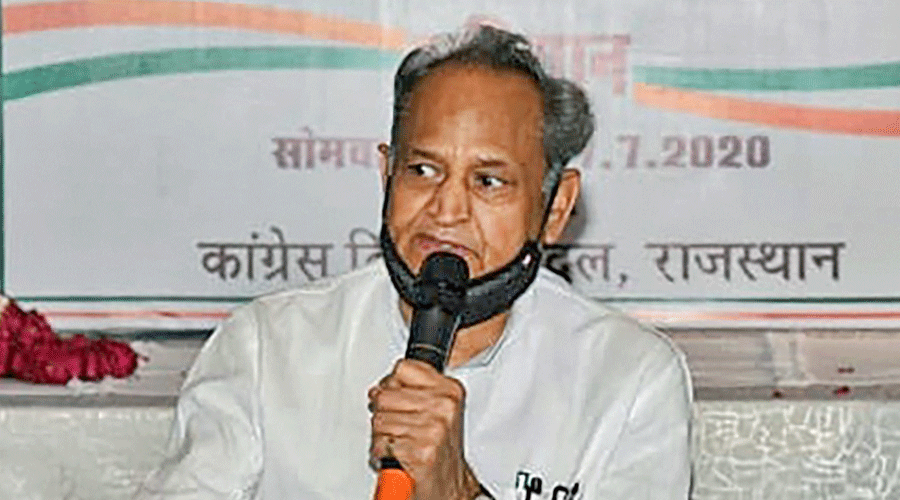 ---
---
The Ashok Gehlot government reiterated its "right" to call the Assembly session by sending for the third time its request to the Raj Bhavan on Tuesday as the Congress ran a "get-well-soon" campaign for governor Kalraj Mishra, accusing him of using the constitutional office for partisan politics.
The Gehlot cabinet met to discuss the reservations expressed by the governor on Monday and decided to resend the recommendation to convene the session without acceding to his call for a 21-day notice period and for the agenda to be spelt out in advance.
The cabinet asked for the session to be called from July 31 and did not state that the government wants to take the vote of confidence.
Congress sources admitted there are not many options available if the governor sticks to his guns and refuses to call the session because moving court might not serve the purpose.
"The idea is to close this chapter by proving majority on the floor of the House. We aren't sure we can achieve that through court proceedings," one senior leader said. "Creating a noise about the threat to democracy, about the unconstitutional role of the governor is the best option," the leader added.
Asked if the governor has the legal right to reject the cabinet's recommendation for the third time, top lawyer and party spokesperson Abhishek Singhvi told The Telegraph: "It was wrong the first and the second time also. The governor has no power to reject the cabinet's recommendation at all. He has no discretion in the matter. The governor, his office and the rejectable so-called advisers are doing what a first year student of law knows ought not to be ever done. This is what our wise and foresighted founding fathers of the Constitution said 75 years ago."
The Congress general secretary in charge of the state, Avinash Pandey, ran a campaign on Twitter under the hashtag "GetWellSoonGovernor". Although Pandey said Mishra is known as a mature leader with respect for political morality, he also added the governor was acting in a partisan manner to fulfil the narrow political interests of one party.
"It appears India's democracy is no more governed by the rule of law and one party has taken control over the polity," Pandey said.
"The recent developments indicate that even the governor is affected by the BJP's oppressive mindset and his discriminatory attitude is a sign of sickness. I appeal to the governor to overcome the virus of unilateralism and call the session to protect the constitutional scheme," he added.