India tops global charts on Internet shutdowns
G7 summit: PM signs Open Societies pact on universal rights
The Modi government's endorsement appears all the more rich because the statement, keeping China in mind, specifically mentions politically motivated net gags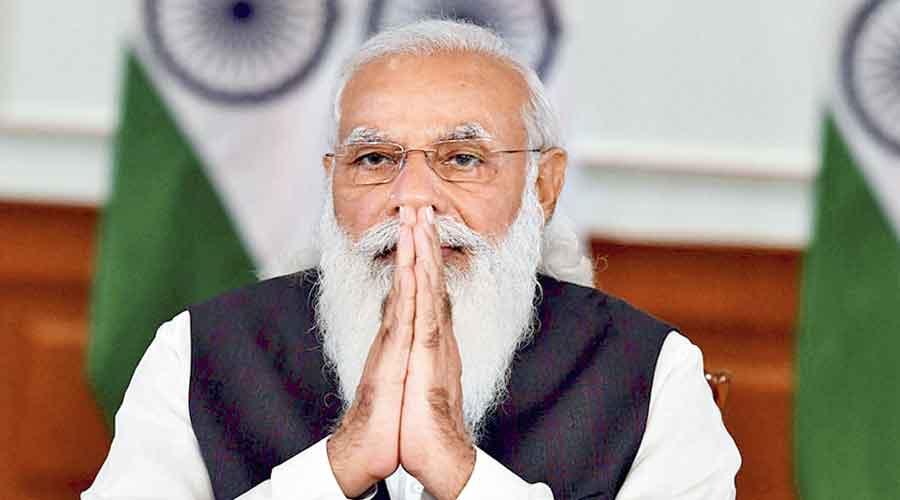 Modi during the G7 virtual summit on Sunday
PTI
---
New Delhi
|
Published 15.06.21, 01:52 AM
|
---
Fresh from signing an Open Societies Statement that commits signatories to "freedom of expression, both online and offline", the Narendra Modi government has been reminded of how it is seeking to run with the hare and hunt with the hounds in the digital age.
The Opposition jogged Modi's memory by pointing out that India holds the chart-busting record on Internet shutdowns. For three years in a row, India has topped the global charts on Internet shutdowns, according to Access Now, an advocacy group for digital rights.
On Sunday, India had joined G7 countries and other invitees to the 47th Summit in signing the Open Societies Statement that takes stock of the situation across the world on universal rights.
The Modi government's endorsement appears all the more rich because the statement, keeping China in mind, specifically mentions politically motivated Internet shutdowns.
"We are at a critical juncture, facing threats to freedom and democracy from rising authoritarianism, electoral interference,... manipulation of information, including disinformation, online harms and cyber attacks, politically motivated Internet shutdowns, human rights violations and abuses, terrorism and violent extremism," the Open Societies Statement says.
According to Access Now's report for 2020, India accounted for 109 of the 155 Internet shutdowns across the world, leaving runner-up Yemen way behind with just six such clampdowns.
Till date this year, there have been 21 Internet shutdowns — 16 of them in Jammu and Kashmir and the remaining in the National Capital Region in January and February in the midst of the farmers' protests.
Given this background, plus the use of draconian provisions in the law books to curb freedom of expression, the Opposition was quick to seize the opportunity to call out what they saw as the Modi government's doublespeak on democracy.
"If only Modiji could practise in India what he preaches to the world. India has the highest number of govt imposed Internet shutdowns in the world — so much for freedom of expression online," tweeted the Congress.
"G7: India signs off on joint statement: Reaffirms the values of 'freedom of expression, both online and offline'. Sign statements abroad, violate them at home. Freedoms devalued: Internet shutdowns, sedition targeting journalists, students, academics, etc," chipped in Kapil Sibal of the Congress.
CPM general secretary Sitaram Yechury referred to various reports detailing India's record on Internet shutdowns. "India leads the world in Internet shutdowns. Since 2014, sedition cases up 96%; 2,301 new UAPA detentions without trial or bail. By making these tall claims internationally, Modi makes India a laughing stock. The facts are there for the world to see," Yechury tweeted.
Was happy to address the @G7 Session on Open Societies as a Lead Speaker. Democracy and freedom are part of India's civilizational ethos, and find expression in the vibrancy and diversity of India's society. https://t.co/Tjw5vPcGxr

— Narendra Modi (@narendramodi) June 13, 2021
Quoting the Prime Minister's tweet in which he referred to his G7 speech and said "democracy and freedom are part of India's civilisational ethos, and find expression in the vibrancy and diversity of India's society", Trinamul Congress MP Mahua Moitra tweeted: "Irony just died a thousand deaths."
Irony just died a thousand deaths https://t.co/abguBrvTgp

— Mahua Moitra (@MahuaMoitra) June 14, 2021
The G7 countries reaffirmed commitment to democracy as an alternative to the Chinese system that has been gaining ground the world over. Reviving democracy at home and overseas is also a priority concern of US President Joe Biden who has made it a cornerstone of his Build Back Better agenda for America which has now become a mantra for the G7 also after this summit.
The iteration comes at a time when the world's oldest and largest democracies, the US and India, have been placed among the countries that have contributed to an accelerating wave of autocratisation, according to the latest Varieties of Democracies Index report released earlier this year.