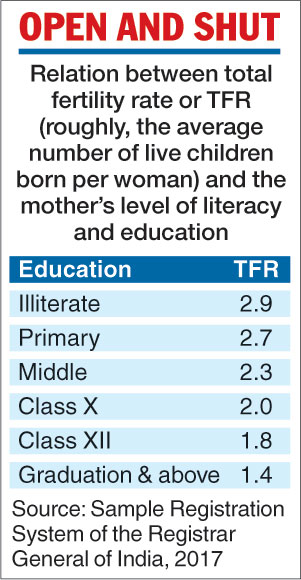 The Centre has stopped funding a key literacy programme, evoking concern among educationists and health experts who have cited the various personal and social benefits of literacy including the lowering of birth rates, a recent focus of Prime Minister Narendra Modi.
Modi had flagged the dangers of a "population explosion" in his Independence Day speech, over a year after an abrupt stop to funding had frozen Saakshar Bharat, a programme of literacy and follow-up education for illiterate people aged over 15.
Data obtained from the Sample Registration System of the Registrar General of India show an inverse relation between the level of parental education and the total fertility rate (TFR), defined roughly as the average number of children born per woman. (See chart)
T. Sundararaman, former director of the National Health System Resource Centre, a health care think tank, said literacy and education were among the biggest influences on couples' reproductive behaviour and, therefore, acted as checks on population.
"With increase in literacy, especially among women, there is a decline in the total fertility rate. The literacy programme should not stop at this critical juncture," he said.
Former NCERT director J.S. Rajput and former National Institute of Open Schooling chairperson N.K. Ambast too said Saakshar Bharat should be continued and highlighted the various beneficial effects of literacy and education on health, family life and the democratic process.
On August 15, Modi had said: "I would like to highlight the issue of population explosion in the country from the Red Fort today. This rapidly increasing population poses various new challenges for us and our future generations."
He had gone on to praise as patriots those who "take a well-considered decision whether they would be able to take care of the child's needs and aspirations". It's exactly this kind of decision-making that literacy promotes, Sundararaman and Rajput suggested.
A TFR of 2.1 is considered "replacement-level TFR", at which a population exactly replaces itself from one generation to the next without migration, and therefore ideal. The TFR in India declined to 2.2 in 2017 from 2.3 in the previous four years.
Sundararaman said most states in India have TFRs below replacement level except for Uttar Pradesh and Bihar.
Officials said Saakshar Bharat had been conceived under the 11th Plan and extended to the 12th Plan period, which ended in 2017.
Under the scheme, nearly 1.65 lakh village-level workers called preraks were assigned to persuade illiterate villagers to come to informal centres to be taught basic reading, writing and arithmetic by voluntary teachers.
After 300 days' training, each participant would take a test. For the successful candidates, the scheme provided an opportunity for open schooling till Class XII. Every state had "resource centres" to prepare textbooks for the illiterate students.
On a request from the human resource development ministry in 2017, the cabinet had extended the scheme for a year. During this period, the ministry sought to recast the scheme as the Padhna Likhna Abhiyan, focused only on literacy and not on continued education, officials said.
It also proposed to dissolve the resource centres, assigning the textbook-writing to the NCERT and similar state-level bodies. With the cabinet seeking more discussions, the funding for Saakshar Bharat stopped from April 2018.
"The new scheme has not been approved by the cabinet till today. The earlier scheme is no longer functional," an official said.
Saakshar Bharat, started in 2009, had by last year successfully imparted literacy training to 7.6 crore people. With the 2011 census having counted 24 crore illiterate people aged over 15, the country should now have substantially more than 16 crore illiterate people.
An email sent to the HRD ministry on August 17 seeking its comments on the stoppage of the scheme and its future had evoked no comments.
Unesco, the United Nations' education arm, too has underlined the negative correlation between literacy and fertility in its Education For All Monitoring Report, 2006.
Talking about children's school education, it says "a 10 per cent expansion in the primary (school) gross enrolment ratio (GER) lowers the total fertility rate by 0.1 child, and a 10 per cent increase in the secondary GER by 0.2 child".
"A literate parent is likelier to send his children to school regularly and monitor their learning outcome," Rajput said.
The Unesco report says that education reduces the fertility rate by giving women more autonomy — and therefore a greater say — and by influencing the age of marriage, female employment outside the home, and awareness of the expenses of educating one's children.
Rajput said literacy has "manifold benefits — social, educational and political", with positive impacts on personal health and participation in democratic processes and community activities.
"Literate people are likelier to give up drinking and gambling," he said. "Education and literacy are important to understanding one's duties, rights and responsibilities and help people become responsible citizens."
Rajput also opposed the idea of the NCERT preparing the study material for literacy schemes, saying its other responsibilities might prevent it from doing justice to the task.
Ambast said literacy made people more productive. He said Saakshar Bharat should be re-launched with additional components such as "skill training and digital literacy to enhance the participants' production capacity".
The Unesco report too says that apart from lowering the fertility rate, literacy can help improve self-esteem, creativity and critical reflection.
It also enables women to gain access to and challenge male domains by, for instance, entering male-dominated areas of work, learning the languages of power previously associated with men and participating in household finances, the report says.
Literacy helps increase awareness about one's rights and about welfare schemes and how to secure their benefits.