Friends say he was shot, police say he died as his tractor rolled over
26-year-old Navdeep, who returned from Australia last year, didn't know Delhi roads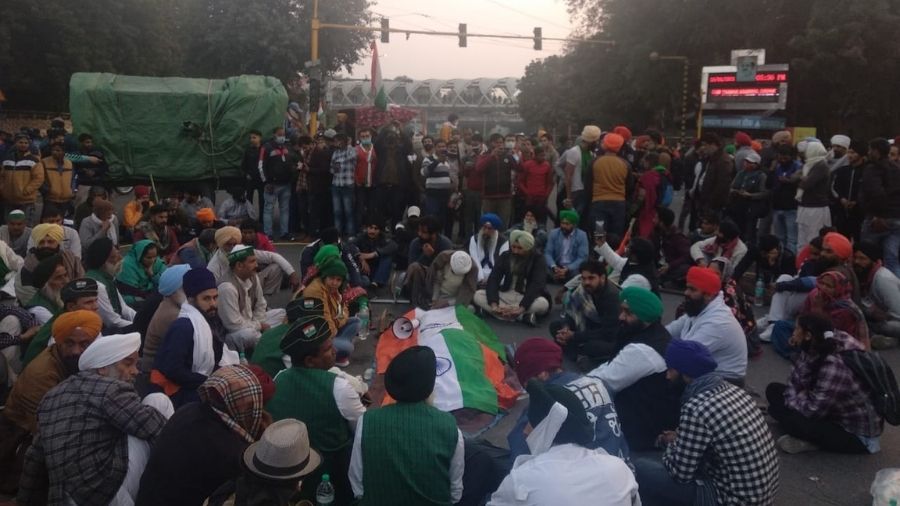 The gathering of farmers after Navdeep was killed at ITO crossing in Delhi on Tuesday.
Picture by Sujan Dutta
---
New Delhi
|
Published 26.01.21, 09:14 PM
|
---
A white and purple woolen blanket that has a hole charred at the edges, an empty from a spent tear gas canister and icky red blood turning brown on the black asphalt mark the spot where Navdeep Singh Hundal died.
Farmers and his friends say he was killed, shot in the head by the Delhi Police half a kilometer from the headquarters in the busiest ITO crossing. The Delhi Police said he died in an accident when his tractor rolled over because he could not control it, according to CCTV footage that the Delhi Police has briefed city reporters on.
All of them agree that Navdeep Singh Hundal, all of 26 years, had returned from Australia last year when he married in February. His wife is still in Australia, said his neighbours from his village Dibdiba near the inter-district boundary of Rampur-Bilaspur in Uttar Pradesh.
This evening at 5pm the ITO Crossing between Vikas Marg, Bahadur Shah Zafar Marg and Deendayal Upadhyay Marg was a thrum of people seated on the road cross-legged around his body draped in the National Flag. They were all angry and sad.
This reporter could not ask for the flag to be lifted then and there to examine his alleged bullet injury in the left temple. The body was to be taken for post-mortem. Before that it would also go to Ghazipur on the UP-Delhi border from where Navdeep drove his Sonalika tractor with three other friends in it to head for the Red Fort.
"The Delhi Police failed to give proper directions," said Rakesh Tikait, the leader and spokesperson of his faction of the Bharatiya Kisan Union (BKU) that has been camping at the Ghazipur border along with farmers of the Terai Kisan Union led by Tejinder Singh Virk.
"Many of these people do not know the roads of Delhi. They have to be told and shown the way," said Tikait, a son of the late Mahendra Singh Tikait who famously led a farmers' rally to the capital in 1988.
Gurpal Singh, who knew Navdeep as a neighbour but does not want to identify his village because he fears the UP police will harass his family, guided me to the spot in front of the Andhra Education Society that is cheek by jowl with the Gandhi Peace Foundation's office.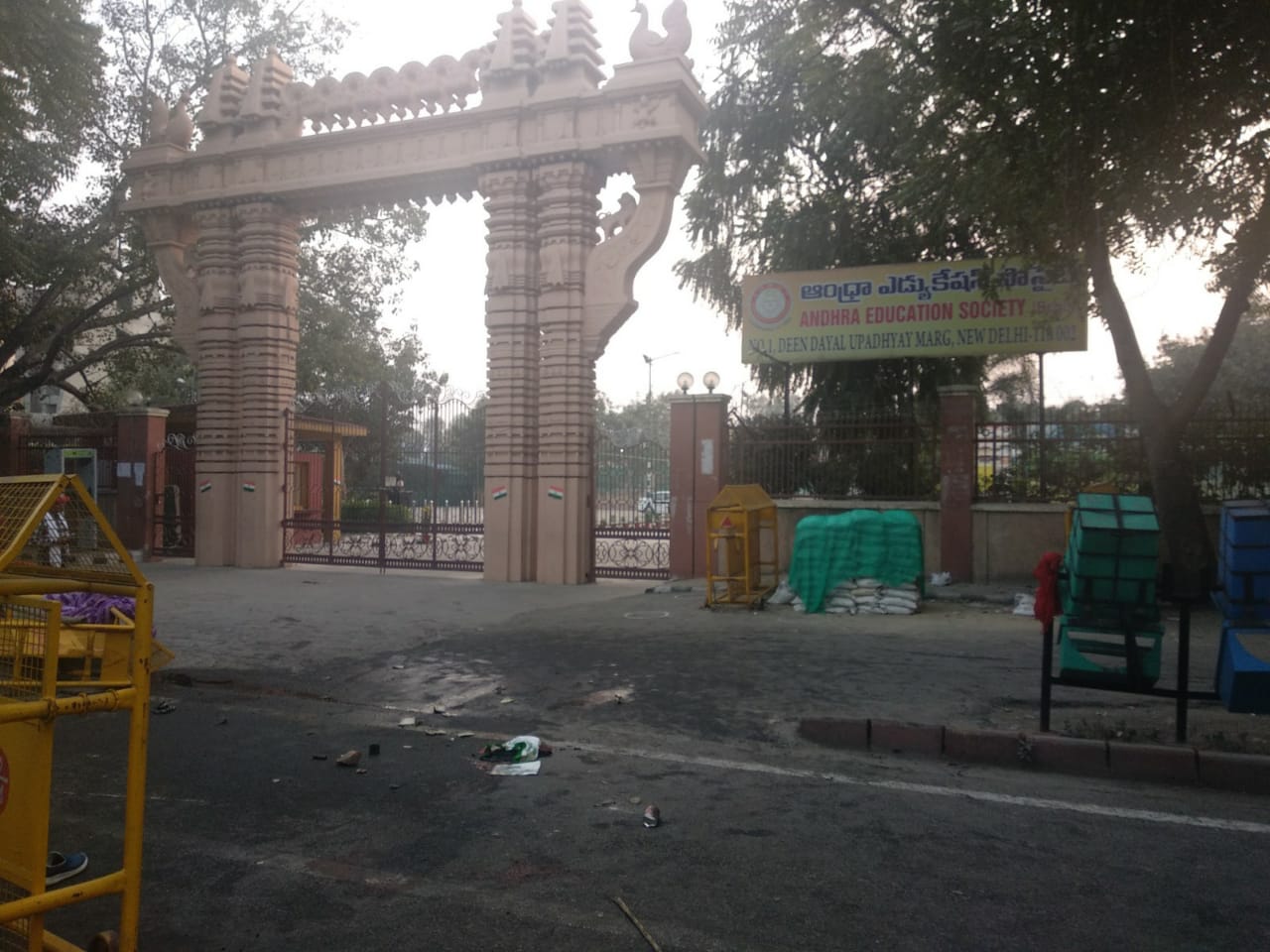 "Dibdiba (Navdeep's village) is close to mine," he said. A tall and fair Sardar with a black turban, Gurpal said Navdeep had fallen behind in the convoy when it was rolling down from Vikas Marg to the east. Instead of turning right on Bahadur Shah Zafar Marg to go to the Lal Quila (Red Fort), he went straight ahead. The police shot tear gas. The gas went into Navdeep's and his friends' eyes. He tried to take a sharp U turn with his Sonalika tractor and the vehicle rolled over. As it happened a shot rang out and the bullet went into his head, said Gurpal pointing to his left temple, above the eye but before the ear, with two pointed fingers and three rolled into a fist.
In the official media story that is being carried, the youth died in an accident, the spot surrounded by yellow grilled barricades with rollers that people in Delhi are used to. Navdeep, according to Gurpal, was to turn right on Bahadur Shah Zafar Marg, popular because of the many news organisations officed there that are now mostly emptied because of a pandemic year.
Gurpal shows a tear gas canister fired by the police. It is from the Border Security Force's Tekanpur establishment dated 2014. Beyond its expiry date, says the label (see picture). It makes little sense because if you want to gas a people the live-by date is what you would least care about.
The NDTV news channel has reported this:  "CCTV footage of the incident showed a blue tractor crashing through yellow Delhi Police barricades at high speed before rolling over twice and coming to rest by the side of the road.
However, some farmers at the site - near the Deen Dayal Upadhyaya Marg - claimed he was killed in police firing and began a sit-in protest.
The farmer has been identified as Navdeep Singh Hundal, 26, from Uttarakhand's Bajpur area. Two other farmers, Angrez Singh and his son from a village in Uttarakhand's Rudrapur, told NDTV Navdeep Singh had recently been married."
In trying to report the event from the spot, it must be said, that the services of the internet on mobile phones were jammed. It is not that messages were not going through. They were being delayed, as if they were being relayed after vetting.
Navdeep's body was brought back to Ghazipur, on the Delhi-UP border, still draped in the Tricolor. There is a thrum again here. As I push my way through the throng and try to take pictures on the mobile phone, the Sardar escorting says "yahaan photo lena mana hain (it is prohibited to take photographs here)".
They are waiting for his father to arrive. His father was delivering a trolley-load of sugarcane to a mill in Rampur, western Uttar Pradesh, when he was told his son is dead.
They had about 20 acres, said Atinder, another neighbour. "Pada likha aur khushhaal the, lekin Dilli ka raasta nahin pata tha (they were literate and prosperous but did not know the roads of Delhi)," said Atinder.
In the night sky over Ghazipur, there is "Satnaam Waheguru" that is chorused. It is plaintive.