The platform will also be operational in more than 80 countries by the end of 2024.
Former telecom prodigy, Sumant Kant Kaul launching Bliss GenX, a blessing for Wellness Seekers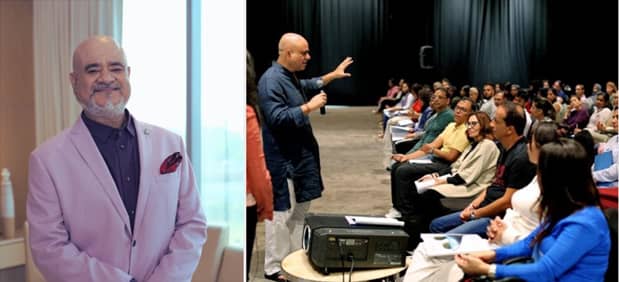 ---
Published 23.09.21, 03:12 PM
|
---
The former Managing Director of Hitech Cellular and Paging Services, Sumant Kant Kaul is often credited for revamping the Indian Telecom Sector through his vision and his smart policies.
He made sure that technology reaches the poorest of poor and the underprivileged section of the society  in our country and people are able to utilise these tools to connect and communicate with each other. The man, after creating a niche in the domain of the telecom industry is now ready to unleash a new era of modernisation through his four new upcoming stellar projects. The visionary entrepreneur has announced different projects which can give a new lease of life to various crumbling sectors in this post COVID era.
Bliss GenX, a platform that aims to give a complete overhaul to the Education, Healthcare, and Wellness industry is the first project which Sumant Kant Kaul has announced. It has been a terrible time since COVID hit the world. The depleting economy, the surge in unemployment have been a major concern for people and the establishment. There has been a major shift in the working of various sectors. Moreover, there is a growing need to bring forth new policies and tech-driven approaches to boost different sectors that have been at the forefront of the havoc unleashed by the pandemic. Catering to this, Sumant Kant Kaul has come up with Bliss GenX in order to revamp the education and wellness sector. People have often heard the phrase 'Health is Wealth' and this proves to be true especially at a time when the world is dealing with a deadly virus.
To combat COVID, people need to be aware and educated about wellness, especially mental health. Through Bliss GenX, the platform Sumant aims to impart knowledge on healthcare. This platform tends to launch a global application that will impact the lives of billions directly and indirectly as he feels his projects will create the ripple effect and there would be millions joining his and also bring similar projects like these.
Through this new initiative, the virtuoso is emphasising innovative ways of imparting education in wellness. The platform provides an effective, new-age education system where a Bliss GenX member would be guided to master the concept of education in Wellness. The platform will also provide certification after a member has successfully completed his/her masterclass and online assessment. New age requires new tech-driven solutions and through Bliss GenX, Sumant Kant Kaul is ensuring this.
The initiative is slated to be launched in 2021. The platform is believed to be the future of education and will focus on skill-based learning.
The much-hyped second project that Sumant Kant Kaul has announced is -Fourth Eye Meditation App. It will be a multilingual global mediation app aggregator that tends to connect different communities globally. It will be focusing on providing high-quality wellness and healthcare products along with semi precious an precious gemstones and jewellery. It will be launched in 2021 only but fully operational in 2022.Believing in the magical power of Meditation, Sumant has been excited to announce this venture.
The app wants to make people aware of the benefits of meditation not only in India but across the globe and hence the app will be available in various popular languages which include English, Hindi, Chinese, Japanese, Hungarian, Russian, Spanish, French, German. The app will cater meditation solutions to a wide range of issues be it pre and post-pregnancy, stress, insomnia, anger, traumas, abuse, relationship issue and special meditations for students  to resolve their  mental stress due to fear of exams and failure in life .
'Online is the New Offline' and believing in this, the astute entrepreneur has decided to launch his third project,  which is a software development platform named App Dukaan. Loaded with advanced tools like Artificial Intelligence (AI), the platform will be a boon to a wide range of small, medium, and growth-stage enterprises. These firms can boost their online presence with the help of pre-packaged, low-cost applications. App Dukaan will be formally launched by 2022.
This venture is announced keeping in mind the growing needs of web development services that are hired by a lot of brands to boost their online presence. App Dukan will be an Artificial Intelligence (AI) driven software development program that will help industries in establishing their online presence through affordable pre-packaged applications.
The platform is currently under the developing stage and will be operational fully by 2022.
Taking into account the vast potential of e-commerce companies, the 4th project, Dazzle, will be a C2C social e-commerce platform. The project is believed to bring a stride in the online business segment by empowering consumers directly with suppliers /manufacturers customers by enabling them to connect with one another without any intermediaries. Dazzle is expected to be operational by 2022. Dazzle is going to be a social e-commerce platform which is the 4th project that Sumant has announced, will be a platform based on the Customer to Customer (C2C) model. It will provide an all-new innovative way for customers to freely interact with each other without any intermediaries. It aims to abolish traditional markets where consumers were required to interact with businesses in order to purchase a product or service.
Dazzle is slated to be released in India, the India, USA, Hungary, and the United Arab Emirates in the year 2022-23.
The platform will also be operational in more than 80 countries by the end of 2024.
It is out in the open for everyone to see that e-commerce giants are slowly taking up all the business. It won't be wrong to say that they are the future of the business globally.
With these stellar projects, one can, without an iota of doubt, say that Sumant Kant Kaul has a vision for the future. He is the man who understands the need for technologies in touching people's lives. Through his strategically designed futuristic projects, he seeks to revamp these crucial sectors that have immense potential in contributing to the country's economy and growth as well as touching the lives of billions of people in this post COVID era.