Former Kerala top cop puts BJP in spot over Padma for Nambi
Senkumar questions award to ex-Isro scientist -- but award was recommended by party MP, not Left govt in state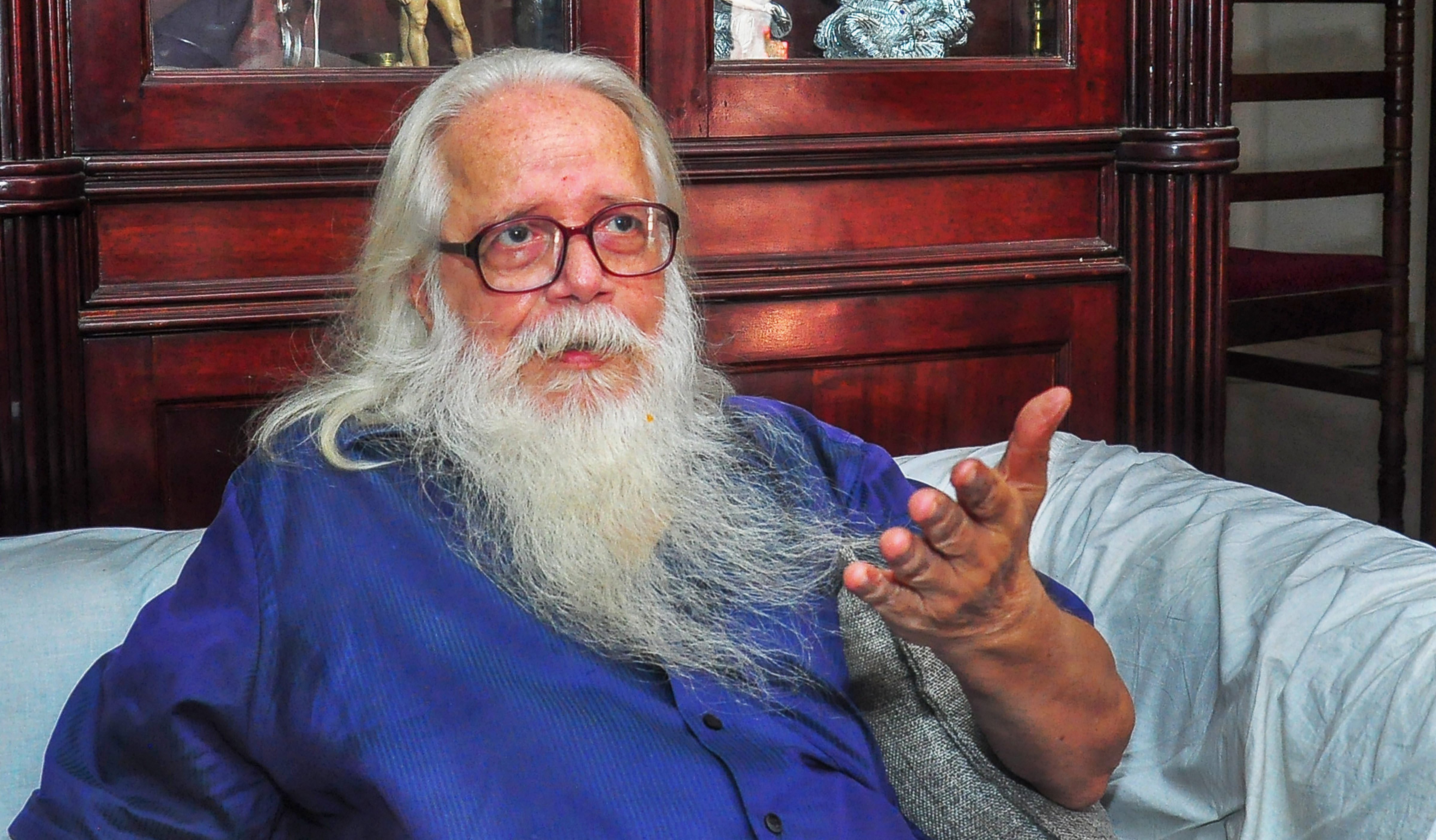 ---
Bangalore
|
Published 26.01.19, 08:08 PM
|
---
A former chief of police in Kerala considered close to the BJP has left the party struggling for words after he criticised the decision to award scientist and aerospace engineer Nambi Narayanan the Padma Bhushan in the latest Republic Day honours.
T.P. Senkumar was, apparently, not aware that BJP MP Rajeev Chandrasekhar had recommended the award for the former Isro scientist, not the CPM-ruled state government.
"Those who recommended this award (for Narayanan) and those who awarded it are duty-bound to tell us what is the scientific achievement of this great man to Isro or India," Senkumar told a media conference on Saturday.
Narayanan was Kerala's second Padma Bhushan awardee this year besides Malayalam actor Mohanlal.
Back in the nineties he had been falsely implicated in the Isro spy case before the Supreme Court acquitted him and others in 1998.
The 76-year-old's battle for justice finally ended last year when the court awarded him Rs 50 lakh as compensation and set up a panel to probe the genesis of the spy case.
Senkumar, who some BJP leaders say might be fielded in the upcoming general election although he isn't a party member, questioned the logic behind honouring Narayanan when the court-appointed committee hadn't finished its job yet.
"I am concerned that if it goes like this, next year Govindachamy, Ameerul Islam and Mariam Rasheeda might get the Padma Vibhushan itself," the retired cop said.
Govindachamy is an accused in a brutal rape and murder and Ameerul has been convicted in a similar case. Rasheeda is the Maldivian who was wrongly jailed along with Narayanan.
State minister A.K. Balan objected to Senkumar's comments. "Senkumar shouldn't have used such language," Balan said. "The person who needs to respond to this is the BJP's state president."
When contacted, state BJP president P.S. Sreedharan Pillai clearly struggled for words.
"How can we react to this? The awards are decided by a presidential committee that picks from the state government's recommendation," Pillai said.
The focus shifted to Chandrasekhar's recommendation when chief minister Pinarayi Vijayan's office clarified that the state government had not suggested Narayanan's name for India's third-highest civilian award.
Chandrasekhar, a BJP Rajya Sabha MP, had on September 19 written to the Prime Minister recommending "a Padma award or a similar recognition by Government of India that recognizes eventual triumph of good over evil" for Narayanan.
That was just a few days after the top court had awarded Narayanan the compensation.
The two-page letter, sourced from Chandrasekhar's office, had dwelt at length on the suffering Narayanan had endured after the case was filed in 1994.
Narayanan, who is credited with building the country's first liquid propellant motors that later shaped up as the cryogenic engines which continue to power the PSLV and GSLV satellite launch vehicles, dismissed Senkumar's comments.
"Whatever he is saying is irrelevant, immaterial and doesn't carry any weight," the septuagenarian told reporters from his home in Thiruvananthapuram.
The former scientist refused to react to Senkumar comparing him with a criminal. "I am not ready to react to something that is his culture and his language," Narayanan said.