Foreign litter on Great Nicobar beaches
The accumulated plastic litter suggests that water currents are transporting the waste from southeast Asian countries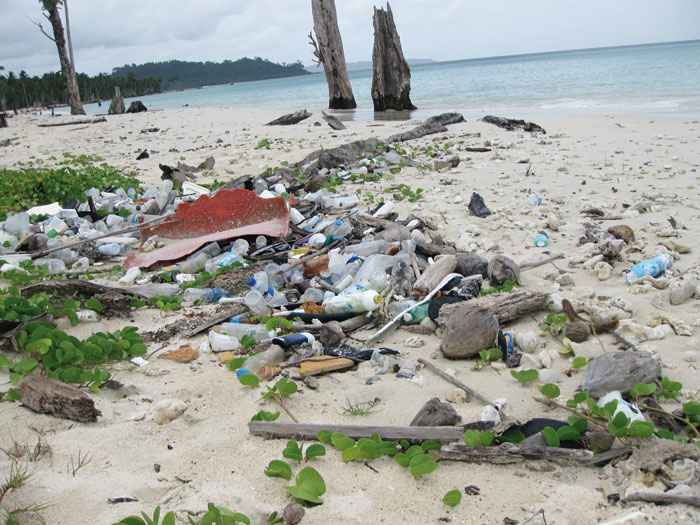 Plastic waste at the Great Nicobar
Photo credit: Biraja Kumar Sahu
---
New Delhi
|
Published 12.10.19, 12:27 AM
|
---
Plastic waste from southeast Asian countries is littered along several pristine beaches of India's Great Nicobar island, an environmental researcher said in a report on Thursday that calls for clean-up to protect the island's marine ecosystem and species.
Biraja Kumar Sahu, a scientist at the Institute of Minerals and Materials Technology (IMMT), Bhubaneswar, has said the accumulated plastic litter suggests that water currents are transporting the waste from southeast Asian countries through the Malacca Straits towards the Great Nicobar island.
The island is home to the Shompens, a primitive tribe, a habitat for diverse creatures including the giant robber crab, a megapode bird, the crab-eating macaque and a nesting ground for leatherback sea turtles.
Sahu, who surveyed five beaches on the island's eastern part, found nearly 98 per cent of plastic litter was of non-Indian origin. His analysis of 60 plastic items, mainly bottles, picked up from each site, shows that the major portion (40 per cent) of the litter originated in Malaysia, followed by Indonesia (24 per cent) and Thailand (16 per cent).
All five beaches also had smaller or trace amounts of plastic litter from Singapore, Myanmar, China, Japan and the Phillipines, Sahu said describing his findings in Current Science, a journal from the Indian Academy of Sciences. The IMMT is a Council of Scientific and Industrial Research laboratory.
Although he conducted the survey during 2014, Sahu said the findings are still relevant because the plastic litter accumulation appears to be a continuous process without any efforts to clean the beaches.
"The Great Nicobar island appears to be facing the impact of poor plastic waste management in southeast Asian countries or by passing ships," Sahu told The Telegraph over the telephone. "Over the years, components can leach out of plastic and enter the local ecosystem."
Scientists at the National Institute of Ocean Technology, Chennai, involved in a coastal monitoring project had first documented the presence of plastic debris on the Great Nicobar island in 2003.
The NIOT researchers had cautioned then that marine plastic debris can harm fish and other organisms that thrive around coral reefs by "rubbing against them or smothering them."
They had also expressed concern that the plastic might also pose a risk to leatherback turtles and their hatchlings on the Great Nicobar, a key breeding site for this species.
"Our snapshot survey suggests that the amount of plastic litter there since 2003 has hugely increased," Sahu said. His paper has recommended "immediate action" to collect the plastic waste in the long-term interests of the island.