Flood situation grim in Bihar as rain continues
A ray of hope came as the discharge into the Gandak river from Valmikinagar barrage located on the India-Nepal border dipped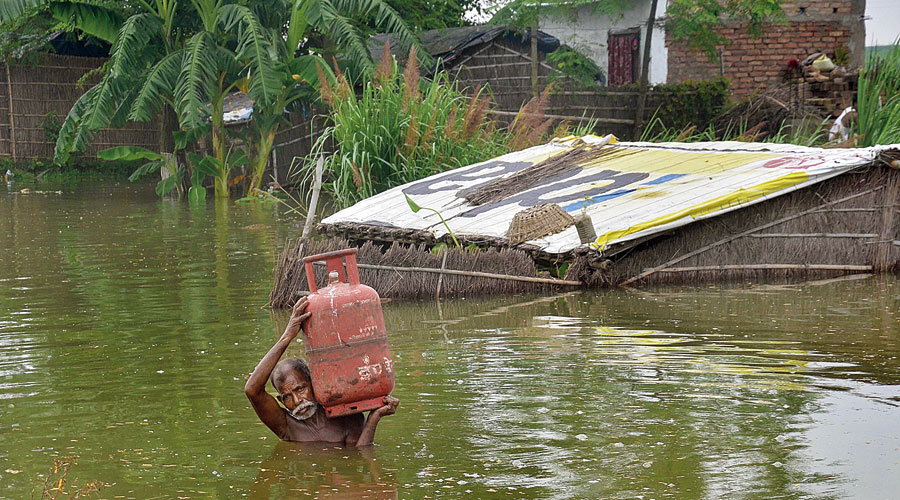 ---
|
Patna
|
Published 18.06.21, 01:44 AM
---
The flood situation in northwestern parts of Bihar remained grim on Thursday as rains continued in the area and neighbouring Nepal, but a ray of hope came out of the clouds as the discharge into the Gandak river from Valmikinagar barrage located on the Indo-Nepal border dipped.
"We are hoping the situation in West Champaran, East Champaran and Gopalganj districts to improve because the discharge from Valmikinagar barrage has come down to 2.6 lakh cusec.
"A day ago it had touched 4.12 lakh cusec but is now showing a declining trend. The level of the river will go down now," disaster management department officer on special duty (OSD) Avinash Kumar told The Telegraph.
One cusec or 'cubic feet per second' is equivalent to 28.32 litres of water passing any particular point per second.
The OSD asserted that the flood situation was under control as the spread of water from the spilling of Gandak, its tributaries, other small rivers and rivulets was limited to low-lying areas, agricultural fields and villages located in the space between rivers and embankments along them.
"National Disaster Response Force (NDRF) and State Disaster Response Force (SDRF) have been deployed in West Champaran, Gopalganj and East Champaran districts. Two NDRF teams are positioned in West Champaran and one each in Gopalganj and East Champaran districts," Kumar added.
Meanwhile, heavy rainfall in different parts of Bihar and Nepal also posed a threat to northern and northeastern parts of the state.
Over 1 lakh cusec water was being discharged from the Birpur barrage on the Indo-Nepal border into the Kosi river, which is called 'the sorrow of Bihar' due to its disastrous floods. A sustained release of high volume of water into the river could bring floods in several districts of north Bihar.
The Budhi Gandak, Kamla Balan, Bhuthi Balan and other rivers are also brimming with water and further heavy rains could lead to extensive floods in the state.
Meanwhile, apart from the Gandak, smaller rivers and rivulets entering Bihar from Nepal also spilled over at many places to submerge villages and agriculture fields in West Champaran and East Champaran districts.
The high level of water in Gandak moved towards Gopalganj and Saran districts. Several villages in the low-lying areas in the two districts are facing floods and erosion.
The Central Water Commission (CWC) maintained the forecast of severe flood condition in Gopalganj, East Champaran and Saran districts over the next few days. Its director Sharad Chandra asserted that the flood situation in Gandak and Budhi Gandak rivers was mainly due to extreme rainfall in the catchment areas in Nepal. It is expected to abate slowly.   
People in flooded villages and Bagaha town in West Champaran have started shifting to safer areas. The district administration has also launched evacuation, but on a very small sale. Flood protection work is also going on to ensure that no embankment breaches under the pressure of floodwaters.
Plastic ban
The Bihar government has banned the use, production and trade of single-use plastic and thermocol in the state. A decision in this regard was taken by a cabinet meeting chaired by chief minister Nitish Kumar. The government will issue detailed notification later.
The state has already banned polythene bags.