Fit India cry: Many quesions, few answers
Is India alarmingly obese? How will the movement come to life?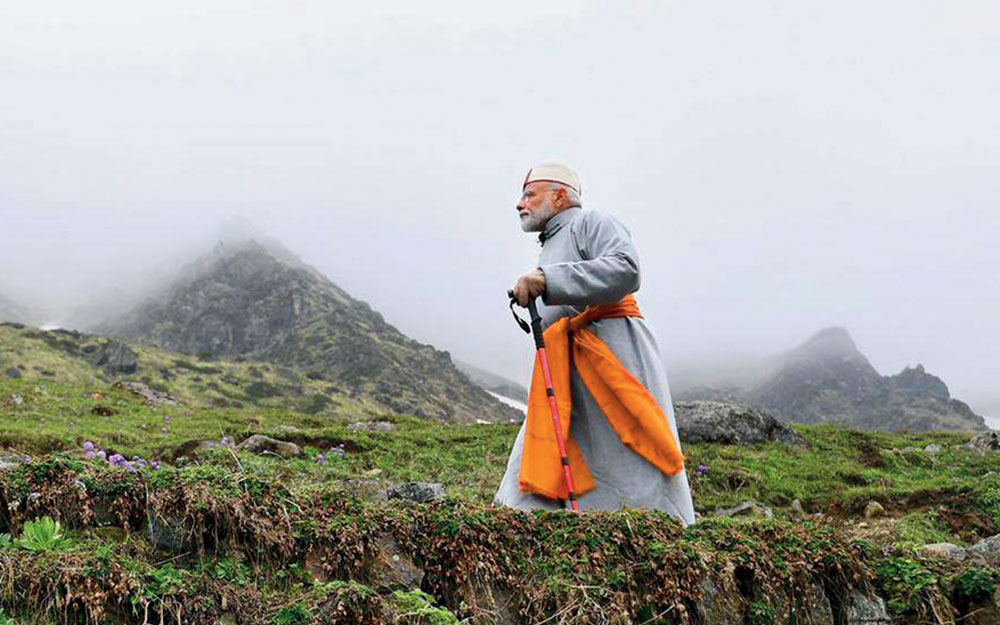 In his National Sports Day address, Modi said we are being a less fit country because of current lifestyle trends and technology intervention
(PTI)
---
New Delhi
|
Published 30.08.19, 03:36 AM
---
Narendra Modi, while launching the Fit India Movement on Thursday, did not lay out how his government would work to make citizens work out more.
The Prime Minister's remark on Thursday that Indians had moved away from exercising physically, at a time fitness centres are sprouting in every big and small town, also seemed to give a one-sided view of matters. "Fitness has always been an integral part of our culture. But there is indifference towards fitness issues now. A few decades back, a normal person would walk 8-10 km in a day, do cycling or run… but with technology physical activity has reduced. We walk less now and the same technology tells us that we not walking enough," Modi said in his speech at the Indira Gandhi Indoor Stadium in New Delhi while pushing Fit India, which oddly rhymed with Quit India, the 1942 movement to end British rule.
Fit India would be a 'zero per cent investment, infinite returns' mission, the Prie Minister said. But how would that come to be? No answer was provided in his speech.
When this question was put to Rajesh Kotecha, the secretary in the Ayush ministry that is one of the prime movers, he mentioned Swasth Bharat. 
'Fit India Mission is a vertical of Swasth Bharat. It will be carried out by several ministries in sync with each other like in Swasth Bharat. We (Ayush ministry) had a deliberation today (Thursday) with several ministers regarding the campaign. We have a lot to contribute in way of creating awareness about how to stay healthy, propagating traditional nutrition, all-round nutrition. We have also been creating small animatrd videos also for the campaign to create awareness,' he said.

What is also uclear is how the government came to the conclusion that Indians are physically unfit and should exercise more.  
Some western nations, which are among the most advanced, are grappling with an obesity crisis for a long time now. Lazy lifestyle and junk food have been counted as prominent reasons for this.

According to Our World in Data, a data aggregator website, over one-third of population of the US was found to be obese in 2016. The percentage of obese people in other countries, such as the UK, Spain, France and Denmark, were 26 per cent, 22.70 per cent, 20.40 per cent, and 18.50 per cent, respectively.
On the other side, the percentage of obese adults in India was 3.90 in 2016. This was only slightly above a poorer Bangladesh, which had 3.60 per cent obese people. In China 6.20 per cent adults fell in the category of obese, while in a war-ravaged Congo 9.60 per cent and drought-stricken Mozambique 7.20 per cent were obese.
Whether a person is obese can be known by his or her body-mass index, which is calculated by dividing the weight (in kilogram) by height in metres and square. If the BMI is above 30, the person is obese. Anything between 18.50 and 24.99 is considered normal.
According to 2017 data by NCD Risk Factor Collaboration, a UK-based network of health scientists, India has made decent progress from having a body-mass index of 18.76 in 1975 to 21.53 in 2014, which is considered normal. In other words, we are as fit as China was in 1975.

But such data present an incomplete picture about Indians' health situation. Despite being BMI-healthy, the country loses more people to cardiovascular diseases in comparison with countries with a higher percentage of obese people. The probem may not be sedentary life, but a poorer health care system than the West.
Obesity can cause an array of problems, such as hypertension, coronary heart disease and cerebrovascular diseases.
According to data published in 2018 by the Institute for Health Metrics and Evaluation, a US body, cardiovascular diseases claimed the most deaths, 31 per cent, in 2017 in the US. The next two highest causes of death were cancer (17.08 per cent) and respiratory diseases (7 per cent).
Cardiovascular diseases were the top killer in India too, claiming 26.57 per cent of total fatalities, followed by respiratory diseases (12.83) and cancer (9.38).
However, when India loses 282 people per 100,000 individuals to cardiovascular diseases, the US loses 151 per 100,000 individuals. Same is the case with other western countries battling the bulge much bigger than India's.
Countries like France, Spain and the UK lose far fewer individuals to heart-related diseases owing to better health care systems, which on all counts are more accessible than India's. 
An earlier version of this report had erroneously mentioned Swachh Bharat, instead of Swasth Bharat, in a quote given to this website by Rajesh Kotecha, secretary, ministry of Ayush. We aplogise for the mistake.