Figures who became public faces of the demonetisation implementation
Number cruncher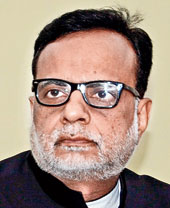 ---
---
NUMBER CRUNCHER
Minutes after Prime Minister Narendra Modi declared old high-value notes as junk on November 8, Hasmukh Adhia, revenue secretary and a Gujarat cadre IAS officer, tweeted from his handle: "This is the biggest and the boldest step by the Government for containing black money. It is like a surgical strike on black money."
Adhia was a supporter, an enthusiastic one, of the demonetisation measure Modi, his boss of many years, brought in. Adhia, a topper from Ahmedabad's HR College in accountancy and a gold medallist from IIM Ahmedabad, besides being a doctorate in yoga from Swamy Vivekananda Yoga University, Bangalore, has served as principal secretary to chief minister Modi and his state government's additional chief secretary looking after finance, before shifting to North Block, which houses the Union finance ministry.
Although technically one of finance minister's Arun Jaitley's core team, it is well known that he enjoys a rapport with the Prime Minister with whom he converses in their native Gujarati.
Adhia, who prefers to wear a "Modi jacket" like his boss and sports an unkempt beard - not exactly like the Prime Minister's - is believed to have been the supervisor of the "backroom" planning for the move which Modi commissioned.
At a dinner thrown by the finance minister for journalists in November a couple of days after demonetisation had been announced, Adhia in passing admitted that there may be problems in replacing the money taken out of the system, but quickly went on to enumerate the benefits of the move which he predicted would ramp up government revenues, among others.
Insiders say his seemingly off-the-cuff remark was not as innocuous as it sounded but was based on hard research. Adhia possibly knew that India could not remonetise quickly, given the limited capacity its mints had. But he knew that the move would lead to a jump in his department's balance sheet. Income tax collections till December 19 have jumped 14.4 per cent, while excise collections have soared by 43.5 per cent and service tax by 25.5 per cent.
Adhia had cleverly sought to engineer just that with a clause in the demonetisation notification that said that old, junked notes could be used to pay tax dues. Officials said most businesses that had large stash of cash in hand chose to pay advance tax by December 15 to liquidate their old note holdings.
However, his colleagues in the civil service remain critical of him. "He is a honest, hard-working officer with a simple lifestyle. But he is also a 'yes man' who implements his Prime Minister's bidding without questions," one of them said.
RELUCTANT DEMONETISER
Just a year ago, as the successful finance minister of a $2-trillion economy growing at clip faster than China, Arun Jaitley was the toast of his global colleagues and of the world media at the annual Davos meet of the World Economic Forum.
A year later, with demonetisation making landfall and daily new rules emanating from Jaitley's office confusing all and sundry, he has drawn criticism for what is being perceived at best as a ham-handed implementation of a well-intentioned move and at worst a thoughtless move which has damaged India's prospects.
Jaitley's detractors within the party spread a tale of the finance minister not being in the know. It is a story that both Jaitley, privately in his daily ' durbar' with friends, and his rival in the cabinet, power minister Piyush Goel, have publicly rubbished.
Insiders in North Block insist Jaitley was in the know but was at best a "reluctant convert" to the idea of demonetisation. When it was first mooted in early 2016, then RBI governor Raghuram Rajan shot it down and the finance minister did not try to press for it. The measure was revived at the Prime Minister's insistence after the change of guard at India's central bank.
Although Jaitley never voiced any opposition to the measure, he did not go overboard in his enthusiasm for it either. His officers say Jaitley went along with the move, but possibly was personally never too comfortable with it. While his officers like Shaktikanta Das and Adhia enthusiastically greeted the measure on social media, Jaitley took his time and after about seven days decided to change his Facebook status to: "India cannot afford to live with black money any longer. Honesty, integrity and ethical conduct are requirements of India's development."
However, the piloting of the measure legally remained Jaitley's responsibility. As a keen student of constitutional history, the finance minister knew that in 1978, the then Janata government had brought a law to scrap high-denomination notes in the country and he too needed to do so to ensure it would stand scrutiny in courts of law. However, as a lawyer, he also knew that if he brought in an ordinance on November 8, demonetising Rs 500 and Rs 1,000 notes, he would have to bring a law backing the ordinance when Parliament met later that month, giving the Opposition a chance to debate the move and possibly pick holes in it.
He tried his best to avoid the trouble by using a little used provision in the RBI Act to issue a simple notification. Once the political storm had seemingly passed, he asked thecabinet to clear an ordinance.
In a North Block old-timer's words: "That is essentially Jaitley - a clever lawyer - but not necessarily the best money manager India has had."
THE MASCOT
Since November 8, Shaktikanta Das, the diminutive Tamil Nadu-cadre IAS officer with roots in Odisha, has become the mascot for the demonetisation drive, fielding questions and holding hurriedly called media conferences to announce rule changes.
Das, a postgraduate from St Stephen's College, has spent nearly a decade in New Delhi, almost all of it in the western block of North Block, the red sandstone building that houses the ministry of finance. From a joint secretary handling budget in 2008 to secretary, economic affairs, it has been a journey of ups and downs through the corridors of the same building, except for a six-month stint as secretary, fertilisers, at Udyog Bhavan, a stone's throw from North Block.
Das has managed to hang on to his job in the face of a trenchant campaign against him orchestrated by BJP MP Subramanian Swamy, who has accused him of being close to the UPA and former finance minister P. Chidambaram. Many say this was thanks to Das's proximity to the Prime Minister's right-hand man - Dr P.K. Mishra, a fellow Odiya IAS officer who is Modi's additional principal secretary as well as an expert on India's budget and financial matters.
Like his colleague from Gujarat, Adhia, Das is believed to have also been one of a handful of officers who were entrusted with making the demonetisation drive a success, including conducting studies on its possible impact.
However, it was only after the measure was announced, that Das came into the forefront as North Block decided to field him before the media every time a rule was tweaked.
SPHINX WITH A STING
When the usually quiet and taciturn Urjit Patel replaced Rajan, the popular RBI governor who enjoyed almost rock star status in the world of economics and high finance, Mint Street braced for a change in the way the central bank functioned and how it communicated information to the world outside. Patel was known to be an efficient financial administrator with an enviable track record.
Patel is known to be close to the Prime Minister, having served on the board of a Gujarat government-run oil driller. He had been groomed for the top job having spent several years as Rajan's deputy at the RBI. Besides holding a doctorate degree in economics from Yale University, and years of experience with the Boston Consulting Group, the economist has worked with the International Monetary Fund and as president (business development) with Reliance Industries.
However, within months of joining the top job, and weeks of the announcement of the demonetisation decision, bank officers throughout the country through their associations have demanded his resignation and held demonstrations outside the RBI. Usha Thorat, a respected former RBI deputy governor, has gone to the unprecedented extent of criticising the RBI's role in the demonetisation crisis by writing: "There have been times when the Old Lady of Mint Street was criticised for being too conservative and cautious - for not being able to keep up with innovation and markets - never has she been accused of not knowing her job. Never has she been the butt of as many jokes as in the last few days."
RBI officers say that while Rajan had fought pressures to go in for a demonetisation, contending that it would have little impact on black money and could be devastating for the economy, Patel took just days to agree with Modi's scheme to scrap all Rs 500 and Rs 1,000 notes without even taking stock of how long it would take to print fresh currency to replace the banned notes.
"Never in its history of 80 years has the RBI had to bear the ignominy of not being able give banks cash when asked for," said a top RBI official. Till the mid-1960s, the RBI used to print and supply currency for circulation not only for the whole of India but also for nations in the Gulf and was considered one of Asia's best currency managers.
Patel has maintained a sphinx-like silence amid grim forecasts of an economic meltdown this year. Banks have been grappling with a tidal wave of deposits for which there are no borrowers. This leaves bank chieftains with the headache of forking out interest on deposits that they cannot immediately profitably deploy. The government's decision to float market-stabilisation bonds has helped a bit. But it is still not clear whether the problem has been fully mitigated.
The RBI under Patel has also become uncharacteristically intolerant to criticism. Stanley Pingal, correspondent for The Economist, who had criticised the RBI governor, was barred from the central bank's bi-monthly media conference earlier this month. Modi has picked a person to head the RBI who matches his persona by preferring to keep his counsel but won't brook withering comment.