Call for a permanent platform for collective action
Fight-without-fear cry at Opposition meet
The chief ministers accused Modi of being interested only in imposing the RSS agenda of cultural and religious uniformity while being completely oblivious to the people's concerns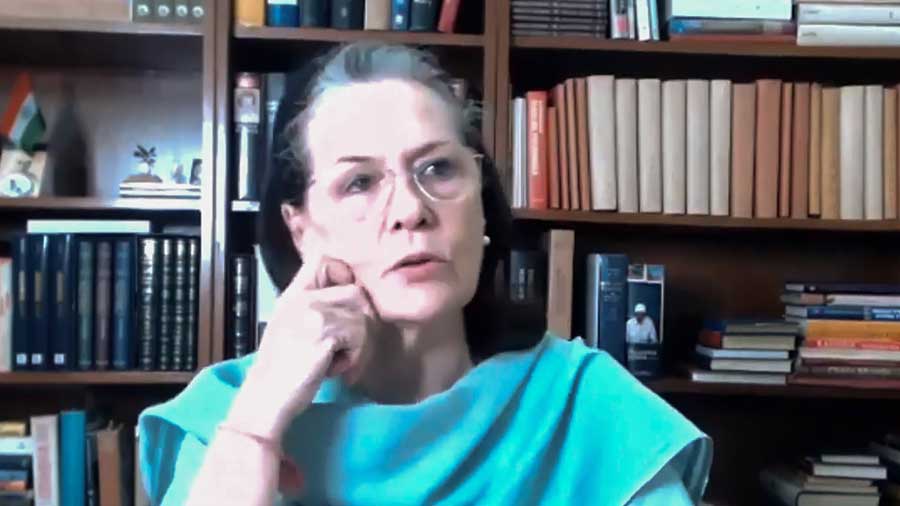 ---
---
Seven Opposition chief ministers have resolved to collectively fight what they described as an assault on the federal structure by the Narendra Modi government whose political antagonism is threatening to disrupt governance in several parts of the country.
The grievances of these chief ministers are not restricted to the usual charge of financial injustice because of political bias but their complaints involve structural issues of Centre-state relations, misuse of central agencies for harassment, attempts to impose ideological hegemony and conspiracy to topple Opposition governments.
Participating in a video conference called by Congress president Sonia Gandhi, the chief ministers repeatedly asked her to create a permanent platform for collective action and contended that democracy would not survive in India without the protection of the federal structure and multi-party system.
They accused Prime Minister Narendra Modi of being interested only in imposing the RSS agenda of cultural and religious uniformity while being completely oblivious to the people's concerns.
Sonia was surprised to note that non-Congress chief ministers demonstrated greater keenness for a united fight against the BJP, contrary to the perception that the regional allies were not in tune with the Congress's aggressive anti-Modi posturing.
They requested Sonia to take the lead in offering stiff politico-legal resistance to the BJP government in the larger interest of India's pluralist democracy.
Sonia, apparently not prepared for such a demand, responded in agreement instead of promising any concrete plan.
Bengal chief minister Mamata Banerjee emerged as the central figure at the meeting, with Sonia giving her exceptional importance.
Maharashtra chief minister Uddhav Thackeray, a new entrant in the so-called secular camp, was the most belligerent.
He said: "All of us are in the same boat. We face similar challenges. These meetings — exchanging pleasantries and eating snacks — won't help. We have to decide: Darna hai, ki ladna hai (To fear them, or fight them). Agar ladna hai, toh jo hoga woh hoga (If we have to fight, don't fear the consequences)."
In the typical Shiv Sena style, describing himself as the son of a combative father, Uddhav said: "We are for satyamev jayate, not satta-mev jayate (We want truth to triumph, not power to triumph). On people's issues, there can't be any compromise. We are also elected governments. If people have elected Modi, we are also elected by the people. It is not that different sets of people have elected us. If somebody tries to suppress the voice of the people, our duty is to make that voice louder."
Laying stress on the inviolable rights of states in the federal scheme, Uddhav said: "Rajiv Gandhi brought panchayati raj with the objective of decentralising power. Now we are moving in the reverse direction as everything is being centralised."
Uddhav added: "Do we want to reach a situation where only one man rules this country? What will be left of democracy without federalism? The dues and compensation under the GST is a genuine grievance but the fundamental question is whether we should go back to the old system. The states have a right to collect taxes. Or should we explore a middle path?"
Uddhav questioned the strategy of meeting only during crises. "The states are undoubtedly distressed because of non-payment of GST dues. The states cannot survive in this financial distress. But why should we meet only in crisis? We should evolve a common programme and approach the Centre collectively for people's rights. There are issues like environment, exams and resources. Development does not mean loot of natural resources. We shouldn't wait for a crisis. Our unity should ensure the crisis is averted in advance."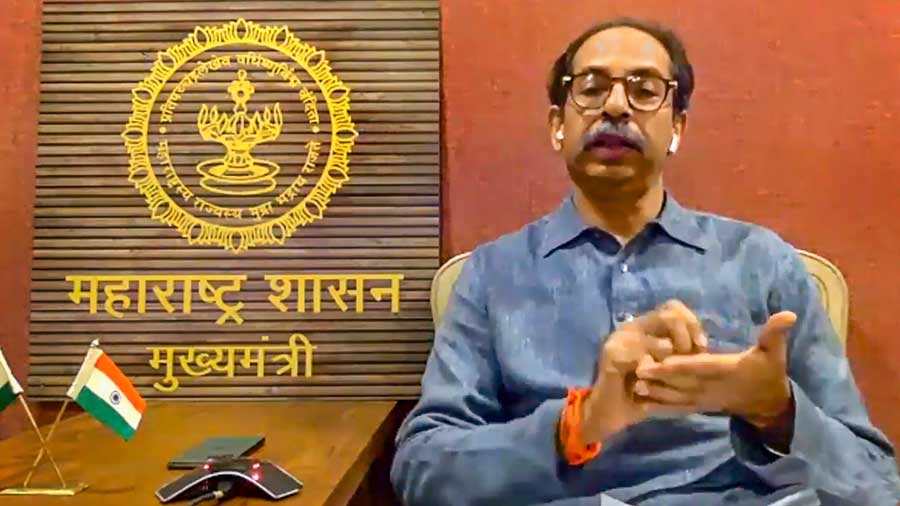 Mamata asked the Congress to take the advice of a collective fight seriously.
She said: "States are bulldozed in the garb of cooperative federalism. If we speak up, central agencies are unleashed on us. They disturb us in various ways. But we have to fight for the people. Never saw this type of atrocities in democracy."
Mamata added: "We are not supposed to speak out despite so many problems. The media is not allowed to speak. There are tools like Facebook to damage the Opposition. Every scheme will be decided by the Centre; we share data and financial burden but the Centre will write to beneficiaries as if the state has done nothing. They collect taxes from our people and then we have to beg for our share. If they want to arrest us, let them do that. But we have to fight for the people. We have to launch a people's movement."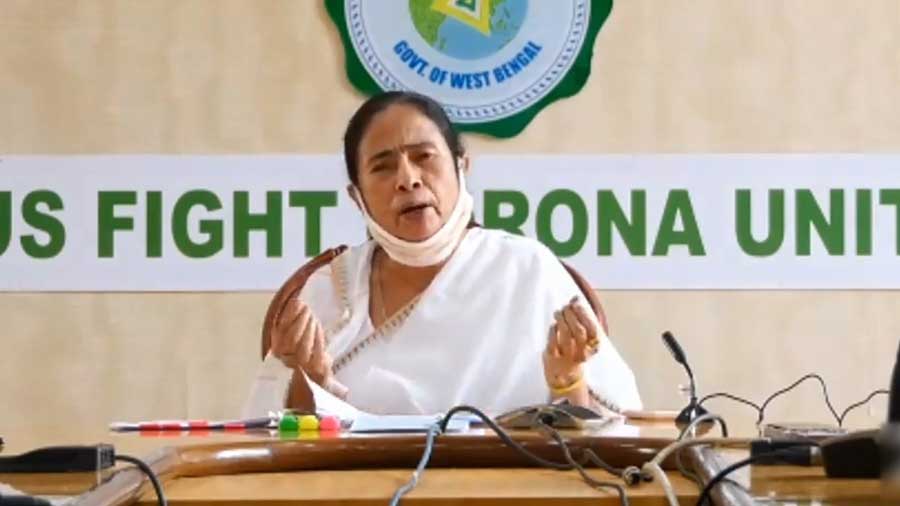 Jharkhand chief minister Hemant Soren lamented that the resistance put up by the Opposition was very weak.
He said: "We are unable to forcefully raise the issues. We saw how the migrant labour issue was handled by the Centre. The economy is in a mess, there are massive job losses and the people are very angry. The Centre has broken the backbone of states financially by not paying GST dues and denying aid for the Covid-19 fight. Then there is discrimination against Opposition states."
Soren added: "All resources are being privatised. The Centre is strategically collecting revenue by increasing cess and excise duties on petroleum products despite low international prices of crude oil but the states get nothing. Coal and iron blocks are being sold to private parties. There are issues like the new environment law and the sale of PSUs and even the railways. The whole strategy is to disturb the Opposition-ruled states. We have to counter them politically, otherwise the country will be destroyed."
Rajasthan chief minister Ashok Gehlot contended that a democratic approach cannot be expected from the Modi government.
He said: "The way they have worked after coming to power in 2014, we feel suffocated. There is no redress of genuine grievances. Our suggestions are ignored; the Prime Minister never replies to our letters. The government is interested only in enforcing the RSS agenda; it has no interest in solving people's problems. When the states were fighting Covid-19 and acute financial distress, they were pulling down governments."
Asking all the non-BJP parties to create a political movement, Gehlot said: "This government will not listen unless this discrimination and threat to democracy are made big political issues. All states are reeling from an acute financial crisis; they can't even pay salaries now. No matter what the economists and experts say, this government does not listen to sane advice. Their interest is political, not economic. We wanted a moratorium for six months on debt repayment, which was denied. None of the suggestions we gave to the Prime Minister was acted upon."
Chhattisgarh chief minister Bhupesh Baghel called for a movement against profiteering by selling national resources.
He said: "All profit-making public sector units are being sold to crony capitalists. There is no consultation with states on any issue. We were told to buy our own coal mines. There has to be a movement called 'India against Profitisation'. States can't be mute spectators when such reckless decisions are taken. A collective fight is needed."
The chief ministers of Punjab and Puducherry, Amarinder Singh and V. Narayansamy, lent their support to the demand for a collective fight. Amarinder said: "Let us go to the Prime Minister together and force the issue."
His concern was primarily financial assistance and the Covid-19 fight as he wondered how schools and colleges could open when the corona crisis was peaking.
Sonia, in her opening remarks, referred to the Centre's tendency to thrust decisions without consultations.
She referred to issues like GST compensation, the new education policy, the new environment law draft, the ordinance on agriculture marketing and the sale of PSUs and asked the parties to make a coordinated effort in the coming Parliament session to check the government's "anti-democratic tendency".