Fast at AMU against bill action
AMU students are usually allowed to take out processions from the library to Bab-e-Syed, the main entrance to the campus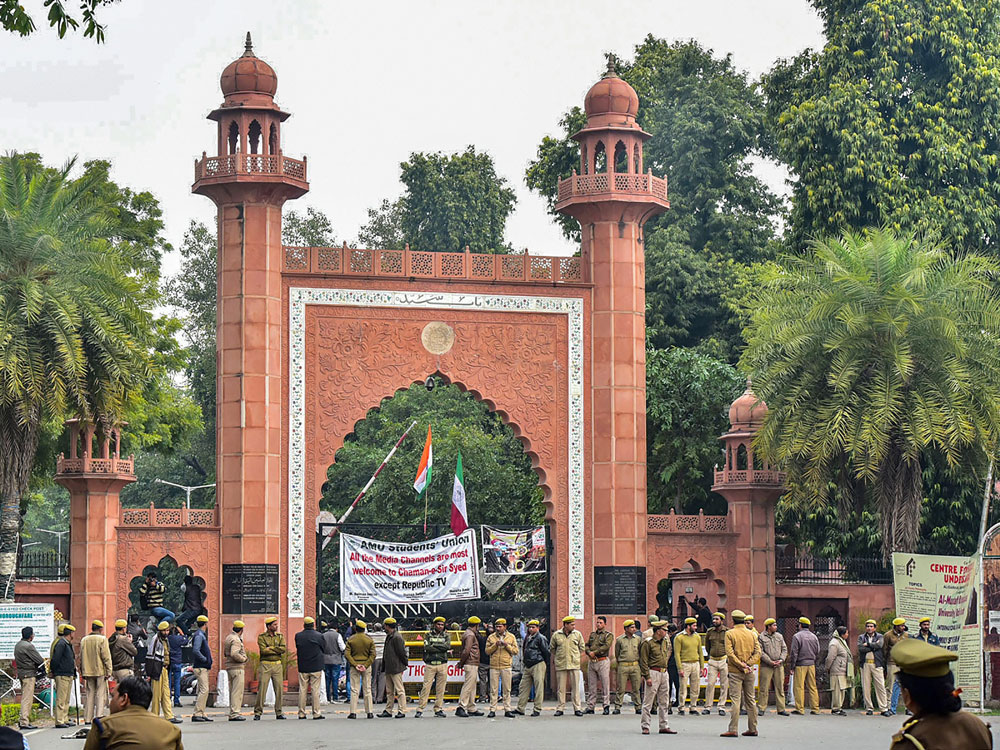 ---
|
Lucknow
|
Published 11.12.19, 09:48 PM
---
The majority of students of Aligarh Muslim University on Wednesday didn't have breakfast and lunch to express resentment over police action during a protest against the Citizenship Amendment Bill.
On Tuesday night, police registered cases against 520 students — 20 of whom were named and 500 "unidentified" — on the charge of breach of peace, rioting and preventing cops from doing their duty during a procession with firelights from Maulana Azad Library to the University Circle just outside the campus.
The students burnt copies of the bill and alleged in their speeches that Prime Minister Narendra Modi and Union home minister Amit Shah were anti-Muslim.
After the protest, the students held a meeting late in the night and decided not to have food on Wednesday. They also resolved to march to Delhi in groups as soon as possible to support those who have been opposing the bill, which seeks to give citizenship to non-Muslim immigrants from Pakistan, Bangladesh and Afghanistan who came to India on or before December 31, 2014.
AMU students are usually allowed to take out processions from the library to Bab-e-Syed, the main entrance to the campus. The police are not allowed inside the campus without the permission of the vice-chancellor.
The area in the immediate vicinity of the campus has been earmarked by the local administration as University Circle, which has a police picket.
Shafey Kidwai, the AMU spokesperson, said: "Some students want to go to Delhi and had requested the university administration to postpone the semester examinations. But their request was turned down and the exams began as scheduled on Wednesday."
A teacher said on condition of anonymity that only 10 per cent students took breakfast and lunch on Wednesday.
Salman Imtiyaz, a former AMU students' union president, said: "We had been discussing the Citizenship (Amendment) Bill for the past three days and the majority of the students were of the view that they shouldn't sit idle. Despite knowing that the Modi government was in a position to get the bill passed in Parliament, the students want to put it on record that they had
organised a protest in the national capital, and not merely opposed it at our internal meeting."
"The university authorities have refused to postpone the exams. So we have decided that the students will leave for Delhi in groups as soon as their exams are over," Imtiyaz said.
"By booking us under criminal charges, the police have tried to intimidate us the way security forces are doing in Jammu and Kashmir," he added.
Amit Kumar, the police inspector of the Civil Lines area in Aligarh, said cases had been registered against 20 named and 500 unnamed students under IPC Sections 144 (joining unlawful assembly and carrying deadly weapons), 147 (punishment for rioting), 188 (disobedience to order promulgated by public servant) and 353 (criminal force to deter public servant from discharge of his duty).