Farmers raise voice over fair prices for crops, freedom from debt
The protest, in the middle of rural distress, comes at a time the RSS has upped the Ram temple pitch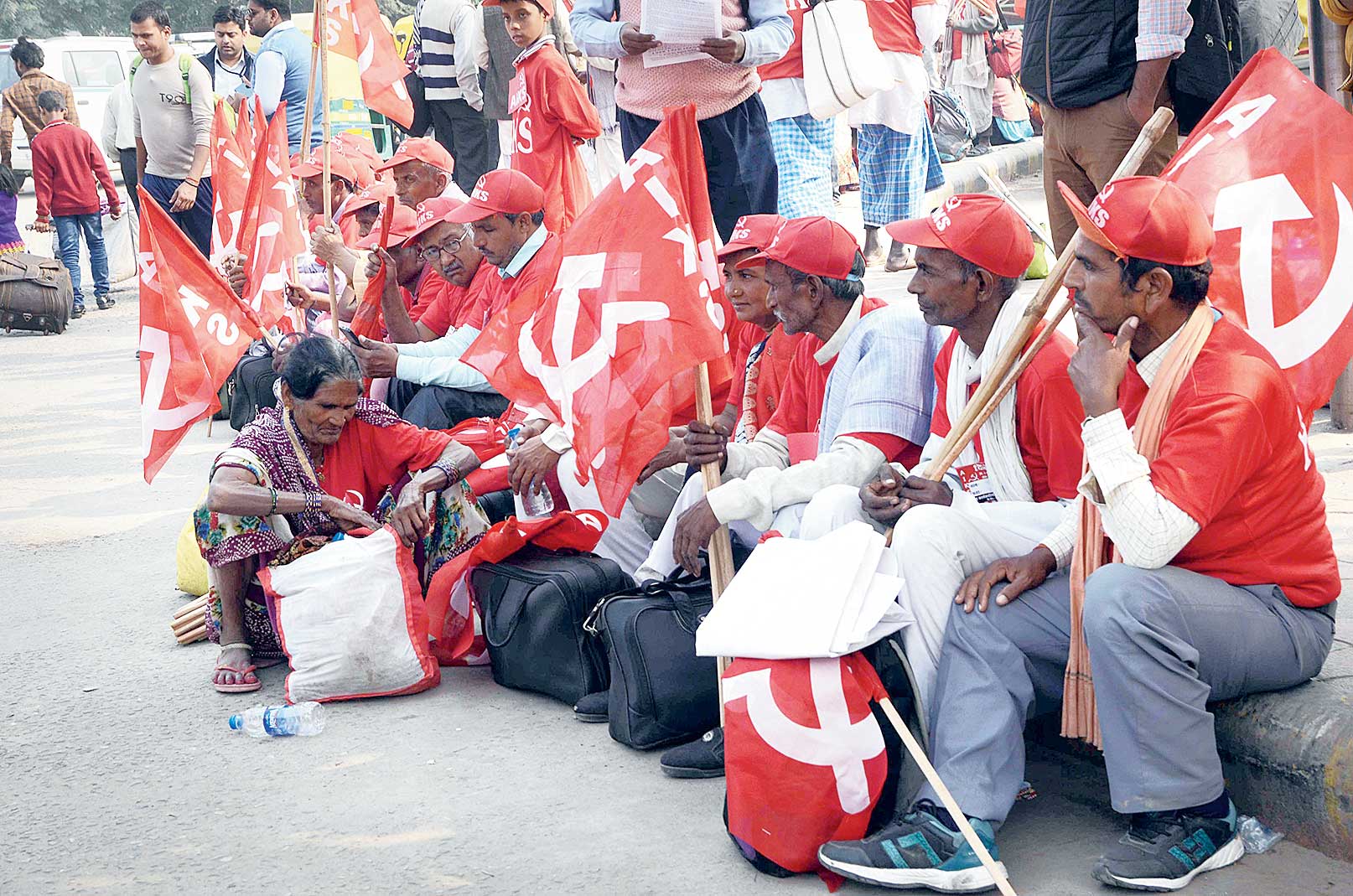 Farmers at the protest in New Delhi on Thursday.
Picture by Prem Singh
---
New Delhi
|
Published 29.11.18, 10:36 PM
|
---
Farmers from across the country have begun trooping into the national capital for the third time in three months, hoping to make themselves heard in their fight for freedom from debt and fair prices for crops.
Delhi's Ramlila Maidan resonated with slogans like "Ayodhya nahi, karza maaf chahiye (we don't need Ayodhya but debt-waiver)", as the farmers assembled at the ground on Thursday under the aegis of the All India Kisan Sangharsh Coordination Committee.
The AIKSCC represents over 200 groups working in the farm sector.
The farmers are scheduled to converge on Parliament Street on Friday to mount pressure on the Narendra Modi government for a 21-day special session of Parliament to enact two laws: The Farmers' Freedom From Indebtedness Bill, 2018, and The Farmers' Right to Guaranteed Remunerative Minimum Support Prices for Agricultural Commodities Bill, 2018.
"Farmers have started arriving in Delhi," CPM general secretary Sitaram Yechury said. "This is the real India, and this is an effort to talk about the bread-and-butter issues that are being ignored by the Prime Minister and the BJP who just want to keep the focus on issues that can whip up a frenzy."
The protest, in the middle of rural distress, comes at a time the RSS has upped the pitch for a Ram temple in Ayodhya.
All the 21 parties that endorsed the bills — introduced in the Lok Sabha by Swabhimani Paksha leader Raju Shetti and in the Rajya Sabha by the CPM's K.K. Ragesh as a private member's bill — have been invited to the rally.
Earlier in September, farmers under the CPM-linked All India Kisan Sabha had swamped Parliament Street in New Delhi.
Last month, farmers led by the Bharatiya Kisan Union had picket the Delhi-Uttar Pradesh border at Ghaziabad before being eventually allowed to enter the capital.
This time round, there have been online campaigns to draw middle-class support for the farmers by reaching out to students in every university in Delhi to chip in for the farmers.
Leading lights from the world of arts, including Carnatic vocalist T.M. Krishna and filmmaker Anand Patwardhan, have issued statements in support of the "Dilli Chalo" movement.