Indian media regain voice, but it's against Nodeep
The trade unionist was addressing the news conference at Delhi's Singhu border where she had been invited to speak by the Samyukta Kisan Morcha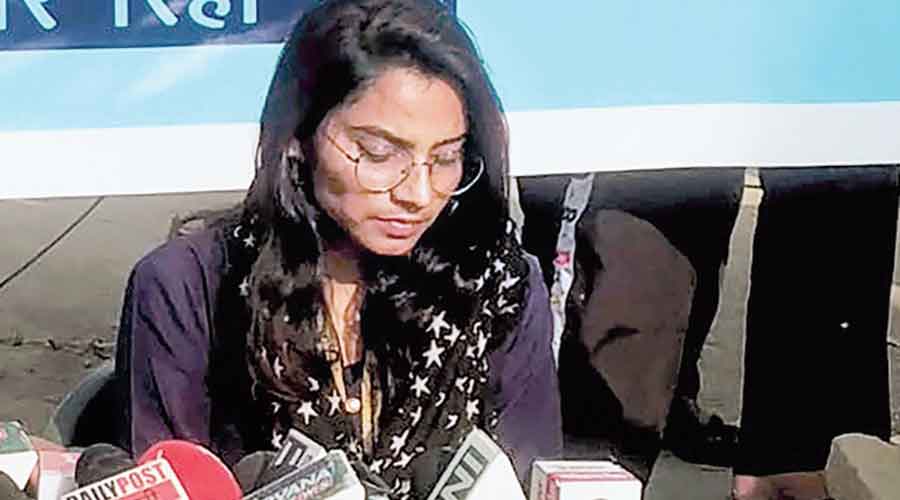 ---
---
⚫Policemen dragged me by the hair.
⚫ They drove me to a desolate place and slapped me around.
⚫ Two policemen sat on top of me and told me to sign papers.
When a trade unionist freed a day earlier after 44 days in custody narrates her experience at a news conference, what do some intrepid reporters ask?
"So you admit to vasooli (extortion)?" trade union activist Nodeep Kaur was asked by a journalist on Saturday. Kaur, 23, was explaining how the union had helped some workers at an industrial unit get back wages.
Kaur was addressing the news conference at Delhi's Singhu border where she had been invited to speak by the Samyukta Kisan Morcha that is leading the movement against the three farm laws.
As she spoke of her arrest and alleged police torture, Kaur was repeatedly interrupted by some journalists who said police must have had reason to act.
The discharge of "fearless journalism" came at a time the systematic, State-sponsored harassment of Indian journalists has drawn international attention. The "tough" questions were dusted, loaded and fired at a time the Prime Minister has not fielded a single question at any media conference in the country where his government enjoys unparalleled media servility.
The activist who is a member of the Majdoor Adhikar Sanghatan trade union was arrested while agitating against erratic wages at the industrial unit at Kundli, not far from Singhu, and charged with attempt to murder.
Narrating the sequence of events, she said: "The police did a lathicharge, when they began to hit women and drag me by my hair, there were no women constables… Workers also hit back, I don't deny that, but I was not involved in that. They hit back to save me from being dragged away by my hair.
"Four policemen pushed me to the ground and dragged me by my hair. When they saw people around, they took me into a vehicle and took me to a desolate place behind the industrial area. The doors of the vehicle were opened and uniformed as well as those in plainclothes slapped me around a lot and pulled my hair."
Kaur said she was further tortured at Kundli police station before being driven to the district headquarters Sonipat.
"I was brought on an unmetalled road to Sonipat. Two policemen sat on top of me and told me to sign (some papers). I had no option but to sign. They had many blank papers I was asked to sign on… One of them caught my hair, gave a pen in my hand and said, 'Sign kar!'. I was hit badly, I couldn't walk. When I was taken to a hospital, no medical check-up was done."
The report of a medical examination done a fortnight after her arrest and submitted in Punjab and Haryana High Court lists injuries to her thigh and buttock. A Sonipat court had ordered the examination.
Sonipat police have denied allegations of torture and said seven of their personnel were injured by Kaur and other trade union workers. "At the civil hospital, she underwent not just a general medical examination but also a special medical examination by a lady doctor for sexual assault where she herself gave a written statement to the female doctor that she doesn't want to be medically examined as she had not been assaulted," the police said earlier this month.
"Immediately after the medical examination, she was presented before the Chief Judicial Magistrate within a few hours of arrest to seek judicial remand," the police had added.
Kaur denied seeing a doctor or a magistrate that night.
"We were merely demanding the payment of wages from before the lockdown. Have you ever seen people doing a dharna for extortion?" she asked, pleading her case at the news conference.
Extortion is one of the charges brought against Kaur and fellow activist Shiv Kumar, who is still in jail and whose medical report has listed fractures and broken toenail beds. Kumar has also alleged police torture. Kumar and Kaur claim that he was not present at the protest on January 12.
"When labourers came back after the lockdown, the company refused to recognise them or pay their back wages," Kaur said.
When she mentioned that private guards of companies had opened fire during a protest by workers last year, Kaur was asked whether the weapons were licensed or not and faced tangential remarks suggesting the workers had brought the police action upon themselves.
But she held her ground that peaceful protests are a democratic right.
"Can workers who own nothing besides their own bodies afford to go hire lawyers in a labour court?.. We have been able to secure payment of back wages of 300 workers, so far, of up to Rs 5 lakh," she said.
This inspired the journalist's question: "So you admit to vasooli?" The word in Hindi translates to either recovery or extortion.
Kaur's arrest had drawn international attention after American activist Meena Harris, niece of US Vice-President Kamala Harris, tweeted earlier this month against it and highlighted the allegation of custodial torture of the Dalit activist who was also part of the farmers' movement.
Kaur says she was arrested because she had been able to mobilise support for the protest at Singhu.
"There are many who were arrested for January 26 and they are still not out. We demand that they be released too. Shiv Kumar should also be released. We will keep fighting until the farmers' movement continues, until laws against workers (the new labour codes that restricts on collective bargaining) are repealed… I will stay right here on Singhu border and continue to struggle for peasants and workers," she said.