Farmers snub Centre on state leeway
Given the political divide over the farm laws, the agriculture workers fear that BJP-ruled states would implement them in keeping with the party policy and Prime Minister Modi's diktats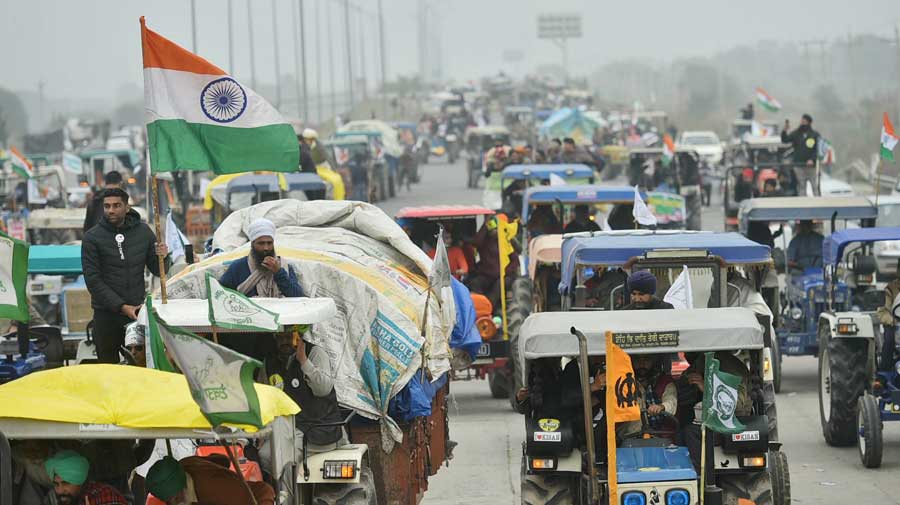 Farmers on their way to Tikri border during a tractor rally as part of their protest against the new farm laws, at Western Peripheral Expressway in Kundli, Sonipat, on Thursday.
PTI
---
New Delhi
|
Published 08.01.21, 12:52 AM
|
---
The government on Thursday purportedly floated a proposal that would allow state governments the final say on the implementation of the three contentious farm laws, a day ahead of the eighth round of talks with protesting farmers.
The suggestion, however, was dismissed by the Sanyukta Kisan Morcha (SKM), the umbrella organisation of the protesters, as another attempt by the Narendra Modi government to put up a show of accommodation.
As of Thursday evening, the SKM had not received any such proposal, which was reported by the Punjabi media after spiritual leader Baba Lakha Singh met agriculture minister Narendra Singh Tomar.
Yogendra Yadav of the Jai Kisan Andolan, a constituent of the SKM, said the proposal was just an attempt at media management by the Modi government so that attention is diverted from the successful tractor rally taken out by farmers along the Kundli-Manesar-Palwal Expressway on Thursday as a rehearsal for their parade planned for Republic Day if the farmers' demand for repeal of the three laws are not met.
"They did the same thing on December 8, after our successful Bharat Bandh. Home minister Amit Shah called us for a discussion in a skilful exercise of headline management, and the focus of coverage shifted from the bandh to the meeting he had convened," Yadav said.
As for the proposal that is being talked about, there appears to be a consensus among the farmers that it should be rejected as all the 450-plus farmer unions in the SKM are unanimous that the three laws cannot be accepted in any form. 
Add to this the experience of the amendments introduced by the Modi government to the land acquisition law in 2015. Though the central government put it on the backburner in the face of resistance, several state governments have been tweaking the law to dilute the provisions of the original law.
Given the political divide over the farm laws, the farmers fear that BJP-ruled states would implement them in keeping with the party policy and Prime Minister Modi's diktats. And, the Modi government could also arm twist Opposition-ruled state governments to fall in line or an election in non-NDA states could bring in the BJP. 
"Repeal is the only way out or these laws will always be hanging over our heads like the Sword of Damocles," said a union leader, pointing out that it would not be easy to mobilise the farming community in this manner again if the momentum is allowed to fizzle away.