'A new awakening in the people'
Farmers protest: Raghu Rai covers Dakha Singhu and Tikri Kalan blockade
Protesters have blockaded some of Delhi's borders with Haryana and Uttar Pradesh, as well as a highway to Delhi on the Rajasthan-Haryana border, for more than a month now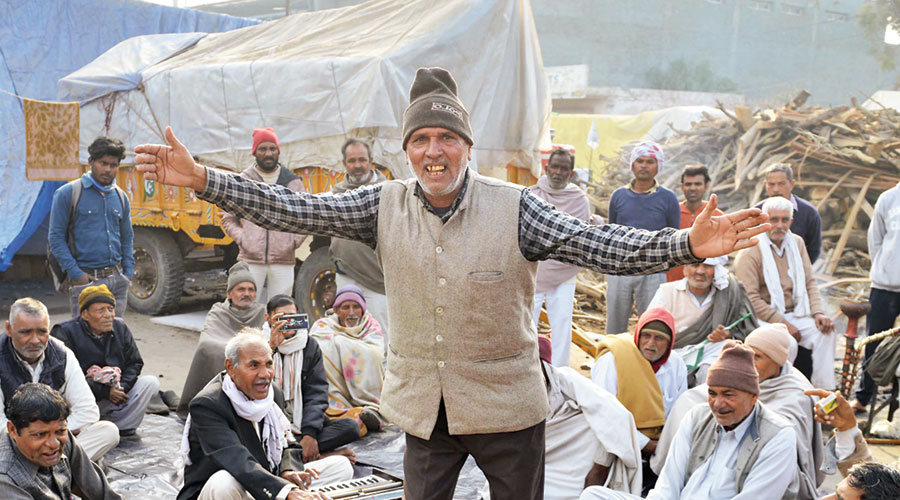 ---
New Delhi
|
Published 01.01.21, 03:32 AM
|
---
Celebrated photojournalist Raghu Rai spent a better part of last week covering the farmers' blockade at the Dakha Singhu and Tikri Kalan borders between Delhi and Haryana.
Despite the enhanced coronavirus risk at the age of 78, Rai told The Telegraph, he could not keep himself from covering this "new awakening" spurred by the Punjab peasantry's resistance to three farm laws.
Rai, revered for his coverage of the Bangladesh Liberation War of 1971, the repression that preceded the Emergency of 1975 and the aftermath of the 1984 Bhopal gas tragedy, said he rued the defamation of the protesting farmers.
"The government should see what is happening in its own truth and space," Rai said. 
"When you go there with a political mind, your eyes are coloured and you can't see the truth," he added.
"So the government  should deal with it in honesty and directly rather than politicians making up their own stories about their (farmers') loyalties or funding, and the unnecessary politicisation of the protests...," Rai added.
Some Union ministers have given credence to the barrage of unsubstantiated online allegations against the farmers. A segment of the media has been speculating about the influence of Maoists and the "tukde tukde gang" on the protests.
Haryana's BJP chief minister, Manohar Lal Khattar, has linked the protesters to Khalistani separatists. Prime Minister Narendra Modi and others have alleged the agitation is backed by Opposition parties  and does therefore not count as a genuine farmers' movement.
Rai said: "The government should send someone to directly speak to them (farmers) and not blame the Opposition. Why will the Opposition not take this up as a cause?"
"That is the purpose of the Opposition, of newspapers and magazines — to report honestly and talk about it.... This may not get resolved if the BJP begins to blame them with untruths."
The farmers have blockaded some of Delhi's borders with Haryana and Uttar Pradesh, as well as a highway to Delhi on the Rajasthan-Haryana border, for more than a month now.
Rai said the agitation was greater in scale than the Mahendra Tikait-led six-day sit-in near Delhi's Boat Club in 1988 against the impoverishment of sugarcane farmers, or the weeks of protest in Delhi against corruption across several legs in 2011.
"My understanding was that in the 30 years of globalisation we had lost that identity and culture, because our way of living and fashion changed. We ceased to be the people we were. Our identity was spoiled," the Padmashree awardee said.
"But at these protest sites, it amazes me that our ancient culture, warmth and hospitality are kept alive by them and offered to anyone who turns up from anywhere. No questions asked. But they are not fond of the media because they think the media has let them down more than the government by misrepresenting them."
He added: "It's more of a celebration. It is not morose. There is joy that 'We are here to stay, to make a difference'.... Also, not only are there langars here but also kirtans, readings of the Guru Granth Sahib, Sikh discourses. It's not just a protest (but) also an experience of their cultural and religious ethos."
Rai sees a new unity between Sikhs and others in a city where they suffered the worst killings after the assassination of then Prime Minister Indira Gandhi by her Sikh guards in 1984.
"Sikhs, Muslims and Jats (Hindus) are protesting together today. Jats (traditionally) smoke hookahs. (I saw) eight Jats sitting together sharing a hookah in Covid times, and Sikhs sitting just next to them, and they are not objecting, which means they accept you culturally as you are."
Tobacco is taboo for most Sikhs.
"I have not witnessed such a prolonged and very simply organised rural protest in my career.... They talk about demonetisation, GST, and say they did not raise their voice.
They talk about the CAA (Citizenship Amendment Act) and say, 'Who knows, you may start doing it to us'," Rai said.
"They are digging up everything negative. It's not just about the prices of their products, it's everything now. In six years it was becoming too heavy for anybody to take all of these changes."
Rai added: "I'm not shooting for anybody. But how can I stay away when there is a new awakening in the people, which is very important for a nation.... My family gets very upset (about him going into crowds during the pandemic), but after 55 years as a photojournalist documenting the visual history of this country, it is essential for me to see, understand and connect to what is going on."