Tired of talks going round in circles
Farmers go into silent mode with telling placards
Prepared for the long haul, the leaders granted the govt more time but said they would not only continue their agitation but go ahead with the countrywide hartal on Tuesday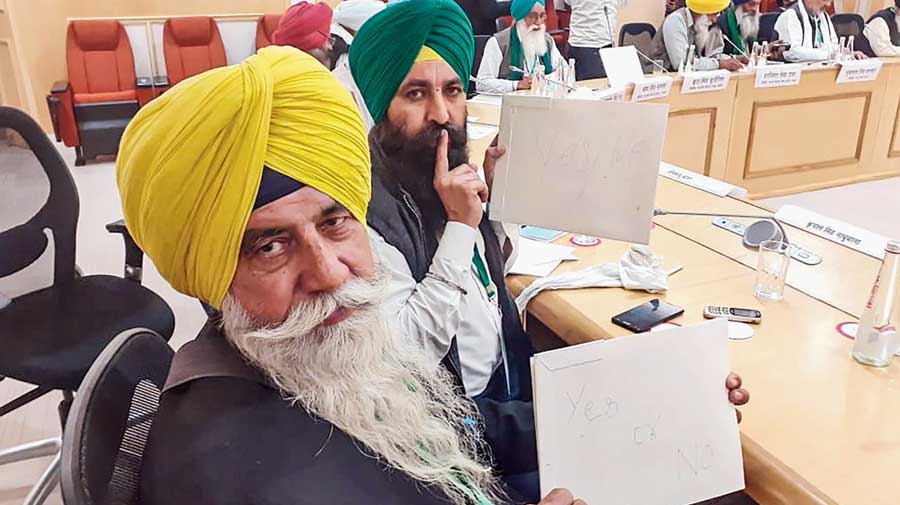 Taking a vow of silence, farmers' representatives hold up placards saying "Yes or No" at the talks in New Delhi on Saturday.
PTI
---
New Delhi
|
Published 06.12.20, 01:40 AM
|
---
Farmers' representatives gave the government the silent treatment on Saturday as they saw the talks to break the stalemate go round in circles for the third time this week.
Done talking, the farmer leaders sealed their lips and held up small placards with just "Yes or No" written on them, asking the government whether it would repeal the three laws.
This silent protest lasted about an hour after which the three ministers — Narendra Singh Tomar (agriculture), Piyush Goyal (food) and Som Prakash (minister of state for commerce) — left the room, apparently to talk to the decision-makers in the government. They returned to seek more time yet again.
Already prepared for the long haul, the farmer leaders accepted the request but said they would not only continue their agitation but go ahead with the countrywide hartal on Tuesday.
They reaffirmed that they would not settle for anything less than the repeal of the three new farm laws besides the withdrawal of the electricity bill that proposes to reduce subsidies and privatise power distribution.
During the day's talks, the government had again offered amendments to the three laws, showing willingness to concede more than what was suggested earlier. But the farmer union leaders argued that cosmetic changes would not alter the character of the laws.
"No amendment, only withdrawal/ repeal," was the refrain, with the farmers' representatives underlining that the farmers had not sought these laws and that these had been thrust on them.
Briefing reporters after the meeting at Vigyan Bhavan, Tomar appealed to the protesting farmers to send the elderly, women and children back home keeping in mind the cold winter.
This point had been raised during the meeting, too. The farmers are said to have told the ministers that if they gave it in writing that the laws would be repealed, the protesters would clear out without delay.
Tomar said the government had sought a few firm suggestions from the farmers but had not received them. Farmer leaders countered this saying they had several times given their objections to the new laws in writing to the government.
"We have only one demand, and we are clear about that," a farmer leader said.With the sowing season over, the farmers are prepared to have their patience tested. They feel empowered by the support they have been receiving from the public despite the inconvenience caused by the road blocks.
They are also keenly aware that the Narendra Modi government would not yield easily and is buying time to explore the possibility of sowing dissension within their ranks to weaken the movement, or to provoke them into violence to de-legitimise the agitation.
The next round of talks has been scheduled for Wednesday morning, but the farmers are not holding their breath.