Nationwide strike by unions today
Farmers block train tracks while Modi tracks fitness routine
At least 20 trains 'partially cancelled' and five 'short-terminated' till September 26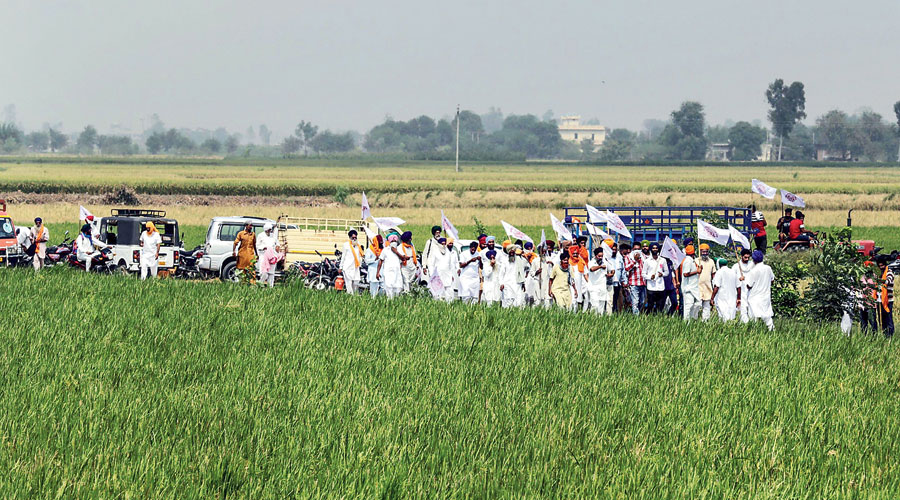 ---
---
On a day Prime Minister Narendra Modi persuaded captain Virat Kohli to give him a crash course on the Yo-Yo test, farmers in Punjab began blockading tracks and the railways expressed fear that the movement of food grain and other essentials could be severely affected.
Farmers in Punjab and Haryana, supported by the Opposition, are protesting against the farm bills that they fear will deprive them of the minimum support price for their produce and aid a takeover of the farm sector by big companies.
A three-day rail blockade was launched on Thursday in Punjab, ahead of a call by farmer unions for a nationwide strike on Friday.
By nightfall, at least 20 trains had been "partially cancelled" and five "short-terminated" till September 26 as the protesters in Punjab blocked tracks at several places.
"The disruption of rail services at this time will have a serious impact on freight loading as well as passenger movement. It will affect the movement of essential goods," Northern and North Central Railway general manager Rajiv Chaudhry told PTI.
While the Congress on Thursday offered support to Friday's strike, the Prime Minister marked the first anniversary of the "Fit India Movement".
One of the fitness influencers Modi interacted with over video was Kohli. The Prime Minister asked the skipper about the Yo-Yo test and a smiling Kohli explained the running aerobic fitness routine to him.
The two farm bills have been passed in both Houses of Parliament disregarding Opposition protests and are awaiting presidential assent.
For all its show of nonchalance, the BJP has decided to deploy the full might of its massive organisation to try and restrict the farmers' protests to Punjab and Haryana.
Agriculture minister Narendra Singh Tomar said on Thursday: "I am ready to talk to any farmer or any farmers' body even at midnight."

A day before the countrywide protest called by the farmers, the BJP's central leadership directed all state units to launch a massive campaign at the district and block levels to counter the Opposition's charge, sources in the ruling party said.
"I have personally reached out to thousands of farmers and explained to them the benefits of the (proposed) laws," said BJP parliamentarian Virendra Singh Mast, who heads the party's farmer cell.
The BJP leadership is hoping that the farmers' agitation will fizzle out in Punjab and Haryana and not spread.
The BJP leadership is concerned about Haryana, where the party is in power with the support of the regional Jannayak Janata Party. The BJP fears that if the protests intensify in Haryana, JJP leader and deputy chief minister Dushyant Chautala could come under pressure like the Shiromani Akali Dal in Punjab. The Akali Dal has pulled out its lone minister from the Union cabinet in protest at the passage of the farm bills.