Family knives are out for Azmet Jah who has been proclaimed 9th Nizam
Cousin calls decree 'invalid', vows strict legal action to overturn it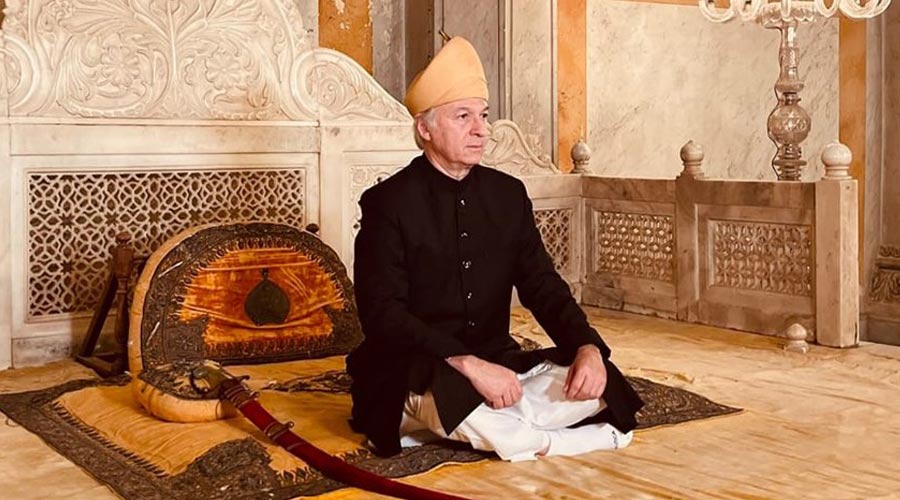 ---
Published 28.01.23, 07:15 PM
|
---
It was a low-key coronation that was not a coronation. The press release from the Nizam's office in Chowmalla Palace declared that Azmet Jah, the eldest son of Mukarram Jah who died earlier this month at the age of 89, would be the ninth head of the Asaf Jahi dynasty "for all symbolic ceremonial and ancillary purposes."
But in the Asaf Jahi clan, nothing is ever as straightforward as that. A battle has erupted in the famously feuding royal dynasty about Azmet's claim to the title. 
A day after the coronation, which involved a "simple ceremony with prayers" that was attended by immediate family, friends and staff, according to the new Nizam's office, his cousin, Nawab Najaf Ali Khan, claimed that the anointment was invalid. 
"A decree that self-proclaims a common citizen as the head of a dynasty is not legally valid, especially so after the government's abolishment of Titles and Privy Purses in 1971," declared Najaf Ali Khan, another grandson of the seventh Nizam, Osman Ali Khan, who had more than 140 children from eight wives and concubines and was once known as the world's richest man.
Khan appealed in a statement to the "common people" to not be misguided by "such false self-declarations that do not mandate Azmet Jah to hold the title of Nizam IX" and said "strict legal action will be pursued to prevent misuse of this null and void title and curb any misinformation that stems from it."
"All his life Mukarram Jah did not have any interest in the title awarded to him by my grandfather. This in turn complicated his life and he became a silent witness to his downfall as well of the entire family," Khan said. Mukarram spent a large chunk of his life running a 500,000-acre sheep farm in the Australian outback and his biggest interest was tinkering with engines. 
The new "Nizam," Azmet, is a filmmaker and professional photographer. He lives mostly in London though he comes regularly to Hyderabad. He has certainly lived the life of a commoner in London. Azmet is the child from Mukarram's first marriage to Princess Esra. "My life in London is completely different. I go to the supermarket, I go to the post office, I pick up my son from school," he told The Telegraph in an earlier interview. Since the Indian government ended titles, Azmet will not have the formal title of Nizam IX. 
It's been a life of ups and downs for Azmet. His father Mukarram, who disliked royal life and the squabbles of his grandfather's many descendants for a slice of the family fortune and who had no head for business, divorced his mother and took off for Australia. 
Mukarram brusquely told Azmet, who was then a teenager in school in the UK, and his sister Shehkyar, that they could never return to India or Hyderabad. The family rift lasted for more than 20 years till 1994 when Mukarram contacted his son almost out of the blue. "It was very emotional," recalled Azmet, about being reunited with his father about such a long break.
Soon afterward, Azmet and Shehkyar, returned to Hyderabad and were greeted by old family retainers who had carefully packed away their toys and other belongings in large trunks. "We went into different rooms and saw familiar things. My sister and I burst into tears at some things. We saw some of the staff we had known… It was like seeing your old life before you. I found all my old toys I had loved, stuffed in a trunk," says Azmet, who's now 60. He adds: "I took them (my toys) all back to London."
Azmet's anointment as head of the dynasty was a very different affair from the dazzling ceremony that took place when his father, Mukarram, was crowned the eighth Nizam. Mukarram's grandfather named him as his successor over his next-in-line father who had become a gambling addict and a drunk. 
Azmet and his sister and their mother Princess Esra along with their two half-siblings attended the funeral of Mukarram who was buried at historic Mecca Masjid in Hyderabad late last week with full state honours. Mukarram turned to Princess Esra in his last years to get his affairs in order and preserve what was left of his once immense fortune for his children.
"Even though Mukarram Jah had the enormous wealth and resources to better the condition of the family, he did not wish to stay in Hyderabad and look after the family issues. If he had taken action, the condition of the majestic family would have been different," Ali Khan contended in a statement.
Today, there are varying estimates of the wealth that Mukarram left behind. One publication reckoned that $1 billion was still left of the giant fortune that Mukarram inherited when he was crowned. The fortune had apparently already dwindled considerably after Independence. But there was enough left for Mukarram at the time of his coronation to be considered the richest man in India. 
About his grandfather, there are stories about trucks filled with gold ingots and pearls that could have carpeted several rooms. He "counted his diamonds by the kilogram, his pearls by the acre, and his gold bars by the tonne yet he was so frugal that he saved on laundry bills by bathing in his clothes," Australian author John Zubrzycki, who wrote a book about the dynasty's downfall, said in an obituary.
While his grandfather was a legend for his stinginess and lived simply – except for his numerous wives and concubines – Mukarram ran through money like water. The five-times-married Nizam even had to sell his beloved Austarlian sheep farm because he didn't have enough liquid funds. For the last three decades, he lived as a recluse in a two-bedroom apartment in Antalya in southern Turkey, before moving to Istanbul in his final days. 
What can be said for certain is that in 1995 the government paid the family Rs 218 crore for the Nizam's jewels which include fabulous pieces like the Jacob's Diamond, reckoned to be the seventh largest of its kind in the world.
More recently, the government and the Nizam's family divided POUNDS STERLING 35 million between them. This came after winning a case against Pakistan in the London courts that had been dragging on since 1948.
Besides all this, there are five Hyderabad palaces which still belong to the family, including Falaknuma and the Chowmalla Palace where Mukarram lay in state last week.
Who should share whatever's remaining of the wealth? It's thought that Mukarram drew up documents making Azmet his heir and also making provision for his other children – Shehkyar and Alexander Azam Jha, the son he had with his second wife Helen, an Australian. Also, there's Niloufer, his daughter from his Turkish wife Manolya.
Najaf Ali Khan argues that more members of the family are entitled to the dynasty's riches. "Azmet Jah has self-proclaimed himself as IXth Nizam of Asaf Jahi Dynasty by issuing the self-declaration… issued by his office signed by 2 persons, both who are not a part of the Nizam Family, only to misguide the common people and the government," said Khan. 
Khan has been spearheading a long-running legal battle contesting the naming of Azmet's father, Mukarram, as the eighth Nizam. Media reports said that many relatives were miffed at not being invited to the ceremony making Azmet the new family head.
Azmet, meanwhile, has been keen to restore the reputation of his grandfather, the seventh Nizam. "My great-grandfather is perceived as a miser. I want to dispel that myth. He has been very wrongly represented. He did a lot for Hyderabad," says Azmet. 
Mukarram and Azmet stayed in touch regularly once they had been reunited. Azmet said he visited his father every month and divided his time between London, Turkey and Hyderabad. He laughed when The Telegraph caught up with him, his sister and mother at the magnificent Falaknuma Palace in Hyderabad whose renovation into a luxury Taj hotel Princess Esra oversaw. Azmet said that The Telegraph had been lucky to catch the three of them together as one or the other of them was constantly travelling. "We're travel gypsies. We're always travelling," he said.
Will this change now that he is the ninth Nizam? He'll likely need to spend more time in Hyderabad to sort out the family's complex finances which so weighed down his father. He's expected to assume charge of the Nizam's family trust, jewellery trust, religious trust and charity trust, among others. But he's still likely to be dividing his time between Britain, Turkey (where his mother lives) and Hyderabad – just as he has done all these years.