Evicted from India, Jakob says: 'Change'
The Opposition has decried Lindenthal's expulsion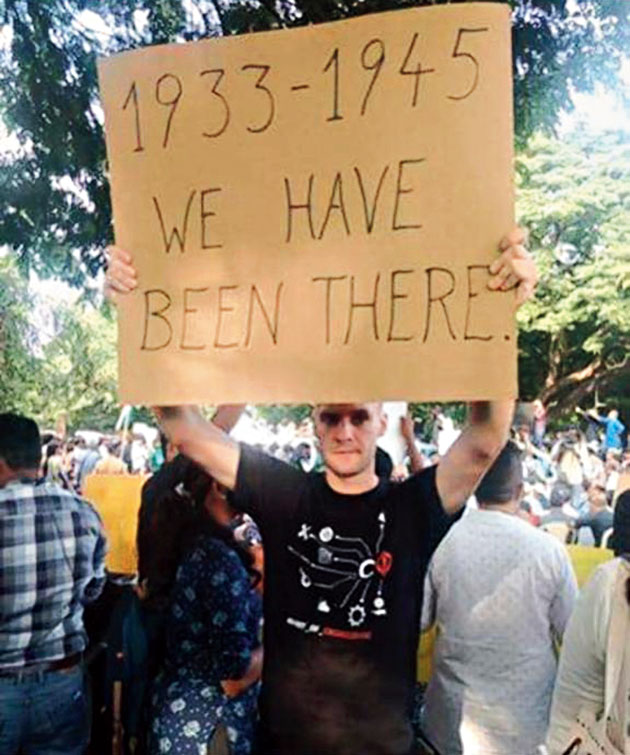 ---
---
The German exchange student at IIT Madras who has been ordered to leave India after he participated in a protest against the Citizenship (Amendment) Act said he was given the impression by immigration authorities that he had "harmed the country's integrity".
Jakob Lindenthal, a 24-year-old pursuing a master's degree in physics, told Reuters while waiting in Delhi for a Christmas-day flight back to Germany that he was summoned to a meeting with the immigration authorities on Monday and told that he had violated the conditions of his student visa due to his "political activities outside the campus", and must therefore leave the country.
During the meeting, Lindenthal said, he was asked for his views on the protests against the new citizenship law.
"I think nobody can claim that I was just there to exploit my student visa to go on anti-government demonstrations and harm the country's integrity or something. But that was how they presented it to me," Lindenthal said.
He said he took part in two rallies in Chennai against the law. A photo circulated on Twitter shows Lindenthal holding a sign that reads "1933-1945 We have been there," a reference to Nazi Germany. He was also pictured holding up another poster that read: "No democracy without dissent."
Lindenthal, originally a student of the Technical University of Dresden, had been at IIT Madras for the past six months as part of the one-year exchange programme.
Lindenthal, in whose support a Twitter hashtag called DankeSchonJakob, or Thank You, Jakob, has been started, tweeted: "I will be all right. The best thing to do now: Change the world. A white guy evicted from India may get more media coverage, but this happens every day for even flimsier reasons and some people have nobody to call and nowhere to go."
The home ministry did not immediately respond to a request for comment, while a spokesman for the foreign ministry declined to comment.
The Opposition has decried Lindenthal's expulsion.
"This is dismaying. We used to be a proud democracy, an example to the world.… No democracy punishes freedom of expression," tweeted Congress MP Shashi Tharoor.
An IIT students' outfit, Chinta Bar, has taken note of Lindelthal's expulsion.
"It has come to our notice that, Jakob Lindenthal, an MS exchange student from Germany in the department of Physics at IIT Madras, has been asked to leave the country by the immigration department due to his participation in the anti CAA protests," Chinta Bar tweeted.