All of us have to come together to defeat BJP, says Mamata after meeting Sonia
I am not a political astrologer, says Didi on the question of who will lead the Opposition in 2024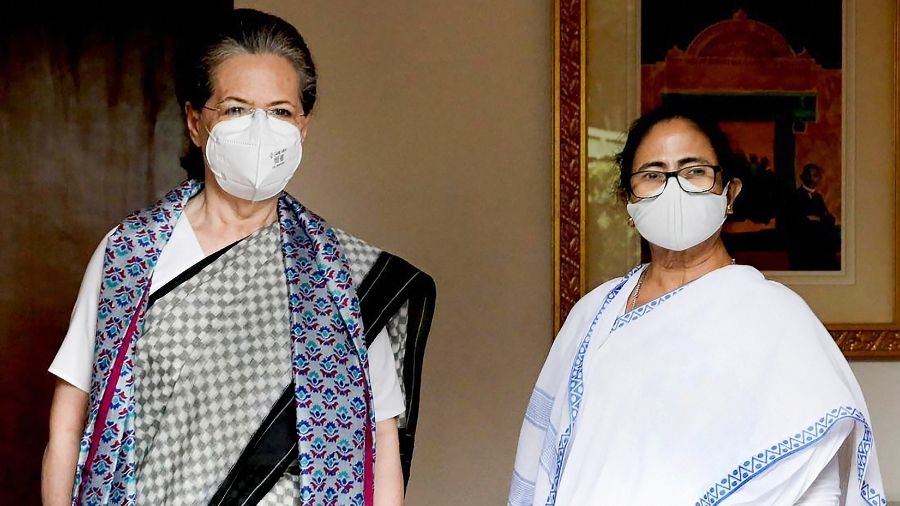 ---
New Delhi
|
Published 28.07.21, 06:07 PM
|
---
Bengal chief minister Mamata Banerjee met UPA chairperson and Congress interim president Sonia Gandhi at her residence in Delhi on Wednesday afternoon, the first time after the Trinamul's victory in the state elections in which the Congress was one of its rivals.
"We had a very positive meeting. All of us have to come together to defeat the BJP. I am not a leader, I am a cadre," Mamata told newspersons after the meeting that lasted for around 45 minutes. "We will put up a united front." 
Wednesday's meeting with Sonia is significant amid Opposition moves to join forces for a united fight in the 2024 national election. Mamata, who is scheduled to be Delhi for the week, had met with senior congress leaders Kamal Nath and Anand Sharma on Tuesday.
Since her Bengal victory, Mamata Banerjee has emerged as a pivotal figure in the Opposition's attempts to unite to take on the BJP in the next general election.
In Delhi for the first time after her thumping victory in the Bengal assembly elections, Mamata has lined up meetings with several key opposition leaders.
"Poore desh me khela hoga. It's a continuous process...When general elections come (2024), it will be (Prime Minister Narendra) Modi vs country," she told reporters earlier in the day, according to ndtv.com.
"After the Parliament session there will be talks, there should be a common platform to work together. I am meeting Arvind Kejriwal (too). I spoke to Lalu Prasad Yadav yesterday. We will be talking to all parties."
On who could lead any Opposition front, she replied: "I am not a political astrologer, it depends on the situation."
Asked to comment on the view that the Congress is now a weak link for the Opposition, Mamata said: "I don't want to interfere in the internal math of any political party. But I think Sonia Gandhi wants Opposition unity."
Earlier in the day, at a meeting at Rajya Sabha MP Sukhendu Shekhar Roy's residence in Delhi, around 30 MPs of the Trinamul Congress declared Mamata Banerjee as the leader of the Opposition unanimously for the 2024 general elections.
"She will lead the battle for 2024 against the BJP. We want to see her as prime minister. All of us told her so," said Trinamul MP Kalyan Banerjee.  
Mamata's idea behind pitching for the 2024 polls from now is to keep up the momentum she has gained from this summer's assembly polls which she won decisively to stop the BJP on its tracks. But she is not the only chief minister to successfully thwart the BJP's regional ambitions. In Pinarayi Vijayan's Kerala, the BJP could not win a single seat. In Tamil Nadu, the MK Stalin- led alliance that includes the Congress and the Left also defeated the BJP.
As of now though neither Vijayan nor Stalin have made any national noises. 
"It is too early to commit on a united front with poll projections from now. This has never been done," said a Congress MP. 
Having got herself declared as the chairperson of the Trinamul's parliamentary party, Mamata's visits to Delhi are likely to be more frequent in the coming months to keep reinforcing her claim as the most credible face against Modi. Even if she manages to stitch an alliance with the Congress in Bengal, it is unlikely to leave more than two seats for the grand old party.
Without spelling out a seat-sharing formula,  simply announcing a PM face will not help create an Opposition front. 
Since the 2019 polls, most of the major Opposition parties have been jointly signing statements against the Modi government. These had signatures of leaders from both the Left and Trinamul. That does not necessarily translate into an electoral adjustment.
Mamata's message to her party workers was to concentrate on proceedings within the House. Mamata warned the MPs against meeting BJP ministers individually and without permission from the leadership. "Some months ago, Dibyendu Adhikary went to meet Modi. There is a feeling some people could strike deals especially before polls," said a Trinamul source.