Even Tulsidas wouldn't have been safe
Sarcastic suggestion offers insight into depth of toxicity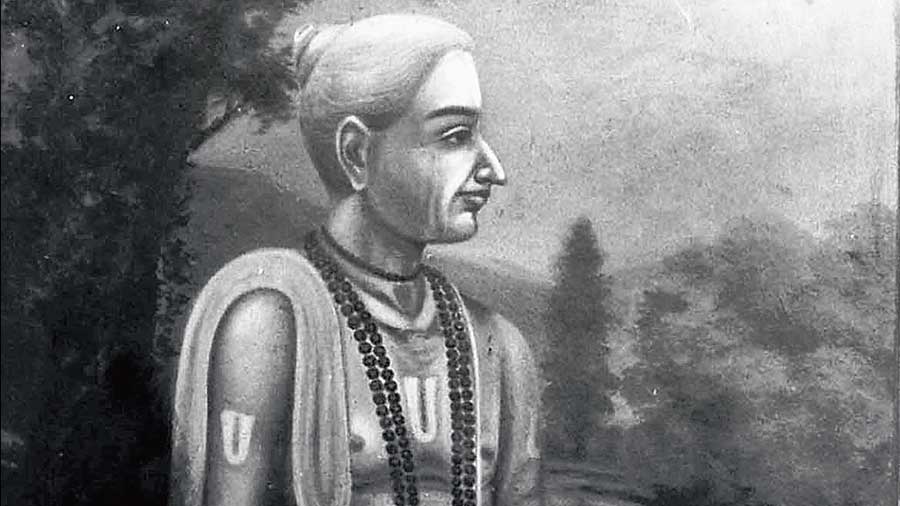 ---
Lucknow
|
Published 04.11.20, 02:10 AM
|
---
The Uttar Pradesh government should consider booking a case against Tulsidas, the 16th century poet.
The sarcastic suggestion was made on Tuesday by a Hindi scholar while denouncing the arrest of Khudai Khidmatgar convener Faisal Khan for offering namaz at a temple to promote communal harmony.
Anil Kumar Singh, a Hindi poet and associate professor at Saket Degree College in Ayodhya, said Tulsidas, the author of the epic Ramcharitmanas, would have been a "culprit in the eyes of mentally bankrupt politicians" for nurturing religious amity.
"Tulsidas had written that one could call him a cunning man or a mystic or a weaver. He had said he would beg for food and sleep in a mosque as he had nothing to accept from anybody. In simple words, he had said he could be called a Hindu or a Muslim, and that he wouldn't mind sleeping in a mosque as he did not care for fanatics," Singh said.
The teacher was referring to the following lines Tulsidas had written in the Awadhi dialect: "Dhoot kahao, awadhut kahao, julaha kahau kou…. Mangi ke khaibo, maseet ko soibo, lebe ko ek na debe ko dou."
"For the state government, Tulsidas is the fittest ca­­­se to be booked," Singh said.
Faisal, who has been sent to 14 days' judicial custody and will for now be kept in quarantine as he has tested positive for coronavirus, was arrested from New Delhi on Monday for offering namaz at a Mathura temple on October 29. He is the national convener of Khudai Khidmatgar that was founded by Khan Abdul Gaffar Khan, the freedom fighter known as the "Frontier Gandhi". The Khudai Khidmatgar is a non-violent organisation focussing on Gandhian principles and communal amity.
Singh said Faisal had been on a religious tour of the Braj region, which is known as the home of Lord Krishna.
"He did a parikrama (circumambulation) of Braj and offered prayers before Hindu gods at Nandbaba temple. Since he was there at the time of the noon namaz, the priest allowed him to offer namaz on the temple premises. Later, the same priest filed a case against Faisal. We call this pandagiri, which means vultures who feed on anything and everything," Singh said.
Pandas conduct rituals on the ghats of holy rivers during Hindu cremations. Pandas have sometimes been accused of forcing family members of the deceased to pay steep sums of money.
Sandeep Pandey, the Ma­gsaysay award-winning social activist and leader of the Socialist Party (India), also said the priest of Nandbaba temple had himself offered Faisal a space for namaz.
Pandey said: "Faisal had attended Saryu Aarti in Ayodhya last year. Sant Morari Bapu (a spiritual leader) had honoured him in 2018 for his secular ventures. Faisal is also a trustee of a temple in the Saryu Kunj area of Ayodhya."
"On October 29, Faisal received prasad at Nandbaba temple and recited couplets from Ramcharitmanas before the priest, who had offered the Gandhian activist space to offer namaz. Unfortunately, some people with ill will asked the priest to file a police complaint against Faisal," Pandey said in a statement.
Kanha Goswami, the priest, has said he had allowed Faisal to offer namaz. Goswami, however, said he got angry when a video of Faisal offering namaz was posted on social media.
Acharya Yugal Kishore Sharan Shastri, the mahant of Ram Janki temple in Ayodhya, said: "The Uttar Pradesh government and the police must correct the mistake they have committed by arresting Faisal, whose entire life is devoted to religious harmony. All the cases against Faisal and his friends should be withdrawn. He should be released with honour by the government."
Youths owing allegiance to Hindutva groups gathered in front of Nandbaba temple on Tuesday and raised slogans against its priests for allowing Faisal to offer namaz there.
Chandra Mohan, a police sub-inspector on duty there, said: "The protesters left after half an hour when we told them that a case had already been registered and the police were doing their job."
Chalisa
Four youths donning tilaks barged into a Mathura mosque and recited the Hanuman Chalisa and chanted Jai Shri Ram as a "reply" to Faisal's act of offering namaz at a temple.
Saurabh Lambardar, Raghav Mittal, Kanha Thakur and Krishna Thakur have been arrested.
While being taken to the police station, Saurabh told reporters: "It was our reply to those who had offered namaz at Nandbaba temple."
Nek Mohammad, a caretaker of the idgah, said: "I am not angry with the youths. I am not going to lodge any complaint against them. The police have arrested them on their own and I wouldn't pursue the case."