Wave of outrage over Swamy case
83-year-old Catholic priest's arrest unlocks Church voice
Jharkhand chief minister Hemant Soren, economist Jean Dreze and several Christian groups have added their voice to the chorus of condemnation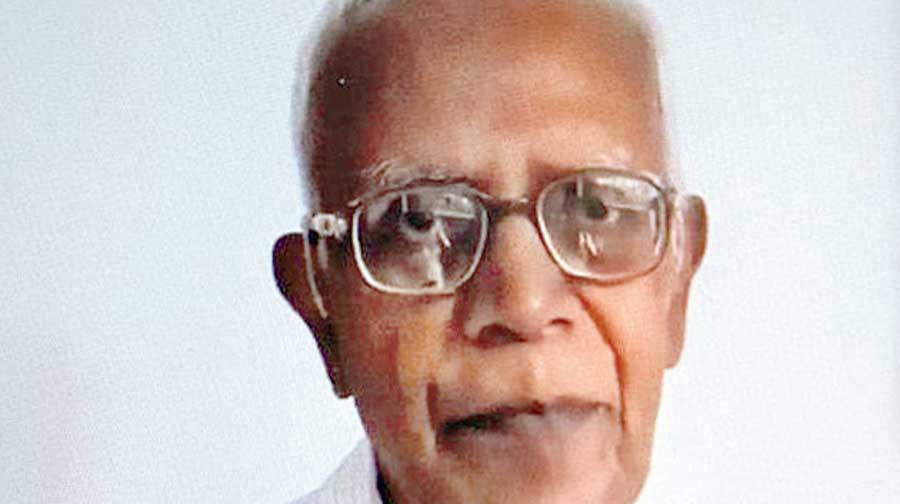 Fr Stan Swamy
Sourced by The Telegraph
---
New Delhi
|
Published 11.10.20, 01:53 AM
|
---
The Catholic Church has condemned the arrest of 83-year-old Catholic priest Stanislaus Lourduswamy on sedition charges and demanded his immediate release.
Jharkhand chief minister Hemant Soren, economist Jean Dreze and several Christian groups have added their voice to the chorus of condemnation.
The statement from the Catholic Bishops Conference of India (CBCI), the apex body of the Catholic Church in the country, stood out for two reasons.
One, there has been a perception that sections of the Church establishment have been somewhat reluctant to speak out of late because of the Narendra Modi government's crackdown on foreign sources of funds.
Two, the CBCI statement focused only on the priest, although 15 other rights activists, lawyers, academics and writers have been imprisoned in connection with the probe into the same case.
The Ranchi-based priest, better known as Fr Stan Swamy, suffers from Parkinson's disease and is known for his documentation of police torture of tribal youths suspected of terrorism and his vocal support for the recognition and codification of the animist Sarna faith.
The National Investigation Agency has arrested and chargesheeted him in the Elgaar Parishad case — an alleged Maoist plot to incite violence through an Ambedkarite event in 2017 — accusing him of being a member of the banned CPI Maoist and a conduit for its funds. He has been sent to judicial custody in Mumbai till October 23.
On Saturday, Felix Machado, archbishop of Vasai and CBCI secretary-general, said in a statement: "According to our reports, Fr Stan has for decades been working to protect the rights of the Adivasis, especially their land rights. This could have worked against the interests of certain people.
"When questioned during the months of July-August 2020 by authorities, Fr Stan Swamy has fully cooperated with investigating agencies and has provided detailed statements, claiming to be innocent in the case."
The statement added: "It is difficult to comprehend the plight of an octogenarian with several morbidities, like Fr Stan Swamy, to have to undergo such difficulties during this pandemic in which even a normal healthy person would hesitate to travel or would never travel risking one's life."
Before his arrest, Fr Stan had declined an NIA summons to its Mumbai office, citing his age and the pandemic.
"The CBCI makes a strong appeal to the concerned authorities to immediately release Fr Stan Swamy and to permit him to go to his residence," the statement said.
Archbishop Machado's Protestant counterpart, Rev. Asir Ebenezer, general secretary of the National Council of Churches in India (NCCI), said his organisation was still working on a statement. Asked why his statement did not mention the 15 other accused imprisoned in the case, Archbishop Machado told The Telegraph: "Others are also our concern if they are detained out of unfair (methods) and injustice."
The North East Catholic Research Forum said in a statement: "By selective targeting of a law-abiding prominent Christian, it appears to be an attempt to distract and divert people's attention from multiple crises the country is currently witnessing -- political, diplomatic, economic and social insecurity.… The NECARF, therefore, appeals to the Government of India to forthwith intervene and ensure his early release, as we pray for people of this country in these times of extreme crisis exacerbated by the Covid-19 pandemic."
While most Church bodies in India have so far been focusing on Fr Stan and not the other 15, Christian organisations at the global level have joined other human rights bodies in demanding justice for all of them.
"Stan is the latest one among the 16 people arrested including well-known rights defenders Arun Ferreira and Sudha Bharadwaj, both lawyers, and Vernon Gonsalves and Varavara Rao, both writers," a statement from the Society of Jesus, or Jesuits, said.
Fr Stan is a member of the Society of Jesus, a religious order with a legacy of running quality educational institutions.
"We, as Jesuits involved in works of education, caring and defending the rights of the poor and the vulnerable all over the world, stand in solidarity with Stan and other human rights defenders in India and strongly condemn the arrest of Fr Stan Swamy, demand immediate release and refrain from arbitrary arrests of innocent law-abiding citizens," the statement said.
Many Catholics in India are observing fasts and conducting prayers and protests in Delhi at the call of the Forum of Religious for Justice and Peace, a group of Christian priests and nuns from various congregations.
John Dayal, spokesperson for India's oldest Catholic lay people's body, the All India Catholic Union, said the government's crackdown on charitable institutions through the Foreign Contributions (Regulation) Act, 2010, had sealed the lips of many Christians.
"Muslims and Sikhs contribute a lot more to charity and do not need to rely on foreign funds. For Christians, the FCRA is a sword hanging over every other educational institution," Dayal said.
"The government effectively used income-tax investigations, municipal zoning laws and land laws during the (tenure of the) previous BJP government in Jharkhand to terrorise the Church."
Amnesty International had to recently shut shop in India after its account was frozen for alleged FCRA violations.
"While the Church itself has been silenced, the 1.25 lakh members of religious groups like Jesuits have stuck to their main task of fighting for the oppressed and pushing forward a socialist agenda," Dayal said.
"The government does not mind you distributing food but the moment you open a coaching class for the civil services, or talk about civil rights under the Constitution, you will be harassed like Fr Stan."
Fr Stan has been charged with channelling Maoist funds through the Persecuted Prisoners Solidarity Committee, headed by Calcutta professor Partho Sarathi Ray, who too has been questioned.
Rights activists and noted academics too have spoken out against Fr Stan's arrest.
Dreze has supported an appeal to Opposition leaders tweeted by the Jharkhand Janadhikar Mahasabha -- a coalition of rights outfits - tagging politicians including Rahul Gandhi, Sitaram Yechury, Mamata Banerjee and Tejashwi Yadav, among others.
"We strongly condemn the arrest of Stan Swamy in connection with the Bhima Koregaon case. He is a valued and public-spirited citizen and has been working for tribal rights since decades in Jharkhand. All Opposition parties should exert pressure on the Centre to release him," Dreze said.
Chief minister Soren posted a tweet on Friday night from his official handle that said: "What message does the BJP government at the Centre want to send out by arresting the 83-year-old Stan Swamy, who has been raising his voice for the poor, the deprived and Adivasis? What obstinacy is this to stifle all voices of dissent?"
Ranchi-based activist and writer Xavier Dias, 70, a close associate of Fr Stan, recalled the priest's work for the tribal communities.
"He hails from Trichy in Tamil Nadu. He worked as a teacher in the early 1960s and spent decades fighting for the rights of the Adivasis of Jharkhand under the banner of the Visthapan Virodhi Jan Vikas Andolan, a people's movement against displacement," Dias said.
"He opposed the previous BJP government's attempts to amend land laws and the land acquisition act. He also fought for the Adivasis who were falsely accused of being Maoists and lodged in jail custody."
Additional reporting by Animesh Bisoee from Jamshedpur and K.M. Rakesh from Bangalore