India goes to the polls this week; her people are on test. The 2014 vote was a rejection of UPA II, which had come to be widely perceived as discredited and disabled, and a profuse investment in hope generated by Narendra Modi. The 2019 election will scrutinise the citizenry on what choice it makes — critical judgement on blithely belied hope or subscription to hype and a more robust heave away from the spirit of the Constitution.
Shrill sectarian positioning and demands for a Hindu Rashtra are, for instance, no longer the preserve of the so-called "Hindutva fringe"; they have become the adopted and outspoken creed of elements in government and legislatures.
The election campaign is getting into swing and its chief actor, Prime Minister Modi, is himself implicitly spelling out failure. He would achieve in 60 months what others could not in 60 years, was his 2014 roar; now he's seeking more time. In two key areas of promised correction — employment and corruption — his government and party have been running scared. Unemployment is at a record high and the embarrassment is such the Modi government is in desperate denial of real numbers. A whole band of runaway carpetbaggers — Vijay Mallya, Nirav Modi, Mehul Choksi — have left Modi's cleanliness claims sullied; no less his government's many sugar deals to favoured tycoons.
Little wonder, the incumbent has shifted the discourse to ultra-nationalism and security — to the threat from external and internal enemies and to the need for a muscular leader. The Pulwama horror helped; the Balakot airstrikes and the interrogation of what they achieved helps Modi's ultra-nationalism even more — it helps him paint sceptics as anti-nationals and secure wider endorsement as embattled guardian of national security.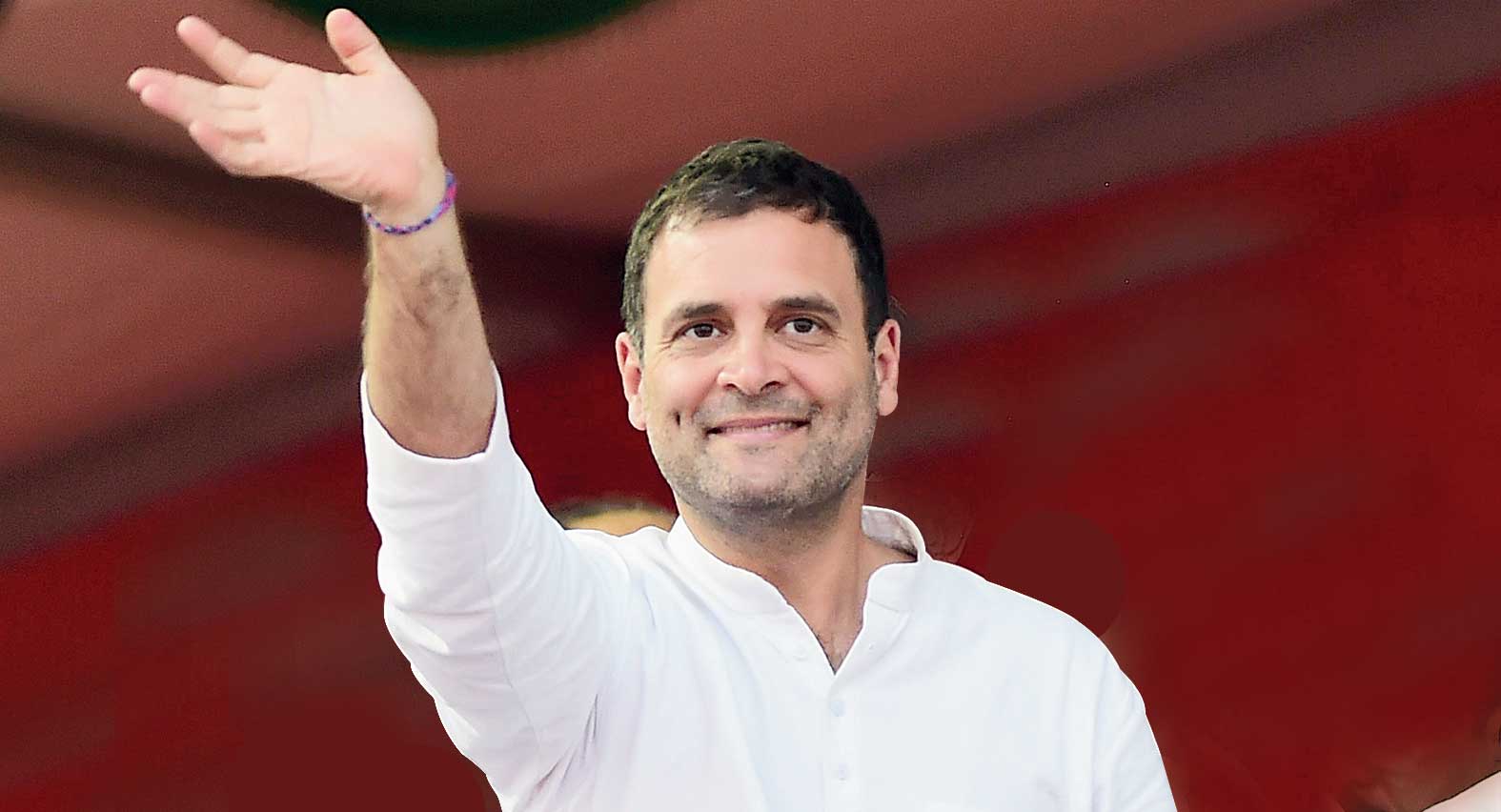 Rahul Gandhi. (PTI file picture)
The poll-eve spurring of "nationalism" serves to deflect attention from many critical acts of omission and commission over the past five years. The Modi establishment and cadre may well interpret another term as endorsement for the entire Modi package. Hectored decisions such as the paralysing jolt of demonetisation, imposed over the RBI's head and without consultation with the cabinet. A farm sector left to languish. Institutions impeded and meddled with — the Armed Forces encouraged to take political sides and wear atrocity as medals, a Supreme Court so troubled over executive interference, judges were forced to go public, a CBI so blatantly manipulated, its head went complaining to the highest court. A deteriorated social temper — the lumpenisation of streets where mobs felt entitled to lynch and murder and yet be celebrated, India's largest minority was heckled and bullied from some of the highest in the land, their patriotism questioned each day. The eruption of a toxic propaganda machine that specialises in inventing diabolical lies and farming out disinformation and motivated fakery.
The overt celebration of Gandhi's assassin, the libellous denigration of Nehru. Rampant distortion of history and the mutilation of science at the highest level.
The Modi years were not merely about the switch to another government, they are the hard preface to another notion of how Indians choose to view and conduct themselves. That is what is coming up for examination.
Modi returned to power in 2019 will be seen by his ranks as licence for bolder strides — de facto or de jure — towards Moditva.
There of course exists a substantial, if not always vocal, counter-view that subscribes to and asserts values the new order seeks to shun.
Modi, after all, swept to victory in 2014 with far less than 40 per cent of the vote. Bharat is not Congress-mukt; besides, it remains populated with many other voices and forces, most of them located in regional geographies but aspiring to the same larger value system. (From left) Mayawati, N. Chandrababu Naidu, Mamata Banerjee, Akhilesh Yadav and Y.S. Jaganmohan Reddy. (PTI file pictures)
The Assembly victories of the Congress in heartland states may have given their vow to defeat Modi in 2019 a shot of credibility, but that was not going to be nearly enough. Assembly elections and Lok Sabha contests can be chalk and cheese. Especially when Prime Minister Modi determinedly parades about in presidential mode in a parliamentary election: if not me, who?
The trouble for Modi's opposition is it has too many answers but not a clear leader. The competition is a field of competing ambitions.
Mamata Banerjee, Mayawati, KCR down in Telangana, to count just a few, and not to count dark horses in the wings.
There is Rahul Gandhi too; and Priyanka who has shaken off her hesitations and dipped into full-time politics. Rahul's pretensions to future prime ministership have so far been conspicuously and correctly been flagged with "ifs" because there are big "ifs". His equivocal candidacy has been endorsed thus far by no more than two on his flanks — Stalin of the DMK and Tejashwi Yadav of the RJD. The rest float free of obligation to him or the Congress.
It remains true that the Congress, despite the raucous railing over "Congress-mukt Bharat", retains an all-India presence, although it is not an electorally effective presence in most parts. It is also probably true that its Assembly successes may have imparted the Congress a boost of both space and spirit. It is probably even true that five years into Modi's reign on the debris of the promised dreams of 2014, the febrile "Abki baar, Modi Sarkar" mood has turned a little cold on the "messiah". The tone and tenor of Modi's campaign outings — overfed on nationalism and aggression against the Opposition, underfed on achievement — suggest that 2019 is not a romp for Narendra Modi, and he probably senses it better than most.
The reasons for that, and the voter reaction to it, is what will make 2019 a test for the electorate.