Elder sister 17, sibling 'adult' and fit for PSA in Kashmir
144 children between 9 and 17 were arrested after August 5, when the state's special status was scrapped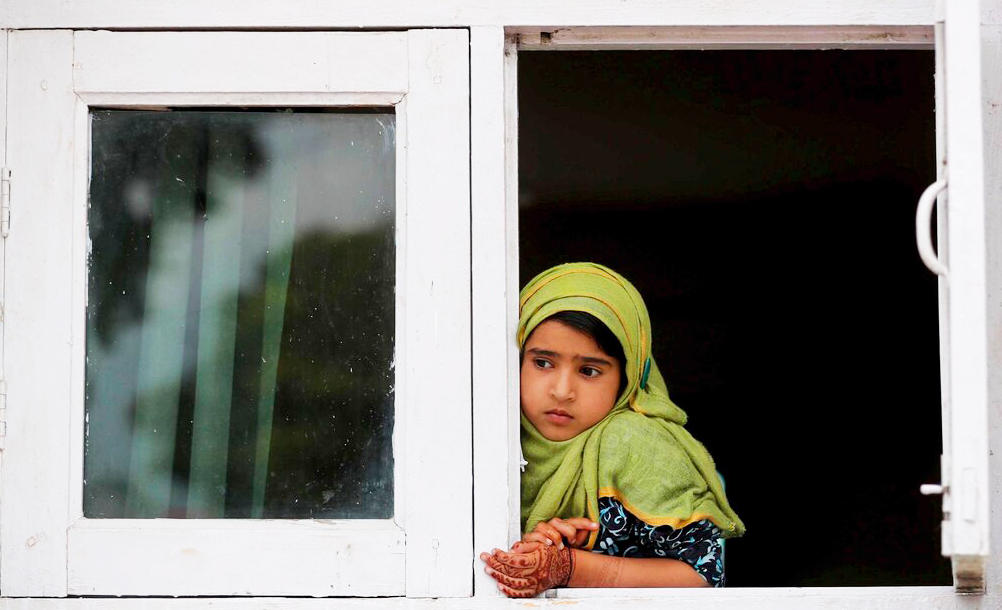 In this Friday, August 30, 2019, file photo, a child watches a protest from the window of a shrine in Srinagar.
(AP)
---
Published 02.10.19, 10:30 PM
|
---
Gousia Bashir, 17, sobbed that she had been orphaned for a second time.
Her 14-year-old brother, who had dropped out of school to become the family's breadwinner, was arrested under the draconian Public Safety Act last month, 10 years after their father passed away, Gousia said.
"I lost my father when I was only seven. Now they have arrested my brother too, orphaning us again. My mother is shell-shocked and so are we all," Gousia cried at their home in congested Shopian, 55km from Srinagar.
Gousia's brother is one of dozens of alleged minors taken into custody by security forces in the past two months. At least four have been booked under the PSA, which allows detention without trial for up to two years but explicitly bars detention of children under 18.
The juvenile justice committee of Jammu and Kashmir High Court has submitted a report in the Supreme Court saying 144 children between 9 and 17 were arrested after August 5, when the state's special status was scrapped. Of them, 142 have been released, it said. 
The Supreme Court had asked the high court to look into allegations that children are being illegally detained.
In the case of Gousia's brother, the government denies he is underage and the family will have to fight it out in court to prove that he is. Following a petition filed by the family, the court has ordered an inquiry to ascertain his age.
"They (government) say he is a major but how can he be a major when I am 17 and he is younger to me?" Gousia asked, sitting in their half-constructed home, with tarpaulin hanging where the windows should be. He dropped out of school because of poverty and was working at a bakery. His elder brother does not live with the family.
School records furnished by the family show he had been a student of Maktabia Islamia High School and his date of birth is March 16, 2005. The family got the certificate from the school on August 30, 2019, to prove the boy had been wrongly booked under the PSA.
Of three alleged minors booked under the PSA, the detention of a boy from Srigufwara who was lodged in an Uttar Pradesh jail has been quashed. The state had claimed he was an adult but his family furnished school records showing he was 16.
A member of Gousia's family said security forces had arrived in the middle of the night on August 11.
"We were all sleeping. The knocks woke all of us up. My uncle rushed to the door where he was asked about him (Gousia's brother). Then they dragged him (Gousia's brother) out, beating him mercilessly in front of us all. We were all crying but watched helplessly as they took him in a vehicle," she said.
An official at Srinagar's juvenile home in Harwan said children had been brought from different districts in the past 59 days. The officials did not allow The Telegraph entry into the premises.
"There were around two dozen boys detained here the day the court came for inspection. They were released soon after," the official said, requesting anonymity.