Assam 3 phases, counting on May 2
Eight-phase elections in Bengal, 3-phase in Assam
One-day voting in Tamil Nadu, Kerala, Puducherry; polling between March 27 and April 29; results on May 2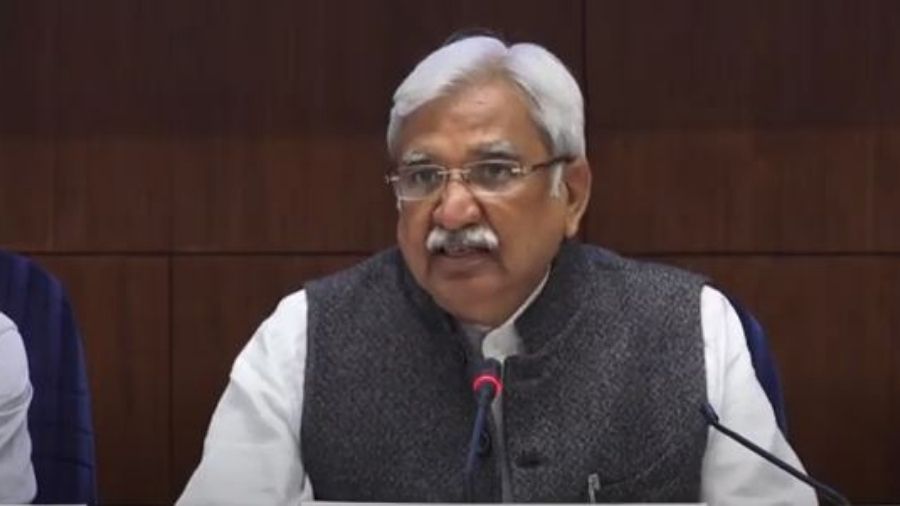 Chief Election Commissioner Sunil Arora addresses a press conference to announce the poll dates for five states and Union Territories, at the Vigyan Bhawan in New Delhi on Friday.
Screengrab
---
New Delhi
|
Published 26.02.21, 05:50 PM
|
---
The Election Commission of India (ECI) announced dates for Assembly elections to four states and one Union territory on Friday with polling scheduled to be held in eight phases in Bengal and three phases in Assam between March 27 and April 29.
Counting of votes will be held on Sunday, May 2.
In Bengal, with 294 Assembly seats, voting will be held on March 27 (30 constituencies), April 1 (30), April 6 (31), April 10 (44), April 17 (45), April 22 (43), April 26 (36), April 29 (35).
In Assam, with 126 assembly seats, voting will be held on March 27 (47 constituencies), April 1 (39) and April 6 (40).
Kerala with 140 seats, Tamil Nadu with 234 seats and the Union territory of Puducherry with 30 seats will have single phase elections on April 6.
The terms of the assemblies of the four states -- Tamil Nadu, Assam, Kerala and West Bengal -- are coming to an end in May and June. This will be the first set of elections to be held in the middle of the Covid-19 pandemic after the Bihar Assembly elections.
Earlier in the week, a team of Election Commission officials. Headed by director-general Dharmendra Sharma, visited Assam and West Bengal to review preparedness. The team was reviewing follow-up action taken by the states in response to directives issued during a previous visit in January.
Bengal will see a high-stakes battle with two-time chief minister Mamata Banerjee facing a tough challenge from the BJP amid an exodus from her party, the Trinamool Congress, to the BJP and corruption investigations against her party leaders.
The BJP is also campaigning aggressively to retain power in Assam, where it won for the first time in 2016, beating the Congress.
In the last round of elections in these states in 2016, the Congress could win only Puducherry. But earlier this week, the party lost power in the Union Territory adjoining Tamil Nadu after multiple resignations - a trend seen in other states like Madhya Pradesh and Karnataka where Congress governments crashed because of defections.
In Puducherry, President's Rule has been imposed and the Assembly kept under suspended animation after the V. Narayanasamy-led Congress government resigned earlier this week ahead of a vote of confidence.
In Kerala, it's an intense battle for the ruling Left-led front and the Congress-led Opposition coalition. Voters of the state have alternated between the two in past state elections. The CPM hopes to continue its gains in the only state it rules after a victory in the recent local body elections.
The Congress, stunned by its Puducherry loss, seeks to repeat its 2019 national election success, when it won 19 of 20 Lok Sabha seats. The BJP has so far been a minor player but its recruitment drive this time shows the party is preparing to challenge the ruling Left-led coalition in a big way.
The party has roped in "Metro Man" E Sreedharan and other high profile faces in the coastal state. Close to 100 Left workers joined the BJP on Thursday.