Editors Guild seeks PM's intervention in revoking IT code
The organization cited Modi's public commitment towards protecting freedom of speech and expression in India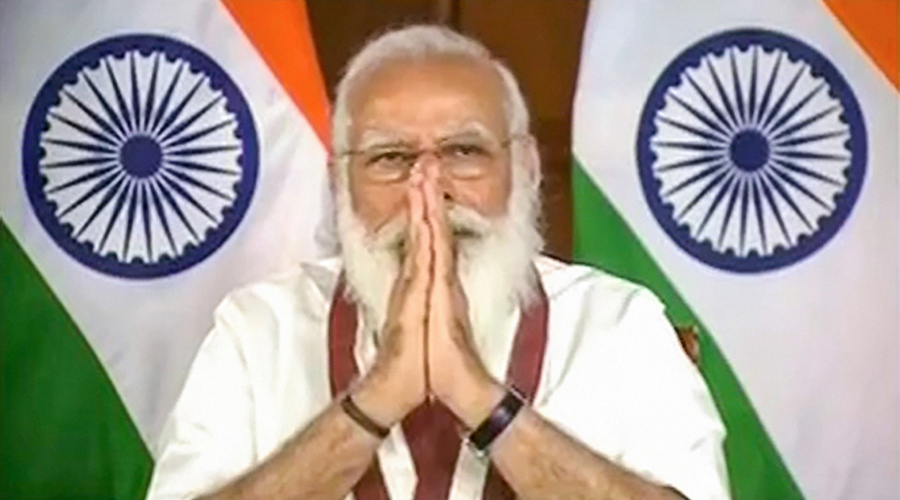 Narendra Modi
File picture
---
New Delhi
|
Published 23.03.21, 12:44 AM
|
---
The Editors Guild of India has sought the intervention of Prime Minister Narendra Modi in revoking the Information Technology (Intermediary Guidelines and Digital Media Ethics Code) Rules 2021, reminding him of his public commitment towards protecting freedom of speech and expression in India.
The Guild released the letter sent over a fortnight ago on Monday, having got no response whatsoever from either the Prime Minister or the two ministers concerned who were also sent similar letters asking that the new ethics code be put on hold till detailed consultations are held with all stake-holders.
The letters underscore that there was no consultation with stakeholders before the rules were notified.
In the letter to the Prime Minister, the Guild said that the new rules have the potential of fundamentally altering how publishers of news operate over the Internet and undermine freedom of press in the country, identifying the  cumbersome three-tier structure to regulate digital media, with an "Inter-Departmental Committee" at the top as the most alarming aspect.
Apart from the fact that this gives excessive powers to a government officer to block, modify and delete content, the letter notes that other provisions in these rules place unreasonable restrictions on digital news media, and as a consequence, media at large.
"These rules have been brought in without due consultation with the stakeholders and deepen the worry that freedom of press in India is being seriously compromised."
In the letter to the ministers, the Guild has gone into greater detail about the problematic aspects of the code. On the three-tier structure, it urges the ministers to withdraw such an "onerous and regressive regulatory mechanism", and initiate consultations for putting in place a more equitable self-regulatory system.
"We believe that the question whether any speech violates any law in force, or be bound to a Code of Ethics, or whether it should be evaluated in accordance with Article 19(2) of the Constitution, is a complicated question of not only facts but also of law. Therefore, any action on such speech should be taken only after adjudication by an independent judiciary, rather than the executive."
Further, they have questioned the use of the IT Act, 2000, to introduce the rules, pointing out that the government went beyond the scope of the legislation without the approval of Parliament.
Also, according to the Guild, there is lack of clarity on the applicability of the rule that states it is applicable to publishers of news and current affairs content as long as the publishers have a physical presence in the territory of India and are conducting the "systematic activity" of making their content available in India.
"Such application is overbroad as there is no threshold requirement of readership to differentiate between Digital News Media based on scale. The consequence of this is that even blogs, individuals reporting news through social media and nascent news organisations will have to comply with the onerous obligations imposed by the Rules."