Economics: Uber, Ola, Rwanda, cow... what next?
Abhutpurva 100 days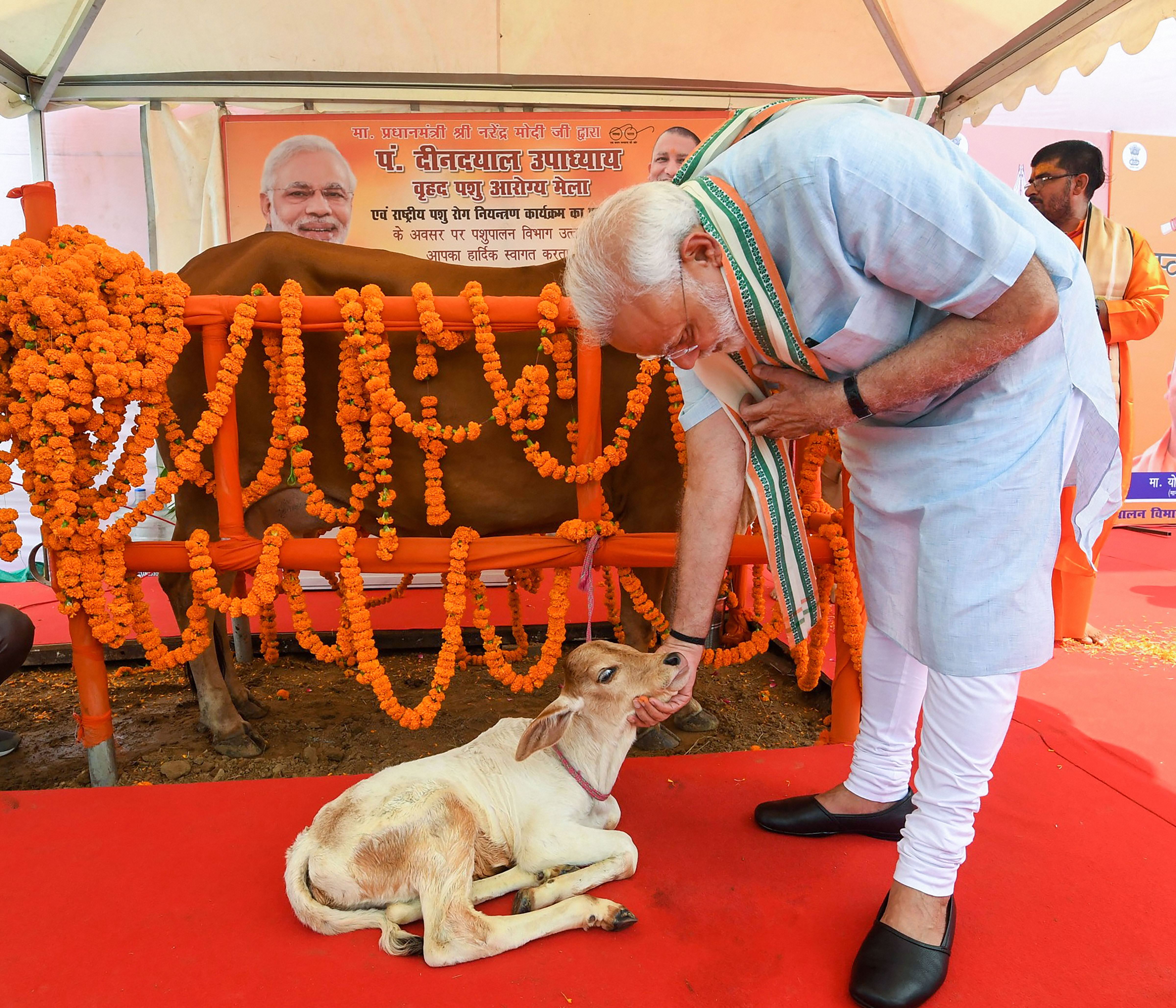 ---
|
Lucknow
|
Published 11.09.19, 09:08 PM
---
Prime Minister Narendra Modi on Wednesday declared that he had done "abhutpurva kam (phenomenal work)" in the first 100 days of his second term.
The Prime Minister then proceeded to discuss a presumably pressing economic issue in a country that has been rattled by an unrelenting flow of grim financial data.
Modi told a rally at Mathura in Uttar Pradesh that the rural economy could not be imagined without cows but that the very mention of words such as "cow" and "Om" raises the hackles of some people.
"It is unfortunate that in our country the moment the word 'Om' falls on the ears of some people, they get alarmed (baal khade ho jaate hain)," Modi said, adding that the same reaction can be expected when the word "cow" is mentioned.
"In the life of rural India, animal husbandry is very valuable. Can a family in a village survive without it? But I don't know why some people get an electric shock on hearing the word," Modi said.
"It is unfortunate that such people think that taking the name of the cow would pull the country back to the 16th and 17th centuries. This kind of thinking has done everything to destroy the country."
The Prime Minister told the country, anxiously awaiting a blueprint to steer the economy back on track, about an experiment in Rwanda.
"There is a country called Rwanda in Africa. I had gone there. In Rwanda, there is a unique programme, where the government gives cows to villages with the condition that the first female calf born to the cow will be taken back and given to those who do not have a cow," he said.
"This way a chain operates. And their endeavour is that in Rwanda every household should have a cow (and engage in) milk production and animal rearing, which form the base of the economy. I have myself seen how a network to earn a livelihood through a cow has been established there," said Modi, who had taken 200 cows to Rwanda last year.
In Mathura, the Prime Minister complimented himself by asserting that "100 din me abhutpurva kam karke dikhaya (I have done phenomenal work in 100 days)" and thanked the people, came face to face with a cow and a calf and petted them.
Modi visited the Deen Dayal Upadhyaya Veterinary Science University and Cattle Research Institute in Mathura to launch the National Animal Disease Control Programme, which aims to control foot-and-mouth disease and brucellosis among livestock.
The Prime Minister said 51 crore cows, buffaloes and goats would be vaccinated every year under the Rs 13,000-crore project.
In New Delhi, CPI general secretary D. Raja asked why the Prime Minister was referring to "Om" and "cow" when he should be talking about the state of the economy.
"He is saying this at a time when in the name of the cow and God, mob lynchings are happening unabated across the country. He should behave as the Prime Minister of this country; he must speak on real issues and address unemployment instead of attacking the Opposition," Raja told PTI.
In Mathura, the local administration had banned people from wearing black or carrying black scarves and handkerchiefs to Modi's rally, fearing protests by those unhappy with the governments at the Centre and in the state.
Sources said traffic between Agra and Mathura was diverted for about five hours. Some farmers in Agra had declared they would immolate themselves in Mathura during Modi's visit if a probe was delayed into the alleged corruption in the acquisition of land for an inner ring road in Agra.