Economic Survey 2022 recommends augmenting investments in schools
Under the ICT component of the Samagra Shiksha Scheme, the Centre supports the establishment of smart classrooms, and ICT labs in schools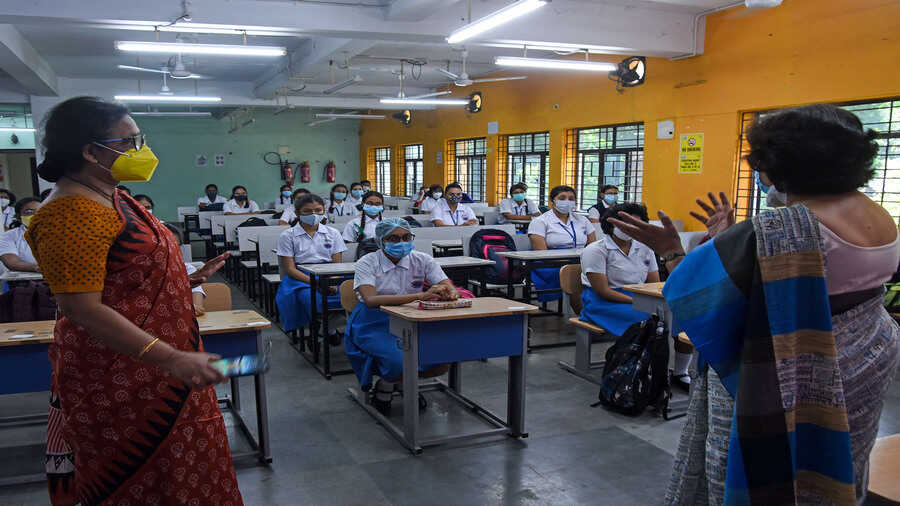 The budgetary allocation to Samagra Shiksha Scheme has gone down to Rs 31,050 crore in 2021-22 from Rs 38,750 crore in 2020-21.
File photo
---
New Delhi
|
Published 01.02.22, 03:14 AM
|
---
The Economic Survey for 2021-22 has recommended augmenting investments in school education infrastructure at a time children are switching from private to government schools amid a dip in parental income.
Referring to the Annual Status of Education Report (ASER) 2021, the survey states that children in rural areas have moved out of private schools and taken admission in government schools in primary, upper primary and secondary levels during the pandemic.
"Possible reasons suggested for the shift are: shutdown of low-cost private schools, financial distress of parents, free facilities in government schools, and families migrating back to villages," the survey said.
"Disproportionately high fee in private schools could also be stimulating this shift. If the trend holds, public schools need to be equipped with additional support, in terms of teacher-pupil ratio, classroom space, and teaching/learning materials, to absorb students migrating from private schools and from urban to rural areas," it said.
The recommendations come in the backdrop of government schools suffering from several deficiencies. One such lacuna is low computers and digital connectivity. According to the official Unified District Information System for Education Plus report, less than 12 per cent government schools had Internet in 2019-20 while less than 30 per cent schools had functional computers.
Under the information and communication technology (ICT) component of the Samagra Shiksha Scheme, the Centre supports the establishment of smart classrooms, and ICT labs in schools. The scheme provides support for implementing the Right To Education Act that makes school education up to Class VIII a right of every child.
However, the budgetary allocation to Samagra Shiksha Scheme has gone down to Rs 31,050 crore in 2021-22 from Rs 38,750 crore in 2020-21.
Message to PM
Nearly 50,000 girls from Uttar Pradesh, Bihar, Bengal, Delhi, Jharkhand and Assam have written postcards to Prime Minister Narendra Modi, seeking his intervention in increasing the allocation to school education sector and extending the RTE Act to cover pre-primary, secondary and higher-secondary stages.
Currently, the RTE provides for free education to children from Classes I to VIII.
The other demands include provision of scholarships for girls so that they are not forced to discontinue education because of monetary constraints and setting up of secondary schools within a radius of 5km.
The postcard movement has been coordinated by NGOs such as RTE Forum, Champions Network for Girls and Fight Inequality Alliance.
"Girls tend to drop out due to distance and lack of family support. So there should be secondary schools within 5km radius and some scholarships should be started to help the poor students," said Mitra Ranjan, coordinator of the RTE Forum.
He demanded an increase in budget allocations for the education sector.