Economic slowdown? Deny & cook up data
'Data released by the CSO shows that the annual GDP growth was 7.5% between 2014 and 2019, the highest among the G-20 nations'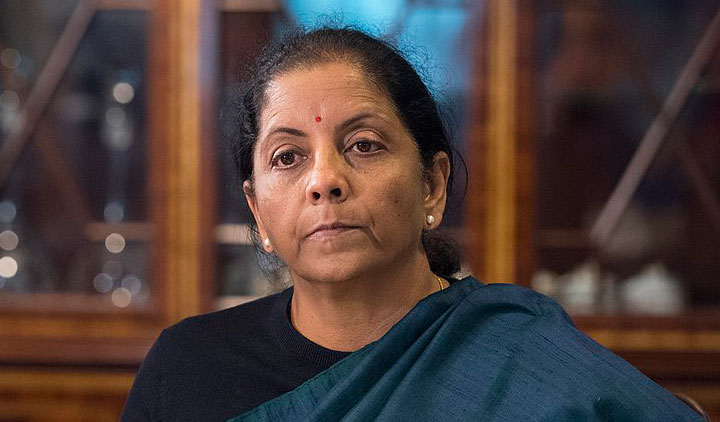 Finance minister Nirmala Sitharaman gave a waffling, written answer to the question — which by custom had to be submitted in advance — that completely dodged the bullet.
(Wikimedia Commons)
---
New Delhi
|
Published 18.11.19, 09:07 PM
|
---
The Narendra Modi government has signalled its clear resolve to shut down all criticism over the slowdown in the Indian economy — by brazenly refusing to acknowledge published, official statistics and cooking up some of its own to deny that the demonetisation marked the start of that perilous slide.
The questions weighing on every mind were raised on Monday by Kerala MP N.K. Premchandran during question hour in the Lok Sabha: has the government identified the reasons for the slowdown and what does it intend to do to revive the faltering economy?
Finance minister Nirmala Sitharaman gave a waffling, written answer to the question — which by custom had to be submitted in advance — that completely dodged the bullet.
She said: "Data released by the Central Statistics Office shows that the annual GDP growth was 7.5 per cent between 2014 and 2019, the highest among the G-20 nations."
She went on to add that the World Bank had forecast in its annual World Economic Outlook that India would record the fastest growth among the G-20 nations in 2019-20. After which, she recounted the measures the government had taken, including the recent cut in the corporate tax rate to stoke private consumption, and even attempted to take credit for the RBI's decision to slash the policy interest rate by 135 basis points this year.
Sitharaman's reply satisfied no one, especially since the first day of the winter session had opened with Parliament abuzz over former Prime Minister Manmohan Singh's trenchant criticism of the government for fostering a climate of fear and distrust among policymakers, industrialists, bankers, regulators, entrepreneurs and citizens.
In an article in The Hindu, the former Prime Minister slammed the Modi government for the complete breakdown of trust in Indian society which, he said, had "halted economic development with bankers unable to lend, industrialists unable to invest, and policymakers unable to act".
Junior finance minister Anurag Thakur was fielded by the government to face down the challenge from the Opposition benches in the form of supplementaries to Premchandra's main question.
Aam Aadmi Party MP Bhagwant Singh Mann said the growth rate had slumped to 5 per cent and wanted to know if the government was ready to acknowledge the slowdown.
Thakur pounced on Mann's figure. "I first want to say that there is no 5 per cent slump," he said.
The minister was seeking to deny the CSO's statistics that showed growth in the first quarter (April-June) had slowed to 5 per cent — a six-year low.
Manmohan Singh had come out with a long list of facts in his article that were even more depressing. "By now the facts are evident to all — nominal GDP growth is at a 15-year low; unemployment is at a 45-year high; household consumption is at a four-decade low; bad loans are at an all-time high; growth in electricity generation is at a 15-year low — the list of highs and lows is long and distressing," he wrote.
Mann — clearly poorly informed here — said: "RBI ke director ne bhi kaha ki business main vishwas nahi raha (The RBI director too has said that business confidence has eroded)."
What he may have been referring to was the RBI's recent industrial outlook survey, which polled responses from 481 companies, showing that the indices measuring India Inc's perceptions about the current state of business and its six-month forward-looking business expectations had both edged down to their lowest levels since the first quarter of 2014-15.
Thakur was bristling as he riposted: "Main inse janna bhi chahta hoon ki RBI ke kaun se governor ne yeh kaha hai (I want to know from him which RBI governor has said this)."
But soon it was the turn of Saugata Roy of the Trinamul Congress to take the battle forward. Roy said the IMF had trimmed India's growth forecast to 6.1 per cent for the year; Moody's Investor Services had downgraded the outlook on India to negative from stable while retaining its foreign and local currency credit rating at Baa2; and factory output had contracted to minus 1.1 per cent in August (it was worse in September at 4.3 per cent).
Roy wanted to know if the government was brave enough to finally admit that the demonetisation was responsible for the current state of affairs.
That's when Thakur trotted out his lies: "Isse Trinamul Congress ya mananiya sadasya shayad sehmat na ho, lekin main inke dhyan mein lana chahta hoon ki jo taxpayers the, unki sankhya demonetisation ke baad lagbagh duguni hui hai. Desh ki jo direct tax ki revenue collection lagbagh duguni hui, woh bhi isi karan hui hai. Yeh desh ke vikas me ek bahut bada kadam tha, jo lambe samay tak is desh ki arthvyavastha ko aage badhane wala ek bahut bada nirnay siddh hoga (The Trinamul Congress and its worthy MP might not agree, but the fact remains that the taxpayers' base has doubled since the demonetisation, and direct tax collections have also doubled since then. The demonetisation was a big measure that will underpin India's growth for many years to come)."
And that's where Thakur's argument crumbles.
Statistics sourced from the income-tax department clearly show that the taxpayer's base in assessment year 2016-17 (that is, the year before the demonetisation) was 6.92 crore. It rose to 8.45 crore in assessment year 2018-19 for which the latest figures are available in the public domain — a mere 22 per cent growth.
Similarly, direct tax collections rose from Rs 741,945 crore in 2015-16 — the fiscal year before the demonetisation — to Rs 1,137,685 crore, an increase of 53.3 per cent, which is impressive but nowhere near double the previous year's figure.