Dye Another Day
The East India Company committed the excesses, but it was indigo that earned a bad name. One and a half centuries later, indigo has got a second chance to clear its name. Moumita Chaudhuri reports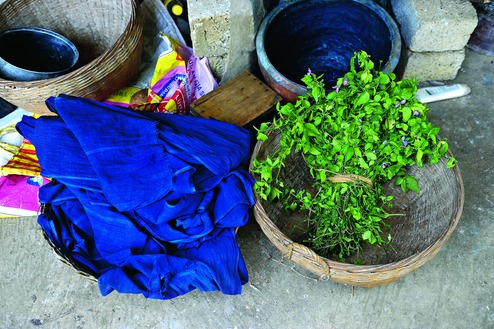 ---
Published 11.02.18, 12:00 AM
|
---
The colour of indigo, to a lot of Indians, will always be red. Not scarlet or rose or even ruby, but red like the blood oozing from a ruptured vessel and dripping with the sting of several lost generations. Less crop, more a byword for colonial excesses.
Which is why, talk of an indigo resurgence across the subcontinent - Bengal, Uttarakhand, Assam, South India, Bangladesh - elicits a reflex cringe. The reaction that follows is really a question. Why do we need a crop that has been known to decimate son and soil?
That was also the response Amrita Mukerji got from the farmers she employed when she decided to grow indigo in her smallish plot in Santiniketan. "Don't grow these. They will harm the land," is how they warned her. "When I asked them who had told them as much, they said they just knew," says Mukerji, founder of the NGO, Sutra.
Around the turn of the century, after years of globe-trotting with her husband, Mukerji settled down to a retired life in Calcutta. She says, "I had visited production centres in Nigeria. And over the years, attended indigo exhibitions, met scholars studying the history of the plant, bought prints... I started to fall in love with the blue of the indigo."
And then in 2003, textile researcher Charlotte Kwon met her in Calcutta and handed her a packet of indigo seeds.
The indigo project was apparently a whim. That year, after harvest, Mukerji noticed that the land had yielded a rush of mustard. The farmers were surprised.
They needn't have been. Indigo is a leguminous plant, fixes nitrogen to the soil, enhances soil quality and soil productivity and has been popular in India from time immemorial as a virtuous rotational crop. From 2016, Mukerji turned to indigo cultivation in all seriousness.
Around the same time in Uttarakhand's Kumaon region, Rashmi Bharti was also planting indigo. In Uttarakhand, food crops are prone to pest attacks; monkeys, parrots and wild boars are also known to destroy food grains. Farmers were fed up. And that is when Bharti, co-founder of the NGO, Avani, that creates viable employment opportunities for rural men and women, thought of indigo cultivation as a sustainable alternative. And for good reason - not only is the plant hardy and low maintenance, monkeys do not like the taste of it and there is nothing to peck at for the birds either.
Mukerji is aware of cultivation in Murshidabad. Bharti talks about other geographies - Bihar, Andhra, Karnataka. It might be too soon to call it a revolution, but there is a definite indigo wave sweeping India.
Indigo is indigenous to India. One finds mention of it in works as diverse as the Atharva Veda and the Ain-i-Akbari. Jenny Balfour-Paul, an expert on the subject, writes in her book Indigo: Egyptian Mummies to Blue Jeans, "The word indigo itself derives from the Greek indikon, Latinised indicum, originally meaning a substance from India, indicating the import of indigo pigment by the Graeco-Roman world. The Sanskirt word nila, meaning dark blue, spread from India eastwards into Southeast Asia and westward to the Near and Middle East, probably both through the pre-Islamic trading routes and subsequent trade diffusion of the product in the Islamic era..."
In a WhatsApp call from London, Balfour-Paul tells The Telegraph that Bengal in particular produced the best quality of indigo. "Bengal had the perfect soil to grow this tropical plant. There are 800 species of indigo, of which only 10 will yield colour. Indigofera tinctoria is what is found in Bengal."
So when and how did indigo come to be a pejorative? The East India Company was aware of the commercial worth of indigo. There were indigo plantations across colonies.
In her book, Balfour writes about how the company actively promoted Bengal's indigo industry by providing heavy subsidies and underwriting initial big losses. It brought over European indigo planters from the West Indies to establish efficient factories, and Bengal indigo soon equalled in quality the finest West Indian product. "So successful was the operation that the company's Asian indigo imports into London jumped from 25,000 pounds in 1782 (when most of the indigo came from America and West Indies) to 43,68,000 pounds in 1795, the bulk of it from Bengal."
At the time, four million people were employed in the production and manufacture of indigo in Bengal alone. Indigo was a hugely profitable enterprise. Its colour was gold.
Research associate Sanjukta Ghosh of SOAS South Asia Institute, London, tells us that W.B. Hudson, a major planter in the region, claimed that £4.5 million was invested in the indigo industry. The problem started when profits were not ploughed back to the ryots or indigo farmers. She talks about the planters' ostentatious lifestyle - sprawling bungalows, obliging servants. As the returns on indigo increased, so did their greed, and a time came when they started taking away every cultivable land for indigo cultivation.
Indigo might have been gold, but what is gold in the face of hunger? The aggressive push landed on the farmer's stomach, fair and square.
By the mid 19th century, the exploitation had assumed monstrous proportions. In 1860, on the back of the uprising of 1857, Dina-bandhu Mitra, an employee of the Raj, wrote a play on the subject. Titled Nil Darpan, it was meant to show the mirror to the Raj, the story behind the indigo success story. In his biography of Mitra, Bankim Chandra Chattopadhyay wrote: "Nil Darpan is to Bengal what Uncle Tom's Cabin is to America's slave movement."
Taking a cue from Nil Darpan, several learned men of Bengal took up the pen. One such anonymous writer's song goes thus: "Hey nirodoy nilkargan/aar shohena praney ei nildahan/Krishaker dhoney praney/Dohile nilagune..." The farmer writhing in agony is crying out to the indigo planters for mercy, pleading with them to rein in their indigo lust.
Nil Darpan shook up British Parliament after 200 translated copies landed in Britain. It decreed that one could cultivate indigo in Bengal only if one was a landowner. Most of the planters were using leased land and when this diktat kicked in, they started looking for bluer pastures.
Balfour-Paul tells us that two-fifths of the million-and-a-half acre of land that was under cultivation in India was in Bihar. She writes, "Though the term satyagraha was coined much later in history, 'Champaran Satyagraha' began with peasants revolting against the Indigo planters."
From gold, indigo had taken the colour of death - black.
Every drama must have its denouement. Indigo's was written by a German chemist. Adolf Von Baeyer invented synthetic indigo towards the end of the 19th century. It was cheaper, came minus the bloodbath and made natural indigo inconsequential.
But not all the holy waters of India could wash the taint off the Blue Devil. At some point, history polluted fact and it came to be accepted, most mistakenly, that indigo was a villainous plant.
Crops do not understand man-made divisions. As then, so also now, indigo is a common benison of India and Bangladesh.
Ruby Ghuznavi is the founder of Aranya Crafts, an indigo enterprise based in Dhaka. She says, "We first cultivated and extracted indigo in Bangladesh on an experimental basis in 1984. It was not very well received by the farmers because of its negative history. But once it was apparent to them that they would be the actual beneficiaries and indigo would no longer be the exploitative crop of the past, they accepted its production very eagerly. The fact that indigo as an extra crop between two major rice harvests has brought extra earnings for the farmers, is well appreciated by them."
Mishael Aziz Ahmad is also from Bangladesh, and runs the social enterprise Living Blue. He says that farmers in north Bangladesh were intercropping Indigofera tinctoria all along, as a fertiliser. Thus, in reality, indigo had never died out. What had happened was its use had changed from dye to fertiliser. Ahmad says, "Now about 3,000 farmers in 80 to 100 villages are planting indigo in the peripheral lands. Landless labourers are also planting it by the roadside and earning a few bucks during the lull period. In Bangladesh, people have accepted it as a crop that is creating more employment opportunities."
Ahmad's account dovetails into Rashmi Bharti's. In Uttarakhand, there was a problem. Men would leave their villages for cities in search of jobs, and the women were left behind. The large tracts of unused land invited soil erosion.
Indigo cultivation has addressed all these problems. Apart from the fact that it can grow at an altitude as high as 5,500 feet, indigo cultivation is not very labour intensive. Bharti's NGO has trained the women of these villages to do both. She says, "In the first year, we had started with only 20 farmers. In 2017, we had 250 farmers. Their total earnings this year was Rs 4.6 lakh."
Avani consumes most of the produce currently as the market in India is nascent. Apart from dyeing - it is widely used in dyeing jeans - indigo is used for products such as watercolours, crayons and wood stains.
Amrita Mukerji tells us that indigo is a non-pollutant and eco-friendly natural dye.
In several pockets in south India, it turns out that indigo never went out of fashion. Victoria Vijayakumar, who runs Aranya Naturals, a community development project by the Tatas, tells us that indigo cultivation has been going on for generations in Munnar. It was used as manure. Vijayakumar also confirms that the renewed use of indigo for its dye is relatively recent. She tells us, "We have six acres of land under indigo cultivation and in three years we have had 18 harvests. This year 80 kilos of indigo was extracted."
And so indigo has come full circle. From blue to gold to black to red, it is back to being a vivid blue once again. The colour of the expansive horizon, of the bottomless waters, and above all, of freedom and promise.