Drums to fight locusts in Jharkhand
Agriculture department also issues advisories to officers of all 24 districts to be prepared with pesticides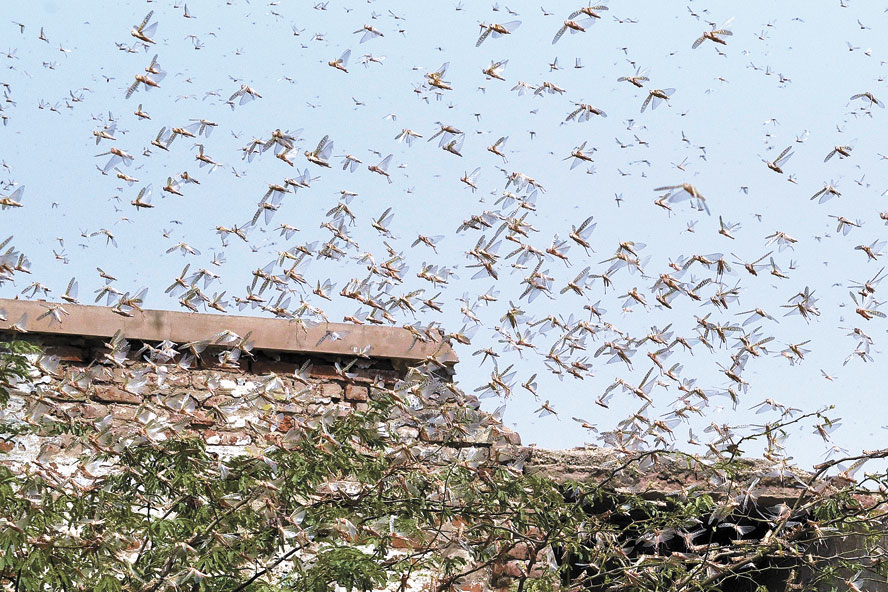 ---
---
Traditional musical instruments like dhols and nagaras (drums) have suddenly shot into prominence in Jharkhand's fight against the possible invasion by desert locusts.
In the first meeting of the tiddi dal (locust swarms) control and monitoring committee, comprising senior officials of the agriculture, forest and fire services departments on Tuesday afternoon in Ranchi, it was decided to ask the deputy commissioners and agriculture officers of vulnerable districts, sharing borders with Chhattisgarh, Uttar Pradesh, Bihar and Odisha, to ask villagers to remain on alert.
The vulnerable districts include Simdega (bordering Odisha), Latehar, Gumla (bordering Chhattisgarh), Garhwa (bordering both Uttar Pradesh and Chhattisgarh), Palamau, Chatra, Giridih and Godda (bordering Bihar).
"We have asked all the agriculture officers and deputy commissioners of the vulnerable districts to create awareness on a war-footing among villagers against swarms of desert locusts who reside in areas bordering Uttar Pradesh, Chhattisgarh and Bihar.
"As the time is short, we have advised our agriculture officers to team up with the forest authorities and district administration and encourage people to beat dhols and nagaras as well as thalis to drive away locusts from damaging vegetation and crops," said state agriculture director Chhavi Ranjan.
He admitted that bursting of crackers was an expensive proposition.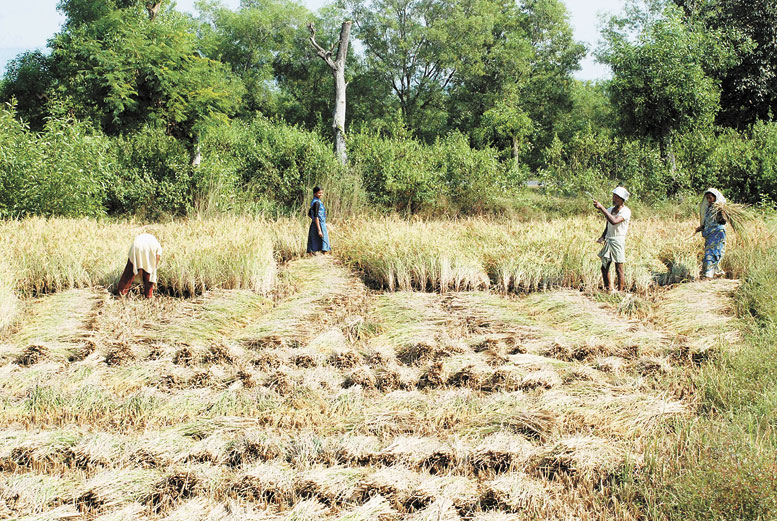 "Usually, the forest department uses firecrackers to drive away elephants from standing crops. Using them for locusts would deplete their resources. We would use them only if there is an extreme exigency," added Ranjan.
A source, who attended the meeting, said the advisory was framed in consultation with the Central Integrated Pest Management Centre, Jharkhand chapter, and the Jodhpur-based Locust Warning Organisation.
"Based on inputs from the two organisations, we have formulated a strategy whereby the locusts, who usually rest at night, will be eliminated by spraying pesticides from fire tenders and extinguishers. During the day, they will be disturbed by beating traditional musical instruments as it is very difficult to kill the flying locusts by spraying pesticides," said deputy director, plant protection (agriculture), Shiva Mahalingam.
"Most tribal youths seldom play instruments like dhol and nagara though they are still occasionally used during festivals. We have asked the panchayat representatives to prepare the villagers to use the instruments to drive away the locust swarms. Those who do not have musical instruments have been asked to hire DJ sets," said Simdega agriculture officer Ashok Kumar Choudhary.
The agriculture department has also issued advisories to agriculture officers of all the 24 districts to be prepared with pesticides to be sprayed on the locusts at night.
"There are several types of pesticides, which need to be mixed in different proportion. We have given the details to agriculture officers of all 24 districts and also take the help of fire department officials in spraying the pesticides on locusts while they rest at night," added Mahalingam.
Nearly two crore locusts have damaged crops in Rajasthan, Madhya Pradesh, Uttar Pradesh and Chhattisgarh so far.
The swarms usually travel at speeds of 130-150km per hour. According to the Locust Warning Organisation, the swarms are currently in Uttar Pradesh.