Drug regulatory authority approves nasal Covid vaccine
The intranasal vaccine named iNCOVACC uses a chimpanzee adenovirus as a vehicle to deliver key coronavirus proteins through the nose to generate immune responses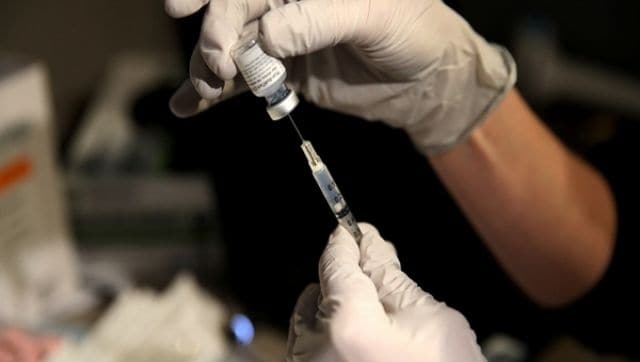 Representational image.
Twitter
---
New Delhi
|
Published 07.09.22, 02:05 AM
|
---
 India's drug regulatory authority has approved an intranasal Covid-19 vaccine developed jointly by US scientists and Bharat Biotech, the Hyderabad-based vaccine maker, for adults 18 years or older under its "restricted use in emergency situations" provision.
The Central Drugs Standard Control Organisation (CDSCO) has approved Bharat Biotech's intranasal vaccine, Union health minister Mansukh Mandaviya tweeted on Tuesday, calling it a "big boost" in India's fight against Covid-19.
The CDSCO has approved the two-dose vaccine for primary immunisation, although the company had said earlier this year that it had submitted clinical trial data evaluating it as both a first-time vaccine and as a booster for those already immunised against Covid-19.But, experts say, it is unclear when the vaccine will become available for use by adults.
The Centre has introduced vaccines into the Covid-19 vaccination campaign after they are approved by its experts guiding the vaccination policy. A homegrown Covid-19 vaccine based on the novel messenger-RNA platform approved in June is yet to be introduced into the vaccination campaign.
The intranasal vaccine named iNCOVACC uses a chimpanzee adenovirus as a vehicle to deliver key coronavirus proteins through the nose to generate immune responses. Bharat Biotech has described iNCOVACC as the "world's first intranasal vaccine" that has been approved for primary immunisation against Covid-19.The company had submitted to the CDSCO clinical trial data from 3,100 volunteers at 14 sites across the country who received the vaccine for primary immunisation and 875 prior immunised volunteers at nine sites who received it as a booster.
An expert, who has been tracking advances on Covid-19 vaccines, said it is unclear why the CDSCO approved the vaccine only for primary immunisation because the vast majority of adults across the country have already been immunised and are eligible for boosters."We have to assume that the expert panel advising the CDSCO is for now not convinced about its use as a booster," said the expert, a faculty member in a medical college, who requested not to be named but has been involved in clinical trials with Covid-19 boosters.
The intranasal vaccine comes at a time public enthusiasm for Covid-19 vaccines has ebbed. More than 830 million adults above 18 years have been fully immunised, but only around 150 million have turned up for boosters.
Bharat Biotech signalled on Tuesday that it has envisioned a long-term role for the intranasal vaccine."Despite the current lack of demand for Covid-19 vaccines, we continued product development (of the) intranasal vaccine to ensure that we are well prepared with platform technologies for future infectious diseases," said Krishna Ella, Bharat Biotech's managing director.
The company said iNCOVACC offers the double benefit of enabling faster development of variant-specific vaccines and easy nasal delivery that enables mass immunisation to protect people from emerging variants of concern. It said the vaccine promises to be an important tool in mass vaccinations during epidemics.
Scientists say the most promising aspect of the intranasal vaccine is its potential to confer so-called sterilising immunity — to stop the virus from replicating in the body. In contrast, current Covid-19 vaccines protect people from severe disease but are not as effective in preventing infections from mutated versions of the coronavirus.The vaccine was designed by scientists at Washington University, St Louis, in 2020. Ella had early during the pandemic recognised the intranasal vaccine's potential to induce sterilising immunity and invested in the candidate through a pact signed by August 2020.