Drive against communal hatred in Jharkhand
Maulana Azad Humane Initiative has condemned efforts of targeting an entire religion over instances of crime against women in different parts of state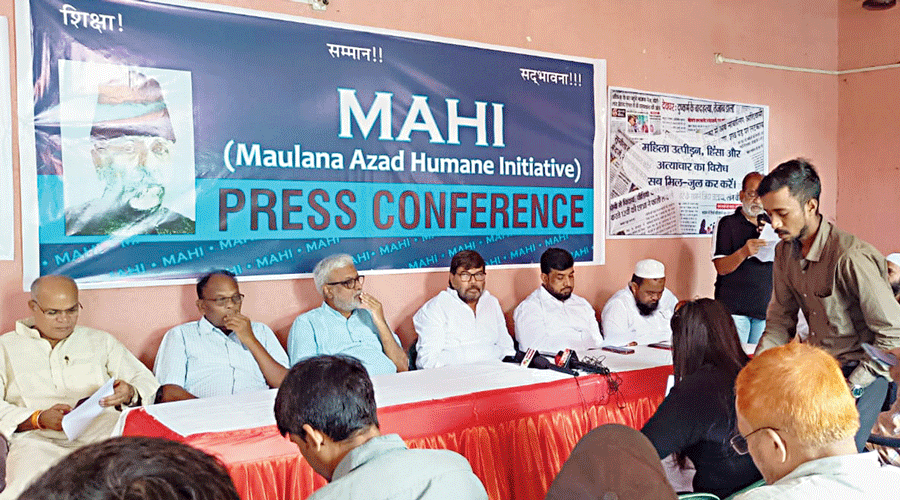 MAHI officials address the media in Ranchi on Thursday.
Manob Chowdhury
---
Jamshedpur
|
Published 11.09.22, 12:44 AM
|
---
A social organisation identified as Maulana Azad Humane Initiative (MAHI) has condemned the efforts of targeting an entire religion over instances of crime against women in different parts of Jharkhand.
MAHI's convener Ibrar Ahmed, while addressing the media in Ranchi, said that they plan to start an awareness campaign against those agencies and political parties who try to give communal colour to instances of crime against women.
"We are pained that the entire community is targeted with the use of words like 'Love Jihad' whenever there is a crime against women committed by a member of the minority community. We will be launching an awareness campaign in different districts against this trend," said Ibrar Ahmed.
"We strongly condemn crime against women across the country. We also demand that the accused should be given the strictest punishment. But associating criminals with any religion and thus creating a rift in the society is wrong," said Ahmed.
Ahmed was of the opinion that those who commit crimes against women are criminals and they should not be associated with any religion.
Sharing the National Crime Record Bureau (NCRB) data, Ibrar Ahmed said according to the NCRB data as many as 4, 28,278 cases of crime against women were registered across the country in 2021 and it has been observed in 43.3 per cent cases that those perpetuating atrocities against women are close relatives of women cutting across caste.
The convener while sharing his view also presented examples from other parts of the country suggesting how girls were raped by their own relatives.
The statement of the social organisation came in the light of the two incidents in Dumka district of Santhal Pargana where a Muslim youth had burnt a minor girl from the other community who eventually died during the course of treatment in Ranchi, and a few days back the body of a tribal girl was found hanging from a tree in the same district with police claiming that a Muslim youth had raped and hanged the girl. The accused youths in both cases have been arrested.
Several BJP leaders including Godda MP Nishikant Dubey had accused the state government of appeasing minorities which had led to such alleged acts of "love jihad".
Youth set on fire
A youth in Garhwa district of Jharkhand was allegedly set on fire over a dispute on Friday night.
The 37-year-old victim has been identified as Deepak Soni, a native of Chittavisram village.
According to reports, Soni was allegedly set on fire by Kasamuddin Ansari of the same village after a dispute. Soni was admitted to Garhwa Sadar Hospital and is now stable.