Dress code for Kashi pilgrims
The men have to be in dhoti-kurta and the women must wear sari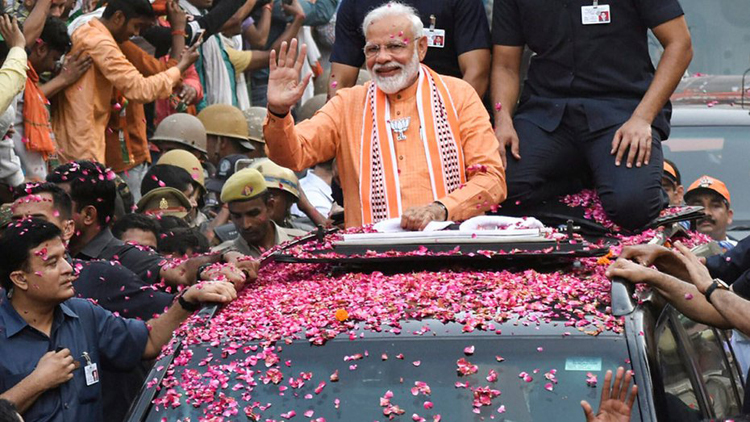 The dress code is for visitors to the temple in Varanasi, Prime Minister Narendra Modi's parliamentary constituency
(File photo)
---
Lucknow
|
Published 13.01.20, 09:57 PM
|
---
The Uttar Pradesh government has decided to enforce a dress code for devotees of Kashi Vishwanath if they want to touch the shivalinga during prayer.
The men have to be in dhoti-kurta and the women must wear sari, according to the code for visitors to the temple in Varanasi, Prime Minister Narendra Modi's parliamentary constituency.
Those dressed in any other attire can see the shivalinga from a distance but cannot enter the sanctum sanctorum.
The decision came at a meeting on Sunday of the district administration and the temple's managing committee in the presence of Neelkanth Tiwari, the state's minister for religious affairs.
"This rule would be applicable from Makar Sankranti (January 14)," said Vishal Singh, chief executive officer of the Shri Kashi Vishwanath Mandir Trust. "Those who want to enter the sanctum sanctorum must follow the dress code."
Those who follow the dress code will be able to touch the idol between the two aartis performed at 2:35am and 11:30am every day.
Tiwari said a similar system was in place at many other temples in the country, including at Mahakal in Ujjain, Madhya Pradesh; Rameswaram, in Tamil Nadu, and at Sabarimala in Kerala.
The minister said a dress code had been decided too for the priests, who would wear chauband (a cloth wrapped around the waist) and bagalbandi (clothes with ribbons on one side to tie) so that they can be identified easily.
The government had on August 17 last year prohibited people from entering the sanctum sanctorum, citing unmanageable crowds. Devotees could see the shivalinga from doors on all four sides.
The sanctum sanctorum was opened to devotees again from August 23 for an hour in the morning and evening for offerings to the deity.
The temple management and the government had started imposing restrictions on devotees soon after Narendra Modi won from Varanasi in May 2014. Before that devotees could sit near the deity to offer gangajal and flowers.
A removable steel fence came up on all four sides of the shivalinga, apparently for security reasons, less than a month after the new government assumed charge at the Centre in 2014.
Now common people lean from the other side of the fence and stretch their hands to touch the deity.
The fence is removed for VIP devotees.