Double jolt to green shoots
Food inflation during January this year stood at 13.63%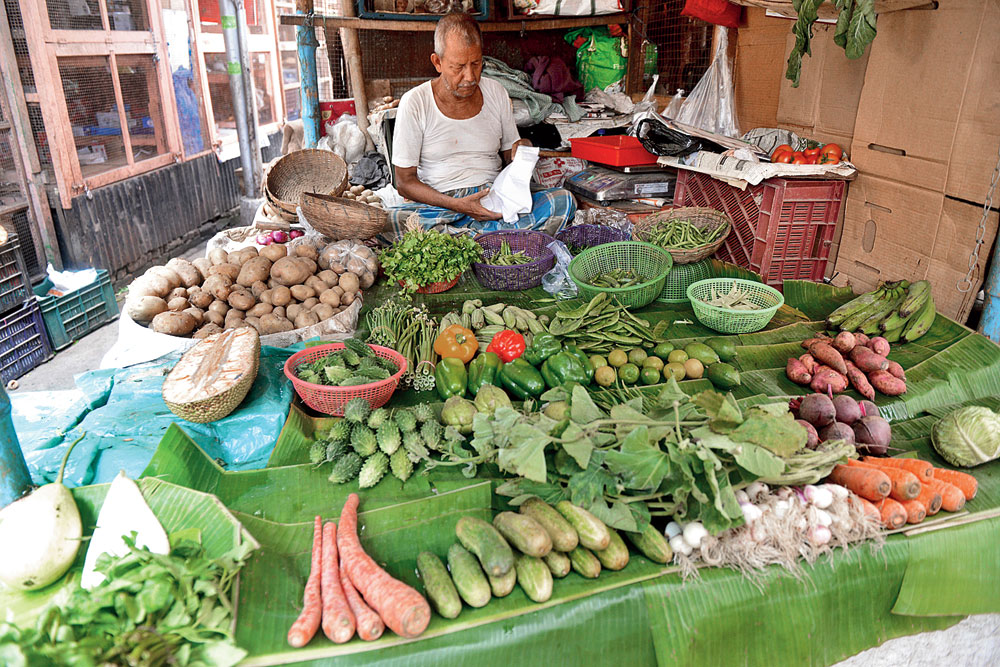 ---
---
Retail inflation soared in January to 7.59 per cent — the highest level since May 2014 — while factory output shrank by 0.3 per cent in December, darkening growth prospects in an economy that is limping along at its slowest pace in six years.
The latest data release by the National Statistical Office blunted claims about the seven green shoots of recovery that finance minister Nirmala Sitharaman spoke about in Parliament on Tuesday while defending her recent budget that critics have slammed for failing to do enough to revive the faltering economy.
"Industrial activity has seen a rebound. In November 2019, the IIP numbers have registered a positive growth of 1.8 per cent as compared to the contraction of 3.4 per cent in October 2019 and by 4.3 per cent in September 2019," Sitharaman had said in the Rajya Sabha on Tuesday.
The finance minister spoke too soon: while factory output shrank once again in December, the manufacturing sector (which has a 77.63 per cent weightage in the overall Index of Industrial Production) contracted by 1.2 per cent.
Surging inflation and faltering industrial growth, signified by the separate data releases, have deflated the Modi government's assertions — and raise concerns about the pace of interest rate cuts and industry's propensity to invest in their businesses with no clear visibility on the way out of the mess.
Retail inflation surged on the back of persistently high vegetable prices, pulses and protein-rich meat and fish.
Economists polled by Reuters ahead of the data release had projected retail inflation at 7.40 per cent — marginally higher than the 7.35 per cent in December last year.
Inflation has surged from a lowball 1.97 per cent in January last year to 7.59 per cent a year later — this kind of surge hasn't been seen since February 2012. The highest of retail inflation in the current series was recorded in February 2013 when the UPA government was in power.

Overall food inflation during January this year stood at 13.63 per cent, slightly lower than 14.19 per cent in the previous month.
Inflation in vegetables spurted to 50.19 per cent in January this year, while that for pulses and products, it rose to 16.71 per cent. The prices of meat and fish went up by 10.50 per cent during the month, while egg prices were higher by 10.41 per cent against the year-ago period.
"The fairly broad-based rise in the core inflation to 4.1 per cent in January 2020, driven by various services, is a cause for concern," said Aditi Nayar, principal economist, ICRA.
"It is unlikely to materially alter the direction of monetary policy, with the RBI policymakers already having placed their forecast for the average CPI inflation in the fourth quarter of the current fiscal at a high 6.5 per cent. However, today's data suggest that the pause is likely to be extended further," she added.
The RBI cut interest rates five times last year and has hit the pause button on further policy action since December.
Industry stumbles
The contraction in factory output in December means that the 1.8 per cent growth in November was only a blip.
The trend reversal was in line with the contraction observed over the three consecutive months of August (-1.4 per cent), September (-4.6 per cent) and October (-4 per cent).
The manufacturing sector — a key provider of jobs in the economy — saw growth shrink by 1.2 per cent against a growth of 2.9 per cent in the same month last year.
Data for the month of December further revealed that production of capital goods, a barometer of investment, slumped by 18.2 per cent compared with a growth of 4.2 per cent in the corresponding month of the previous year.
According to use-based classification, the growth rates in December 2019 over December 2018 were 2.2 per cent for primary goods, 12.5 per cent for intermediate goods and -2.6 per cent for infrastructure/construction goods.
Consumer durables and non-durables recorded growth of -6.7 per cent and -3.7 per cent, respectively.
Sixteen of the 23 industry groups in the manufacturing sector have shown negative growth during December 2019 as compared to the corresponding month of the previous year.