Don't rely on Parliament, MP Manoj Jha tells teachers
Jha called for street protests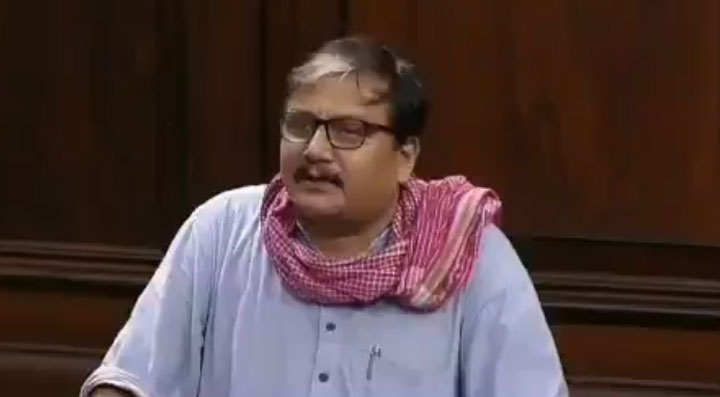 ---
New Delhi
|
Published 03.08.19, 08:19 PM
|
---
Rashtriya Janata Dal MP Manoj Jha on Saturday asked protesting teachers not to depend any more on Parliament, a day after the Congress voted in favour of a law that empowers the government to declare individuals as terrorists even without trial.
Jha, a professor of social work with Delhi University, was addressing teachers gathered in solidarity with 48 of their JNU colleagues who face disciplinary charges for going on strike last year against alleged rule violations in appointments and the withholding of salaries.
The teachers say the Central Civil Services (Classification, Control and Appeal) Rules, 1965, which have been invoked against them, do not apply to university faculty, who are governed by the ordinances of their universities.
"I'm not talking about adversaries. They are known. You don't know about those who stand with you as friends," Jha said.
"Don't ever any more rely on Parliament. Ultimately, when it comes to voting, friends disappear. There is a very good instrument called 'walking out'. You say lots of things on a bill: 'I disagree, I disagree, I disagree, I disagree'. And subsequently you walk out. What is that? You are helping the government muzzle your own voice."
He went on: "Probably, you will have to create a '75-like situation (that triggered the Emergency). Let's work on it. Let's take away responsibilities from the political parties and politicians not because of anything else but simply because they are suffering from drudgery. They have started believing that there is no alternative…. You don't always cross the floor from here to there. You disappear from the floor."
Jha called for street protests. "They have won the majority; they are winning in Parliament. The only space they are not winning is the universities, JNU being one. But there are hundreds of universities in this country where there are voices of dissent. You can't defeat them in elections."
He added: "Let's gherao Parliament itself; let's talk about coming in big numbers. I only see hope in that. Otherwise, I can't tell you the way I have seen legislative business (conducted) in Parliament. I'm worried whether Parliament will have any meaning in the coming days."
On Friday, the Congress had voted — unsuccessfully —for amendments proposed by the CPM and the Marumalarchi Dravida Munnetra Kazhagam to the government's Unlawful Activities (Prevention) Act Amendment Bill. But when the time came to vote on the bill itself, the Congress voted in favour.
Earlier this week, the Janata Dal United and the All India Anna Dravida Munnetra Kazhagam had opposed the bill that criminalises the instant talaq but walked out after that. Several Opposition MPs too were absent during the voting.
Speaking to The Telegraph after Saturday's event, Jha said: "I spoke out because whatever has happened in Parliament worries me as a citizen and an MP. The best fight is when you link anguish in the street with anger in Parliament. The anguish is there on the street, but the anger in Parliament has disappeared."
The JNU 48 have received support from teachers' unions across India and several renowned academics outside India, including Akeel Bilgrami, Arjun Appadurai, Gayatri Spivak, Judith Butler, Partha Chatterjee and Sheldon Pollock.
After protests following the University Grants Commission's attempt to bring all universities under the CCS rules, which govern bureaucrats, then human resource development minister Prakash Javadekar had last October tweeted: "We have neither put any restrictions nor intend to put any restrictions on 'Freedom of Speech' in JNU, Delhi University or any other university."
Rajib Ray, president of the Federation of Central University Teachers Associations, said: "It (his tweet) was a blatant lie…. The attack is not on the 48 or 200 teachers, it is on higher education itself."