Donald Trump accorded ceremonial welcome at Rashtrapati Bhavan
Melania, Ivanka and Jared also attended the ceremony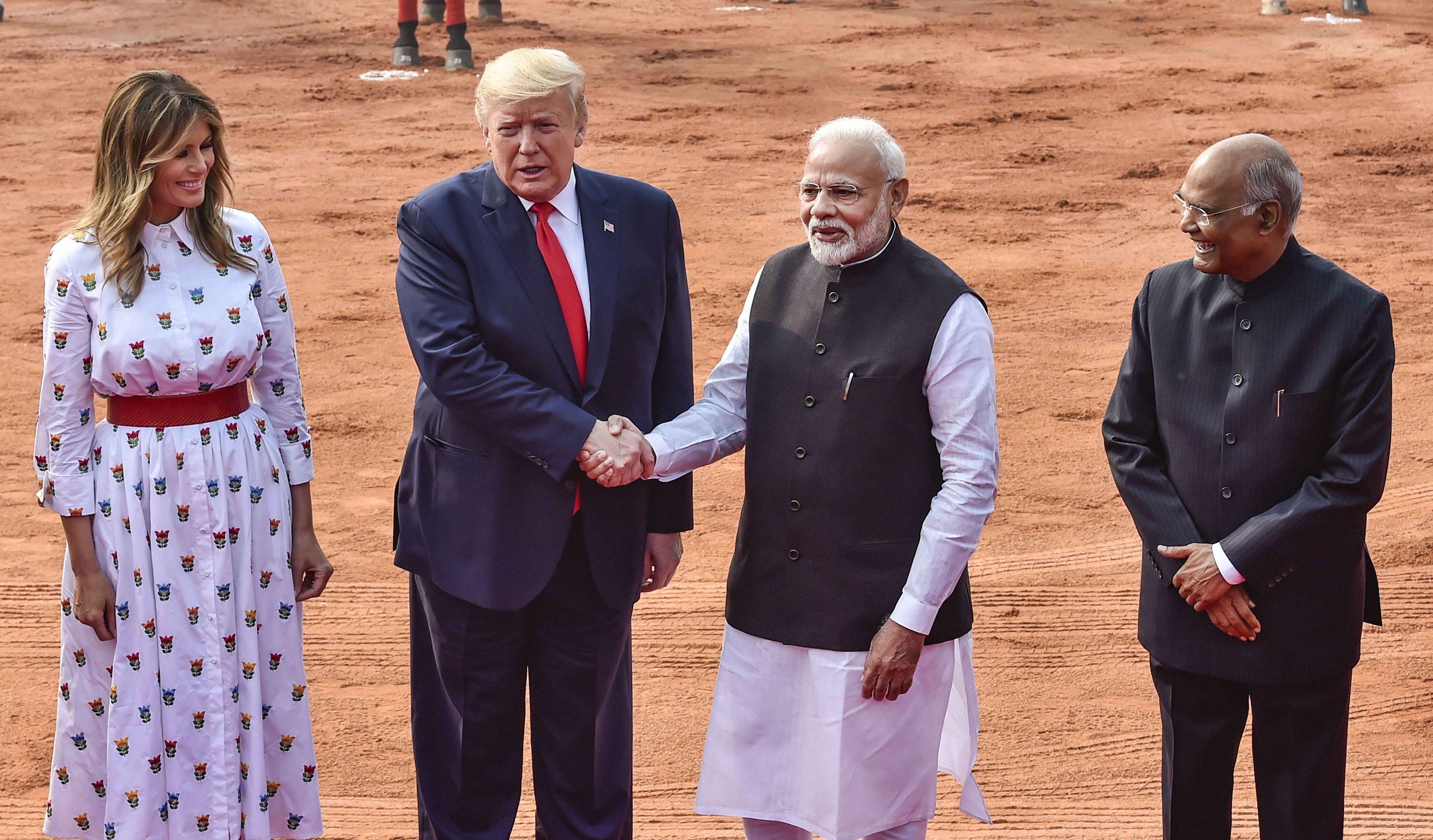 ---
---
US President Donald Trump was on Tuesday accorded a ceremonial welcome at Rashtrapati Bhavan.
President Ram Nath Kovind and Prime Minister Narendra Modi welcomed the US President and First Lady Melania Trump at the Rashtrapati Bhavan.
Trump was then accorded a tri-services guard of honour at the forecourt of the Rashtrapati Bhavan.
Trump's daughter Ivanka, son-in-law Jared Kushner and several top officials of the US administration were also present at the ceremony.
The US President arrived on a 2-day trip along with his family and top US diplomats in Ahmedabad on Monday, where he held a roadshow along with Modi to the newly-built Motera Stadium.
Trump and Melania visited Sabarmati Ashram before going to the stadium for the 'Namaste Trump' event. The US President tried spinning a charkha (khadi spinning wheel)
'To my great friend Prime Minister Naredra Modi, thank you for this wonderful visit,' Trump wrote in the Ashram visitors' book.
The US President was briefed about Gandhiji and the importance of charkha as a symbol of self-reliance.
At the event, Trump flagged religious freedom ahead of his arrival in Delhi where riots had broken out over the religion-specific Citizenship Amendment Act (CAA).
Senior US administration officials had indicated over the weekend that Trump would raise the "religious freedom issue" both publicly and privately.
"It is your faith in the strength of a free society, your confidence in your own people, your trust in your own citizens, and your respect for the dignity of every person that makes the United States and India such a natural, beautiful, enduring friendship," Trump further said at the event.
After the event, the presidential delegation left for Agra, where they were given a boisterous welcome amid traditional dance ceremony by Uttar Pradesh chief minister and governor Anandiben Patel. He later visited the iconic Taj Mahal and spent over half an hour at the monument.
From the Kheria airbase, Trump's convoy of over 30 vehicles drove to Oberoi Amarvilas hotel near the Taj Mahal complex, as over 15,000 school students who lined up both sides of the route held US and India flags and cheered the US President as his motorcade passed by.
Massive billboards bearing greeting messages and pictures of Trump, First Lady and Modi dotted the nearly 13-km convoy route as street roundabouts decked up with US and India flags symbolised the US-India friendship.
President Trump and the First Lady held hands as they strolled at the Taj complex before leaving for New Delhi.

The US President will hold bilateral talks with Modi later in the day.