Doctors decry riot targeting
Healthcare professionals belonging to network condemn chargesheet that has named a physician who saved many lives of those injured in the clashes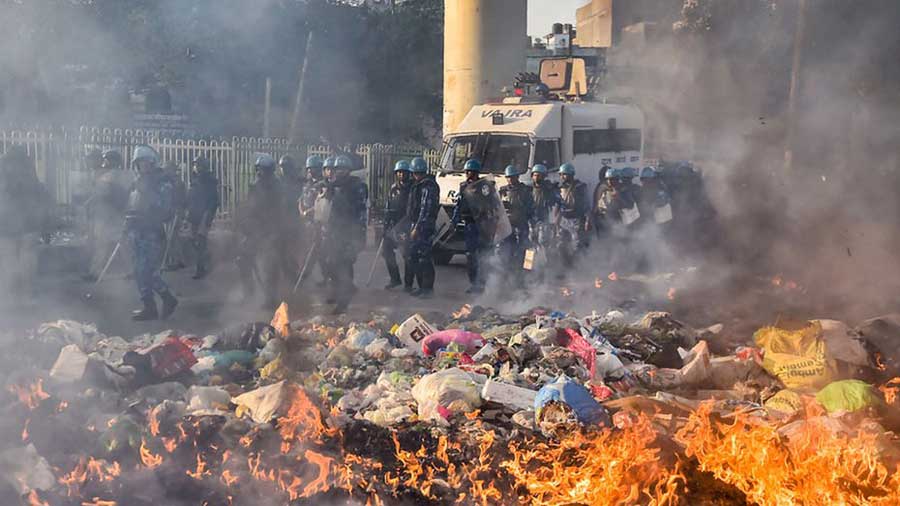 Security personnel conduct a flag march after clashes over the Citizenship (Amendment) Act, 2019, in New Delhi.
(File photo)
---
New Delhi
|
Published 01.07.20, 02:47 AM
|
---
A nationwide network of physicians and public health experts on Tuesday condemned a Delhi police chargesheet that has named a doctor who had saved the lives of many people injured during the riots in northeast Delhi earlier this year.
The Jan Swasthya Abhiyan network has said the name of the doctor, M.A. Anwar, has been mentioned  in the chargesheet alleging instigation of the local people  against the government on  the issue of the Citizenship Amendment Act that had triggered violence in the  area.
Anwar, the proprietor of Al Hind Hospital in New Mustafabad, had in late February provided medical care  to people brought to his hospital after being assaulted, and with fractures and bullet injuries.
Al Hind was the closest hospital to the sites of some of the worst violence in northwest Delhi that claimed the lives of 53 people and injured hundreds.
The JSA — the India  circle of the global People's Health Movement — has described the naming of Anwar in the chargesheet as a "vindictive attempt" to target a medical professional and "as an abuse of the law and its process at the hand of the police".
"It is shocking that a person who saved the lives of many through his prompt and timely actions has now been falsely referred to in the chargesheet alleging instigation," the JSA said in a statement.
Al Hind hospital was less than a kilometre from sites where groups of people threw stones at each other, a mob burned a school and another mob attacked people praying in a mosque.
The JSA said several  medical teams in the area  had witnessed Anwar's untiring response as a medical  professional in providing treatment "in the most  challenging circumstances  in the midst of targeted violence against the Muslim community".
His prompt action to help the injured had been hailed by many, including Delhi High Court, the JSA said, adding that Anwar had helped victims of the violence irrespective of their religion, caste, or class.
The violence in pockets  of northeast Delhi erupted after Delhi BJP leader  Kapil Mishra set a three-day  deadline for those opposing the CAA to stop their  protests.
The JSA has urged the police to immediately remove Anwar's name from the chargesheet and desist from any harassment and intimidation.
"The state authorities must instead acknowledge the evidence of the large-scale trauma caused to the residents as a consequence of the targeted violence and the care and support extended by the hospital and Anwar," it said.