Cong old guard fight back in MP
Attempts to convince the rebel MLAs hiding in Bangalore have not fructified so far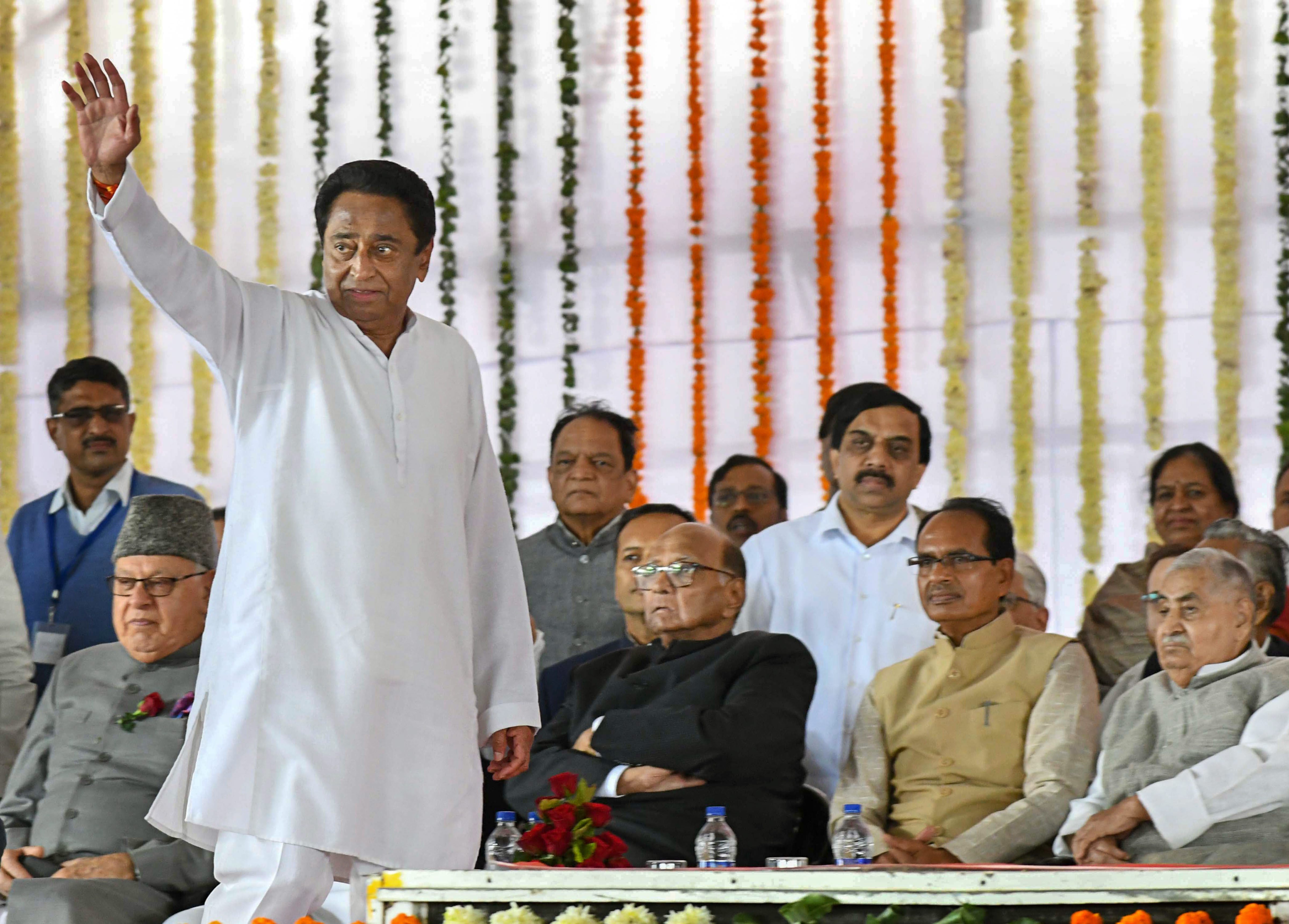 ---
---
Madhya Pradesh chief minister Kamal Nath and senior leader Digvijaya Singh have pulled out all stops to save the state government but the dominant feeling in the Congress is that it is a lost battle.
While central leaders spoke in a resigned tone about the difficulty in proving majority in the Assembly, Kamal Nath and Digvijaya are pouring all their might to try and pull off a rescue.
Attempts to convince the rebel MLAs hiding in Bangalore have not fructified so far. But the party strategists also have their eyes peeled for the BJP's choice for chief minister, which might trigger dissent if anyone other than Shivraj Singh Chouhan is picked, making some party MLAs loyal to him open to switching sides.
Congress sources said over the phone from Bhopal that the chief minister has recommended to the governor the acceptance of resignations of the six ministers who revolted and shifted to Bangalore, and a message has been conveyed to the other rebel MLAs that these ministerial positions are available for them if they return.
Congress's trouble-shooter in Karnataka, D.K. Shivakumar, and some mediators from Bhopal are on the job.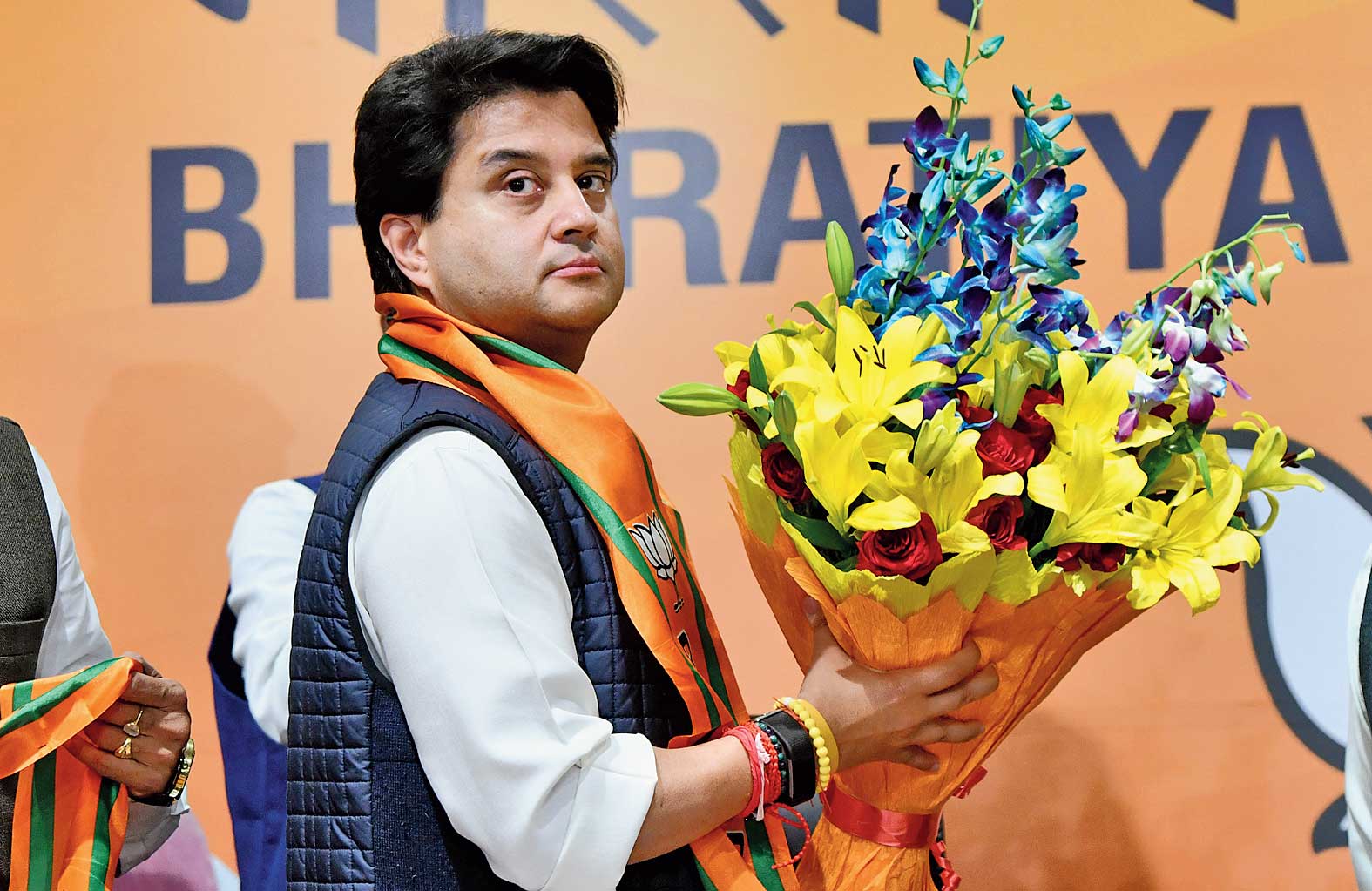 The Congress said the MLAs are in a dilemma because they are loyal to Jyotiraditya Scindia but do not want to join the BJP. But the MLAs issued video messages to counter this claim, saying they would do anything Scindia asked them to, with one minister even saying she was ready to jump into a well for him.
Congress leaders, however, argued that the videos could have been made under duress because the MLAs are in "captivity" and said the situation would change once they return to Bhopal.
The Assembly Speaker has said each MLA will have to meet him and submit their resignation in the proper format. Kamal Nath and Digvijaya hope to utilise this opportunity to persuade them to rethink.
One MLA from Bhopal told The Telegraph: "Be sure that it is going to be a long-drawn battle. Nothing is going to be decided soon. We aren't giving up, come what may. Expect a bitter and a fierce response from our side."
In Delhi, one senior leader said Kamal Nath and Digvijaya have the highest stakes. While Digvijaya is expected to contest the Rajya Sabha election, Kamal Nath knows his stature will soar if he survives but that if he fails, he will be blamed for not being in sync with the party's internal dynamics. His arrogance is already being mentioned as one of the reasons for this disaster.
Veterans in the party are backing Kamal Nath because a victory here will help them demolish the arguments for a generational shift. Many in the party have said Scindia was forced to quit because the veterans were not ready to make way for a new leadership.
The sharp response from Rajasthan chief minister Ashok Gehlot is being seen in this context, as he is also grappling with the ambitions of an impatient young deputy chief minister, Sachin Pilot.
Gehlot said in Jaipur, where the remaining Congress MLAs from Madhya Pradesh have been sheltered: "The sooner the opportunists leave the Congress, the better. What didn't the party give the young Scindia during his 18-year stint? The Congress will unite and teach such people a lesson. Joining hands with the BJP in a time of national crisis speaks volumes about a leader's self-indulgent political ambitions. Especially when the BJP is ruining the economy, democratic institutions, the social fabric and the judiciary."
Attacking the BJP, Gehlot said: "The country hadn't (ever) witnessed such a naked dance for power. What is happening is brazen gundagardi; democracy is being murdered in broad-day light. The BJP is using threats, blackmail and money to destabilise governments and install illegal regimes in one state after another. The country has to rise against this assault on democracy."
Party spokesperson Anand Sharma also said at a news conference: "Poaching MLAs and stealing governments have become the BJP's business. They don't follow democratic norms, they don't respect people's verdicts. A few months back, the same modus operandi was seen in Karnataka. Earlier they stole the governments in Arunachal Pradesh, Manipur and Goa. Governments are being installed using deceit and blackmail. Why are the Congress MLAs kept in Karnataka if it is only about Scindia's rebellion? Who is hosting them, who is providing security? Who is preventing the Congress leaders and their families from talking to these MLAs?"