Outburst a blow to govt-industry ties
Did Goyal overstep his brief while launching a tirade against Tatas?
The result of the minister's CII outburst, it is being speculated, is that he had received a dressing down from the prime minister no less, prompting him to apologise to the coffee-to-steel conglomerate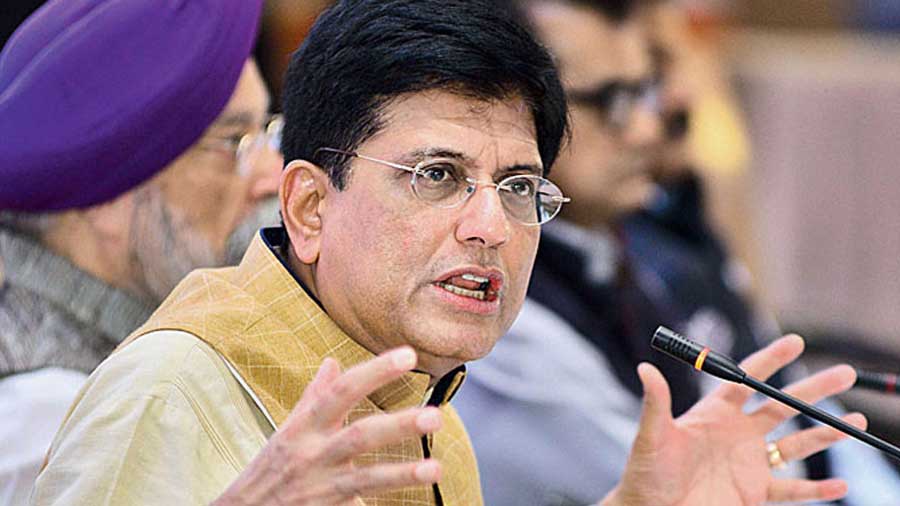 ---
New Delhi
|
Published 19.08.21, 11:49 AM
|
---
So, the big question is whether Commerce Minister Piyush Goyal overstepped the mark when he dressed down the country's business elite in a speech last week. Speculation is rife about why Goyal chose a CII meeting attended by Indian industry's top brass to launch a scathing attack on the Tatas?  
Was Goyal acting out of pique because the Tatas had vigorously opposed his proposals to regulate the e-commerce sector where they are planning a splashy expansion at a recent meeting? Or has he been nursing a grudge against them that dates back to the Modi government's first term in office?
Alternatively, did he get a green signal to indicate that the government has its grouses with industry but went further than his brief by launching an all-out intemperate attack that appeared to lash out at everyone gathered?
He certainly chose a bad platform to launch the attack with all of Indian industry gathered even if virtually. And Goyal didn't mince his words in hitting out at the Tatas and complaining that they were against the government's rules intended to help consumers: "A company such as yours… perhaps you bought one or two foreign companies, now their importance has become more important than the national interest," he said. 
The result is that Goyal reportedly received a dressing down from the prime minister and had to make an apology to the Tatas. This is quite a comedown for a minister who was initially hailed as one of the brightest stars in the Modi Mark-1 government and who was chosen to mind the shop at the finance ministry when Finance Minister Arun Jaitley was unwell. 
Jaitley's death should have made Goyal the frontrunner for the top job controlling the government's purse strings. But after the veteran minister's death, it seemed that Goyal was knocked out of the running because of what was perceived as his over-eagerness to fill Jaitley's shoes and Nirmala Sitharaman finally got the job.
Whoever's noses he may put out of joint, his bruising attack on industry didn't stop him from being the top-billed guest at the National IP Awards on Monday. The awards meeting is jointly hosted by CII, the Department for Promotion of Industry and Internal Trade (DPIIT) and the Indian Patent Office. In the last few weeks, Goyal has been chief guest at two other CII meetings.   
Goyal has been spearheading efforts to change the e-commerce rules that have been opposed by foreign giants like Amazon and Flipkart-Walmart. The government argues that sites like Flipkart-Walmart and Amazon are commercial platforms and for a level playing field they should not sell products belonging to their own group.
However, the Tatas are also planning a mega-entry into the e-commerce field and are developing a super-app for this. The changes would hit their ability to sell products made by companies like the recently acquired Tata-1MG, the biggest player in online pharmaceuticals. The Tatas have also bought a controlling stake in BigBasket, the online grocery supplier. The group is looking at online sales of Starbucks products as well.
Goyal is said to have been taken aback when the Tatas opposed his e-commerce rule changes even more strenuously than Amazon and Flipkart-Walmart. Reliance Jio is the other big player in the online e-commerce sector.
The government has made several changes to the e-commerce rules that have mainly hit foreign-owned companies Flipkart-Walmart and Amazon. The rule that the platform owners should not have sales by their own group companies has already affected Amazon which initially had a 49 per cent stake in online retail company Cloudtail which was 51 per cent owned by Infosys co-founder N. R. Narayana Moorthy.
In 2019, following government rule changes, Amazon had brought down its Cloudtail holding to 25 per cent. Similarly, Flipkart-Walmart had reduced its holding in a company called Appario from 49 per cent to 25 per cent. Companies with less than a 26 per cent holding are not classified as group companies.
The government now wants to disallow even this.
The government and the Tata Group are also expected to be working together on the disinvestment of Air India. The Tata Group is expected to get control of Air India. SpiceJet is also reported to be bidding for Air India but it's unclear whether it can muster the financial muscle for such a big takeover. 
Goyal is normally known as outspoken both at events and private meetings. Relations between business and the government have been up and down for some time and the commerce ministry's criticism of industry practices could further hurt the chemistry.