Diaspora organisations in US call for one-day fast for Bhushan
The Supreme Court has been urged to reconsider and withdraw the contempt charges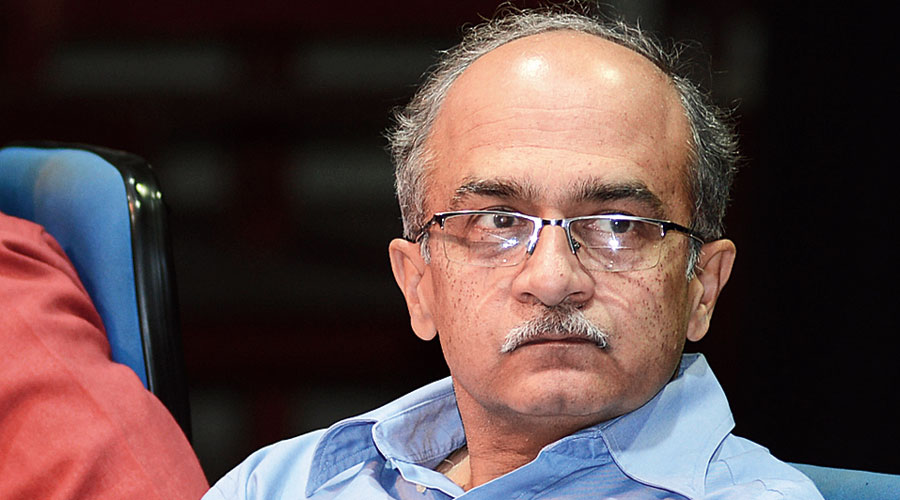 ---
New Delhi
|
Published 22.08.20, 02:38 AM
|
---
Six diaspora organisations in the US have called for a one-day fast on Saturday in solidarity with advocate Prashant Bhushan who has been held guilty of contempt of court by the Supreme Court and is awaiting sentencing.
All six organisations representing India's diversity in the US jointly held a press conference this week and issued detailed statements urging the Supreme Court to reconsider and withdraw the contempt charges against Bhushan, pointing out that this could otherwise become a classic case study on free speech.
"Should these contempt charges be upheld, we remain concerned of this judgment becoming a classic case study on 'free speech' and the intersection of current political environments in many courses of jurisprudence — asking the question where is the fine line of upholding constitutional guarantees?'' said Manish Madan of Global Indian Progressive Alliance.
Raju Rajagopal of Hindus for Human Rights said Bhushan had only articulated the sense of despair among the people. Recalling how the Supreme Court's verdicts in the privacy and Sabrimala cases had raised expectations from the judiciary, he said its rulings on NRC and Ayodhya disabused any notion that the court was moving away from legitimising the fungible notion of "community sentiment''.
Seeing a pattern in Bhushan's case and the arrest of students and activists, Aminah Ahmed of Indian American Muslim Council said: "Truly free speech in India is increasingly becoming less and less free... With the worrying rise of students as well as activists charged with sedition we see an effort to stigmatise them and create a narrative where any form of dissent is marked as 'anti-national'. This notion that one cannot call out and question a higher authority surely has deep implications for where India is headed in terms of guaranteeing the rights that it claims to secure.''
While Students Against Hindutva Ideology said the Supreme Court's decision "undermines the legitimacy of democracy and the independence of the judiciary'', Rohit Tripathi of Young India said contempt of court has no place in a mature democracy like India. Echoing Rajagopal, he urged the court to distinguish itself by reconsidering its earlier conviction of Bhushan.
Over the past few weeks, many of these organisations have been repeatedly organising joint actions; first to protest the spectacle organised by some Right-wing groups in New York's Times Square to celebrate the foundation stone laying of the Ram temple and then again to celebrate Independence Day. Besides raising their voices to stand up for the Indian Constitution, their effort is also to drive home the point that the diaspora is as diverse as India itself and not just made up of those who support the Right-wing agenda.